Is It Tricky To Choose The Best White Label NFT Marketplace Development For Your Business?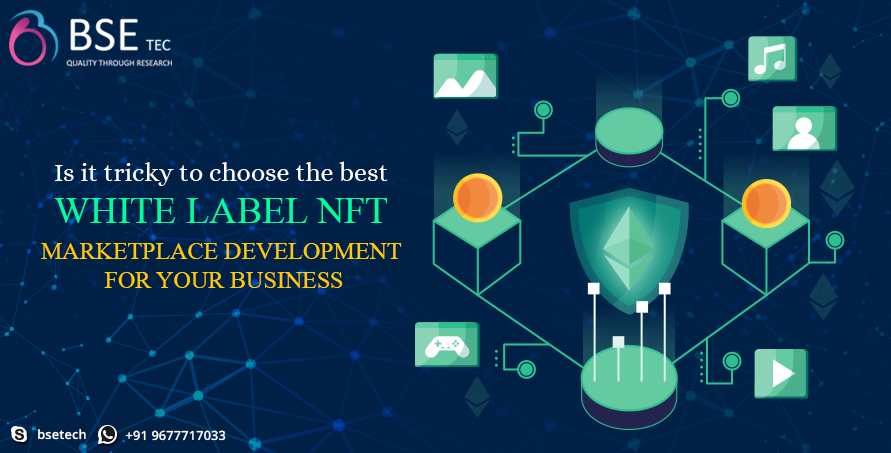 NFT drops! The new vogue word in recent times! Despite the fact that NFTs have been around since 2014, their popularity appears to have increased only since the end of 2021. Being unprecedented has boosted NFT's popularity to new heights. Who doesn't want to own a genuine item? These digital bragging rights appear to be more valuable than the digital item itself. An NFT marketplace is the place to be if you want to enter the NFT world. Any NFT Marketplace that is built around a specific niche will allow you to buy and sell digital items.
White Label Solutions
A white label solution is a product or service that is manufactured by one company and rebranded by another to appear as if it was manufactured by them. A white label solution can also be thought of as renting software from the owner and passing it off as your own. Though you can develop your NFT marketplace with the assistance of a blockchain development software company, white-label solutions are more cost-effective, and you can launch your NFT marketplace in a week or so, as opposed to developing from scratch, which takes months to complete, and I don't even need to mention the hefty payment involved in doing so!   
Why White Label NFT Marketplace Scripts?
With NFT's increasing popularity, the need for an NFT marketplace has become critical. This is where our White Label NFT Marketplace enters the picture. It is an excellent option for businesses looking to quickly establish an NFT marketplace in the digital space. Our White Label NFT Marketplace allows for complete customization and includes a slew of cutting-edge features. Use our White label NFT Marketplace development services to conquer the NFT world today.
Must Have Features In Any NFT Marketplace
Simple and Aesthetic Store Front:

A thriving NFT marketplace will typically have a storefront that functions in the same way as a dashboard. It provides users with all of the information they require about an asset.
Option for Bidding:

Bidding is a fun element. Remember to include it in your NFT Platform. It allows creators to earn more money and bidders to keep track of changing bidding prices. Bidders can either wait or bid based on the collectibles' increasing or decreasing value. Include a bidding expiry date and time to increase the value of bidding and to invite auctions to participate.
Fair Royalty and Rewards:

Creators can capitalise on their works by trading them on NFT marketplaces and earning money not only from the initial sale but also from each resale. The average NFT royalty ranges between 5 and 10% of the deal price. Upon each subsequent sale in the secondary market, the payments are automatically redirected to the creator.
How Mintrade Can Help You? 
OpenSea Clone Script is an NFT Marketplace script that is built on a decentralized blockchain network with tight-knit security features. This script is intended for both established companies and aspiring entrepreneurs who want to build the largest NFT Marketplace, similar to OpenSea. Contact BSEtec for more details on how you can launch your NFT marketplace with our ready-made Opensea script.