Knowing the Best Freelance Platforms in 2021-2022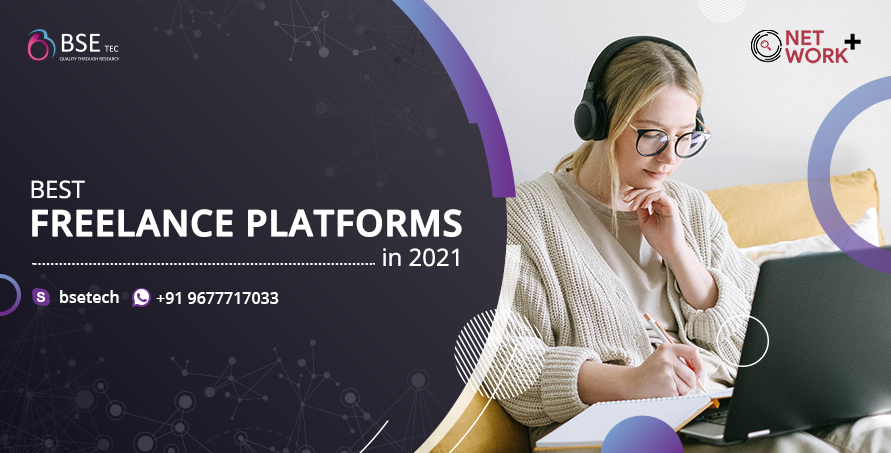 Have you heard about BSETEC's NetworkPlus? Did you already downloaded, well, we understand you as businessman or businesswoman, especially in the world of digital and technology your plans to open up a freelance website would always be the first option to earn customers, businesses and money.  And if you have always thought of owning a freelancing platform, you can now easily take the offer from the best upwork clone script, Networkplus by bsetec.com and complete your freelancer website goal for business and career growth in India or across the world. 
Read the Freelance Market Report in India! Start with NetworkPlus – the clone of upwork
Recent report gives a clear explanation on why anybody from any location should start a freelancing website using Readymade Upwork clone script application like Network plus, an excellent product for freelancer business online. According to the news update, India witnessed an increase of 46% in new freelancers from Q1 to Q2 in the last two years 2020-2021 and this probably will grow as independent working opportunities and systems are growing in the Indian market. This report circulation in the news has also marked that India is the second fastest growing freelancing network business having 15 million freelancers. These changes have been made due to business growth and career opportunities in India due to the recent pandemic and its effects on work, as employees and employers both had to operate their working hours and working lifestyle from home.
The freelancing bidding websites for freelancers has been very effective for students, employees and employers to earn extra or become a full time freelancer as the opportunity gives a time earning source. Additionally, you get hands-on experience on how to work as an independent person even when traditional thinking of many people depends on how a person is able to learn and have experience being around people in any organization or company. Businesses today are exploring the online Upwork freelance marketplace with many smart minds from around the globe rather than sticking to a particular group or location in the society, without getting low or cheap work profile, with excellent e-learning softwares like Udemy App, young minds to elders have multiple option to learn, teach, earn and get paid more online than other source of work. 
Read Take Your Freelance Business to the Next Level with Upwork Clone
How to Find Freelance Websites or Develop Freelance Websites using Fiverr Clone Script?
There many websites for freelancers which are at the top level, these are Freelance India, Upwork, truelancer, 99designs, freelancer.com, toptal and many more as follows. Or you could just use your own design and layout to build this kind of Upwork website by using upwork clone opensource script, Network Plus, designed and ready to use. Network Plus is very easy and handy to create your own account as a businessman or businesswoman. Or anybody who wants to start developing. 
Steps to Create Network Plus Account
    Visit our website

https://www.bsetec.com/

    You will find Product Page

    Find NETWORK PLUS

    Just click on it and get an option to login or signup

    Now you are ready you access the

Network Plus+
How BSETEC's NetworkPlus Benefits You for Freelancing Website Building
Freelancing website

will allow you to gain access to all the primary and secondary features with free or paid subscription.

This platform solely is dedicated to benefit you with endless downloads for applicant's job requests and also post numerable vacancies from education, teaching to writing, software development sectors.

Network Plus is a great freelancing website for designing and developing an effective and responsive

Upwork clone script application for android

, a user friendly website for people targeted in India or around the Globe.

It also benefits the user to test, analyse and take a final decision before it can be proceeded for live interactions and communications.
For Can Check the 5 Best Freelance Platforms that will help you start with Network Plus
Freelancer
Freelancer, an Australian freelance marketplace, easily allows the employers to post and bid for work exchange offers and payment benefits.
 Link – https://www.freelancer.in/
Founder: Matt Barrie
Founded: 2009, Sydney, Australia
Upwork
Upwork, again a great freelance website that allows millions to join in as a remote worker and investor for business benefits.
Link – https://www.upwork.com/
Founder: Odysseas Tsatalos
Founded: 2015, Campbell, California, United States
Truelancer
Truelancer, an Online Platform for Employers to pick the most suitable candidate according to the experience and payments demand.
Link- https://www.truelancer.com/
Founder: Dipesh Garg
Founded:  Aug 2011, New Delhi, India 
99designs
99designs freelance website operates and connects graphic designers and clients across the globe.
Link – https://www.fiverr.com/
Founder:  Matt Mickiewicz, Mark Harbottle
Founded: 2008 
Fiverr
Fiverr is one of the best international freelance websites that serves almost millions to have excellent job offers and also clients can post small to big amounts of jobs here.
Link – https://www.fiverr.com/ 
Founder: Micha Kaufman and Shai Wininger
Founded: 2010 
"Now you start with ZERO COST and build our own Freelance Website with NETWORKPLUS."
Just as easy as you could think!