Mobile App Development Trends in 2021 – Future of Mobile Apps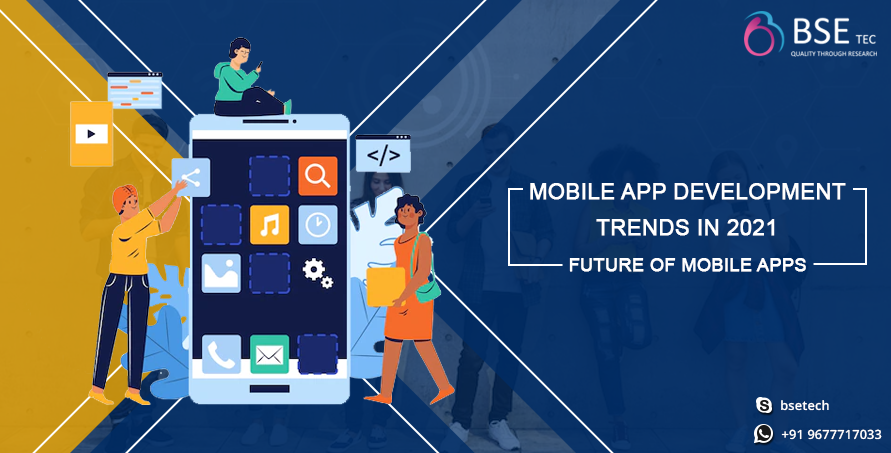 With the evolving consumer behavior, businesses have to step up their strategies to be "where their consumers are" that gave rise to the mobile app development trends. Companies are therefore, rapidly moving towards making mobile apps a common place as business tools and assets as a result. To give your brand the competitive edge there is only one solution– designing a holistic app that leverages the brand value and provides customer satisfaction. As there is still some hesitation surrounding mobile apps, it is very crucial to have an understanding that a native app isn't just a mobile version of your website but it's rather engaging and it is important for creating a cohesive journey for the customer. 
In fact, without a proper mobile presence significant marketing opportunities are also missed out. So, in order to be relevant in today's economy and marketplace, having a mobile presence is a necessity. But investing in building a mobile app from scratch with the help of an app developer is a time consuming process and may cost you a fortune and make a hole in your pocket. 
However, the solution that has revolutionized the app development process is using clone scripts for app development. 
Readymade clone scripts are the replica of an existing app that will be duplicated with some modifications and changes to develop a new app with similar features. 
Know How are Clone Scripts Beneficial for Growth Hacking of Startups?
How are clone scripts beneficial in app development? 
HIGHLY CUSTOMISABLE– PHP Clone Scripts, or App Clone scripts are having deep customizable features, which helps the user to select among the hundreds of templates and choose the color scheme that is best for their app. 

COST EFFECTIVE– Clone scripts cost way less than developing an app from square one. So even if you're a start up, cutting low on your budget, you don't need to fret, and you can curate your own app using a cost effective method by using clone scripts. 

MULTI LANGUAGE SUPPORT– The app has multi language support, which helps national and international users around the globe to download and use your app irrespective of the Language they speak in. 

SEO FRIENDLY– App clone scripts are SEO friendly as they are the replicas of existing websites. They increase the visibility and attract traffic to your app. 

REDUCE SPENDING YOUR TIME ON R&D– You do not need to spend a lot of time on market research, planning and analyzing the implementation of the various approaches and strategies to develop the app. 

BE FUTURE READY– Clone scripts are a futuristic way of app development, as they are scalable and can be modified with changing times. 

USER FRIENDLY UI– App clone scripts help to build apps with an user friendly User Interface, with feature rich modules that run smoothly and provide a big-free experience to the user. 
Why is Readymade Clone Script a Revolutionary Startup Trend in 2021?
Conclusion
BSEtec has a number of app development clone scripts to choose from– from the Udemy Clone Script, to the Zillow Clone Script, to the Periscope clone, to the Etsy clone. There is a perfect clone suiting your digital needs. Book your live demo today!