How are Clone Scripts Beneficial for Growth Hacking of Startups?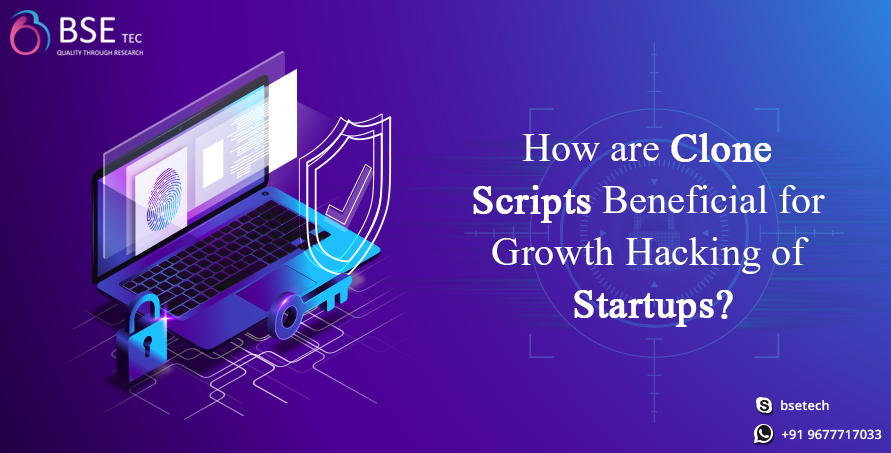 Are you someone who has just started their business venture, and wondering how to use strategies for growth of the business. Well we are here to simplify your issues by talking about what you exactly need to do for making your business grow online. Digitalization paves a pathway for everyone to go online for all their needs. From shopping to education, everything is being delivered online. It's a one stop platform for everything. Opening your own website or online store is not only significant for your startup, but that will make its growth unquestionable. It's role is unquestionable in capturing people's attention. But for bringing your website into the spotlight, you will need an expert developer, who will craft a distinctive and unique website for you. But then, that will cost you a fortune and may leave you in debt if your website doesn't take off. However, there is a great alternative to building a website, i.e. clone scripts. Clone scripts help in replicating an existing website that you love. It is almost having a  built-in design and just a few modifications are needed to make your website go live. Hence using a top clone script is of utmost importance.
How does clone scripts help in the growth hack of startups?
There are a number of benefits that a clone script provides. 
Easy and quick launch–

The major problem of building a website can be solved by a clone script. When it comes to business, time is the key. Keeping your pace up with the new and emerging trends can make it difficult for you to develop a website of your choice. As it is already replicated from a developed website, it does not take much time to launch. Your very own website will be ready in a few days using clone scripts. 

Greater Chance of Success–

Choosing the right

clone script for your business can make your business go viral. Clone scripts by default increases the visibility of your website as it is SEO optimised and brings traffic to your website making it popular among the masses.

Low research and effort–

Choosing a developed clone script doesn't require the kind of research that is needed for the development of a website from square one. In fact, it takes a lot less effort to build a website using clone scripts as it doesn't require prior coding knowledge. You can easily build your own website with less effort and research. But surely, you do have to research which clone script you are going to use. 

Customisable–

Good quality clone scripts are scalable and customisable as they are open-source codes, and you can easily customise your website according to your preferences and add the features that you wish for. 

Getting ahead of the curve–

A startup that makes an impact is a dream come true. This dream can be achieved with the assistance of clone scripts. Many popular product oriented websites have been using clone scripts which have a high visibility rate. One such example is Amazon itself. A business requires prior and proper planning to be successful. Using high quality clone scripts or PHP clone scripts can be convenient to improve your marketing and strategizing, which in turn helps you to get ahead of the curve. 
Know the Advantages Of Clone Scripts For Young And Budding Entrepreneurs
Conclusion–
At BSEtec, a great range of clone script solutions, website clones and php clone scripts are available, taking care of all your digital needs with just a click on your screen. Hurry! Book your live demo session today.