New and Emerging Technologies that are creating new possibilities in eLearning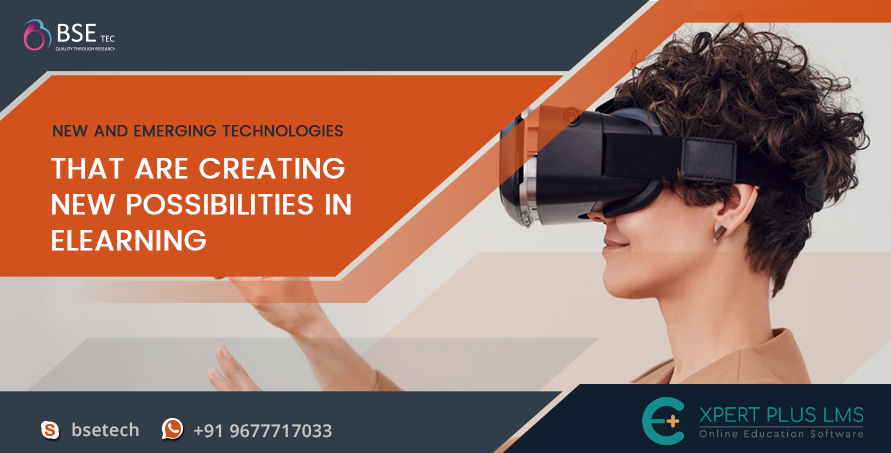 Elearning is the learning where education has no boundaries of any kind, and a learner from anywhere can learn whatever they want at any time through virtual platforms like a Website or Mobile Application.
Elearning is the industry from where the biggest change is coming because elearning is moving forward with the greatest vision of being the primary source of education forever. This is also the right thing to be because traditional learning is so overrated and very crucially expensive and out of reach to be on the primary status. Education is something that must be open for all and accessible at the same time.
Today, many entrepreneurs are moving forward by developing new elearning software with all the high-end technologies and new brand integrations to see if they can increase the working quality and reach of their LMS using the Udemy clone script. Udemy clone script like Exertplus is in demand for such development and its AI-enabled features and add-ons make it more worthy and qualitative to use in the year 2020.
Today we are here to tell you more about emerging trends and technologies that you can use in your platform development
Analyzing more Data with AI

– In the year we learned that data is something that can revolutionize any platform with its power. You can give your elearning platform the best user experience if you have the right resources to give it more advanced technologies for analyzing more data quickly. You can do this with the help of AI capabilities, and you can even use that insight in platform improvement and even for future services and recommendations. 

 Augmented Reality and Virtual Reality

– We also now are experiencing that parents and learners are desperately wanting these technologies in elearning platforms to get a real-time experience of topics and subjects through VR headsets and AR apps. You can integrate these high-end AI-Based tools into your platform with the help of our advanced open-source udemy clone script. Because to get these features you are required to have a platform that is developed with the latest technologies. Also our ExpertPlus- Udemy clone script is AI-enabled so you can easily get these features into elearning. 

Personalization

– Developing a personalized environment in a mass driven environment like eLearning is tough because here you need to develop a model where you collect the right data and process that data to get more spicy insights that can be used to give a more reliable experience and recommendation of individually into the audience. You are required to have technical expertise on your side to develop that advanced recommendation algorithm and more advanced platform to get this type of elearning software with Udemy clone script. 

ExpertPlus-

ExpertPlus

is a tool and product designed and developed completely by BSETec to help entrepreneurs get everything they require to develop any type of elearning software with no flaws and errors. This is the best technology to use in the development of LMS because it always sends regular system updates to keep your platform up to date and even if it comes- with technical support to make sure your elearning software works fully functional. Not only integrated features but it also consists of many more Udemy readymade features to have in LMS like Admin dashboard, User Management, Courses Management, Categories Management, Instructors Management, Payment Management, and many more. 
Know the 5 Most Expected Trends in Elearning Management Software Industry in 2021
At BSETec, You are not buying the udemy clone but you are buying the complete package of extremely advanced services of BSETec Because we also are known to be the technical pillar of every brand we help in the development and we make sure we give the best boost to platforms so that they shine more in the world of Internet as a well-developed brand. 
For eLearning, you can explore the complete list of readymade and add on features of ExpertPlus right now with its free of cost live demo. Also, if you have any query or question to ask, Feel free to et in touch with our product expert by replying to any mode of communication given below
Contact Details
Email : support@bsetec.com
skype : bsetech