Surges In The On-Demand Workforce – Why You Should Invest In Launching A Website Like Upwork!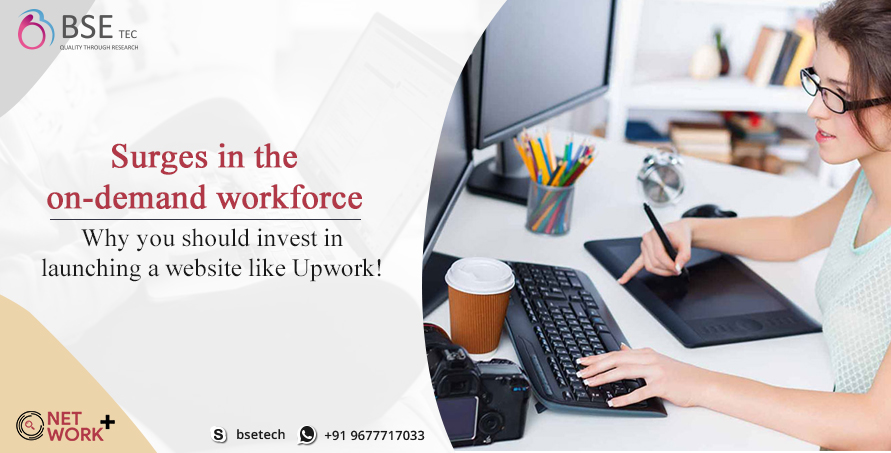 The sudden pause in the world due to the uncanny virus made companies and Industries look for alternatives during such unforeseen occasions. Stripped to the basics of survival, it became clear that pre-or post-Covid-19, finding the right talent was going to remain the biggest hurdle to meeting their business objectives.
Read How is freelancing the future of Businesses? NetworkPlus – Upwork Clone
The Treasure Under The Sycamore:
In Paulo Coelho's The Alchemist the Shepard boy's treasure was under the sycamore tree (where he was sleeping) but he traveled to Egypt to find the treasure was there, likewise, this pool of talents was with us all along but it took years for major companies to identify. Over the last two to five years, companies like Amazon, Royal Dutch Shell, Unilever, and Prudential PLC discovered an innovative, technology-led solution to closing the gap for high-skills talent: digital talent platforms. These early adopters realized that there is plenty of talent to be found—if only they looked for it differently. Instead of hunting for full-time employees to join the organization, they began searching for part-time talent outside the company. To do this, they used a new crop of technology-led companies such as Toptal, Catalant, Upwork, and Fiverr that act as intermediaries.
Contemporary Work Culture:
The right talent, in the right place, at the right time, is the equation for success in today's world. Covid-19 has accelerated a number of latent trends that were gradually shaping the future of work. Competitiveness in the future will hinge on having access to world-class talent when needed. Most companies have experienced the chronic pain of not being able to find the right people at the right time, and initially, digital talent platforms helped companies make headway in such cases because they offered the means to speed up processes, meet deliverables, and ensure outcomes in a pinch. This has made companies formulate new blended models where they can accommodate their employees and opt for skilled talents from market places where they don't have in-house expertise.
The New Normal:
On-demand, highly skilled workers allow companies to tap into skills they don't have internally and broaden their capabilities— which, in turn, rapidly improve the company's ability to efficiently and effectively complete critical projects.
The need for a new normal on-demand workforce has surged as the companies understood how efficient opting for them was. In 2020, Upwork reported revenue of $373.63 million. The projected Upwork revenue in 2022 is $530.52 million.
From these numbers, it is obvious that the companies seeking job marketplaces like Upwork, Fiverr, and freelancers seeking good marketplaces show an uptick trend. So it is high time to invest in these job marketplace websites.
Conclusion :
If you are an entrepreneur and looking for ways to build a job marketplace website or App like Upwork at an affordable price! Let us break the ice without further ado, it is by opting for an Upwork clone script. It doesn't require any coding knowledge nor is it too expensive. So, if you are looking to launch your Freelance Marketplace business, Checkout the top-notch NetworkPlus, Upwork clone! Contact BSEtec for a demo and more details.