The Different Benefits Of The Udemy App Clone Script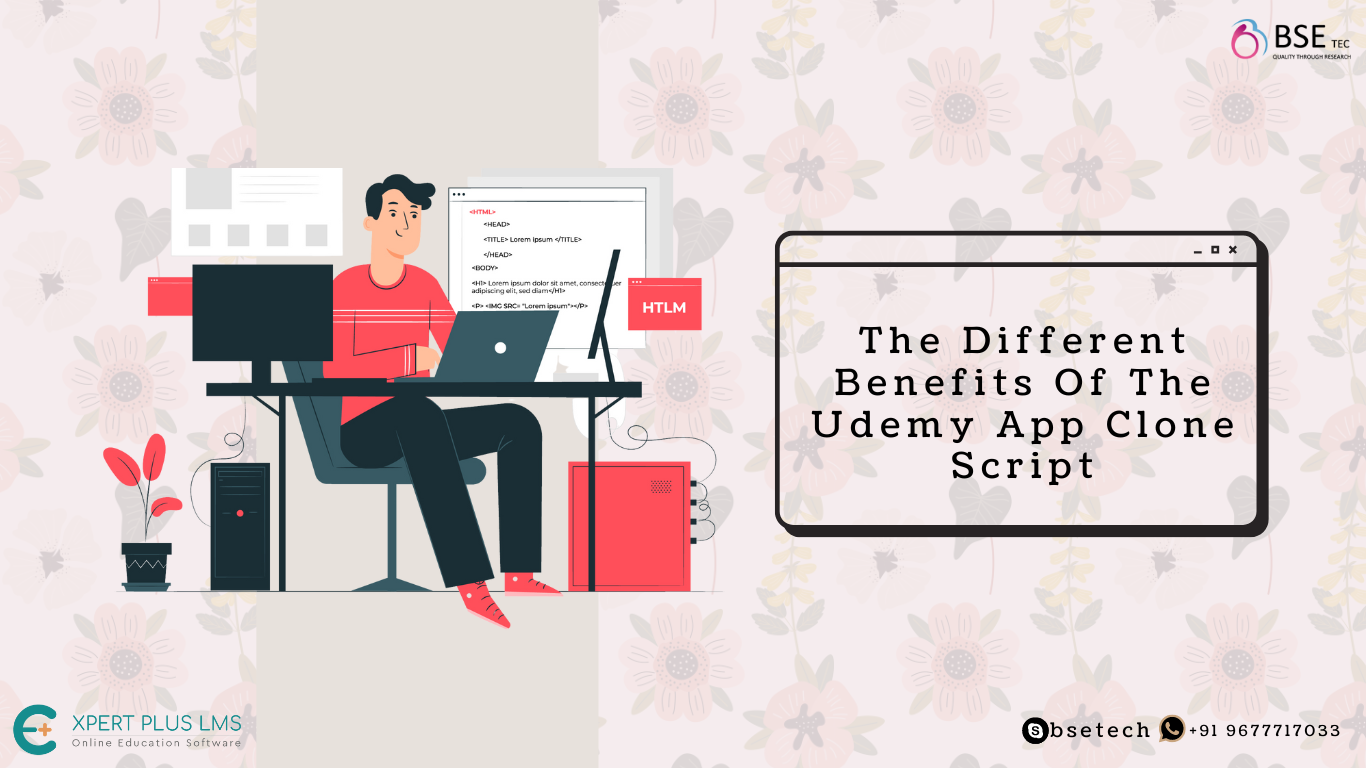 The concept of traditional education has changed radically within the last couple of years. Being physically present in a classroom isn't the only learning option anymore, not with the rise of the internet and new technologies, at least. With the Pandemic, online learning/ Learning management systems went from "want" to
"need". Though both of the education systems (Online teaching and Traditional way of teaching) have the same goals, "to impart quality education to the enrolled students and make them master the subject", considering certain attributes online education is much more beneficial from the traditional way of teaching for both teachers and students!   
Learn anything: Let it be art, music, science, or data science, you can learn anything from a digital learning platform. For instance, Udemy provides 32000 courses. So you can find anything and everything to learn. Wide range of course at your fingertip!
Learn from the comfort of your home: Commuting to each and every course is hectic. Digital/ Online learning paves way for convenient learning that can be accessed from any part of the world at any moment.
Learn at your own pace: Learning at your own pace slowly when you have spare time or dedicating your large chunk of time to complete the course at one stretch, either way it is your choice, because you can access the course at any time. 
Features of Udemy clone App: The following are the must have features of any Udemy clone app/ script.
Hi Tech Learning:
From providing numerous courses, modules, videos, and study materials like eBooks,
Articles, etc. our clone is a platform enabling modernistic & advanced forms of learning. It provides a holistic form of learning that helps the students to excel in their education and courses.
Course Discussions:
Discussion Forums, where the Students and Instructors can discuss the courses.
Discussion forums make learning easier, fun, and engaging by providing a platform for the users to discuss issues, communicate among their peers, or ask their course instructors queries related to the course or their subject of interest.
Course Reminders:
The Learners will get regular reminders through email notifications. This way no one
misses important lectures or course discussions, which in turn increases students' performance since they would have attended all the course lectures.
Social Sharing:
Users can share courses on social media at ease. This, social sharing helps in spreading
the main objectives of eLearning programs and enables close communication among all learners and facilitates the admin to generate interest-based polls, surveys, and discussions for collaborating and engaging both the trainers and learners.
Quizzes:
Quizzes help in testing the Learners knowledge by making learning fun and engaging. The study revealed that students who studied and were then tested had better long-term recall of the materials, even on information not covered by the tests.
Course Certification:
If any user avails and completes a course, a certificate of completion or appreciation
along with their name tag is provided to the users.
To create your own eLearning platform for teaching and training, use our advanced Udemy clone script/eLearning PHP script for iOS and Android. Check it out by downloading it from the App Store today! And to create your own custom-made eLearning platform, go for the most eminent and user-friendly clone script ExpertPlus LMS, contact BSEtec for more details.