The Next Big On-Demand Market in 2022 – Online Education System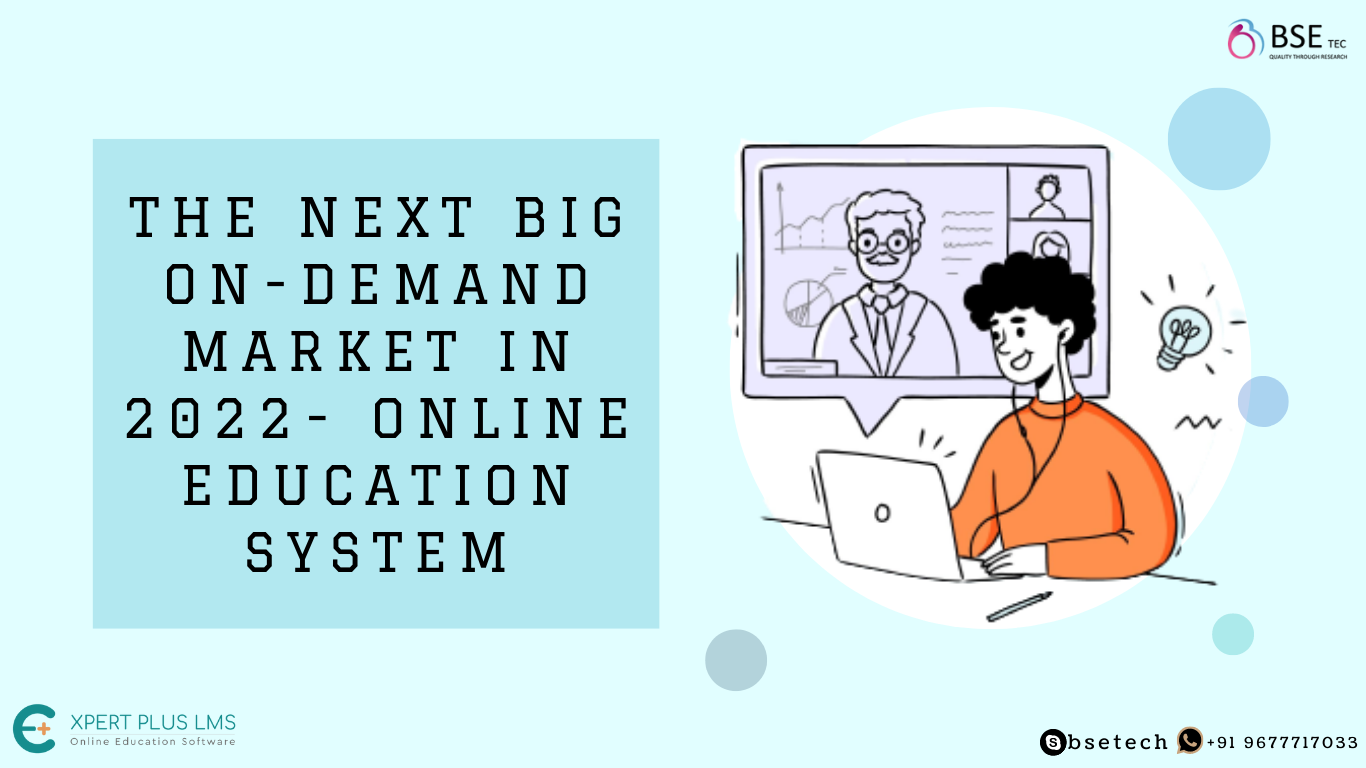 It's safe to say that Online education system is one of the inexplicable successes the internet has ever seen. The market size of Online education in 2021 was 315 billion (USD). Not the next big on-demand market anymore, it's already happening. 
It is already known that the online education system provides Video Lectures, Handouts, PPT slides, and unlimited resources to cater to every type of learner. It has more benefits like AR/ VR integration, Natural language processing, Artificial intelligence integration, and Cloud learning. But that doesn't end there. Online education has these additional modules that make it 
Cost-effective Packages: Online learning cuts off the commuting costs involved, plus it's economical than attending traditional education at institutions, where course fees are much higher compared to online classes. Also, there are options availing courses in groups. For example, if a school or a professional company needs to train a batch of students or employees on a particular course topic, they can enroll as a batch for that particular course. Signing up individually usually costs higher and such business packages for groups of students are much lower.
Gamification: Well, Gamification does not mean playing games per se. It is adding gaming elements to learning methods to increase user engagement. For example, having a quiz game with badges for winners inspires students to perform well in all the quizzes, in simple terms it creates a healthy competitive atmosphere among the peers to perform well. Other gamification strategies may include creating stories to convey information, feedback, rewards and visual learning. Gamification encourages continuous and active learning and thus providing a quality learning environment for the enrolled students in a playful way.
Custom Course Request: With Custom course request columns in online education systems, the users can request the admin or the instructors for adding a required course that is missing in the course list. The request form comprises columns, where they can express their grievances or the elements they want to include in the course. So this facility creates a better understanding between instructors and students, about their needs and grievances.
Artificial Intelligence integration: The scope of Artificial intelligence and machine learning is colossal, this simple blog isn't enough to say how much AI can revolutionize learning methods.. It helps in giving personalized learning paths, giving the right content to the right user, helps in creating course content in less time, analyzes each student's performance like how they engage in lectures, their performance in assessments and assignment submissions, and generates reports based on each and every attribute. Also, through Artificial Intelligence, assessments can be performed easily and process inquiries from employees/students in real-time, to accelerate and personalize the learning process. An example might be a chatbot that "decides" what question to ask a student based on the student's previous answers, such as adding questions in areas where the student has had the most incorrect answers or jumping to a higher level when the student consistently enters the correct answers.
RTL (Right to left) Content: What made online learning a global success is it reaches students in every nook and corner of the world without language barriers. So language support is an important on demand module for any e-learning platform; several East Asian regions write and read from Right To Left, unlike others. For example- Arabic, Persian, Armenian, etc. Such RTL content modules help students translate the dialect into their own native language, in a horizontal manner, without having to surf the internet time and again to understand the meaning of the words used in the course.
Since its inception, the online learning market fact suggests that by 2028 it will hit the $1 trillion mark.  Huge Gigabucks from a few mb software!! Still thinking of starting your own online learning platform? Do not wait! Checkout ExpertPlus LMS, a top notch ready to use udemy clone script created by a team of high tech professionals from BSETec. For your LMS needs and to integrate Gamification, to add RTL content, to integrate AI and to personally curate your online education platform contact Bsetec and ask for a free demo.