The Next Big Thing in Key Insights Into Developing An Educational App Helpful For Students And Teachers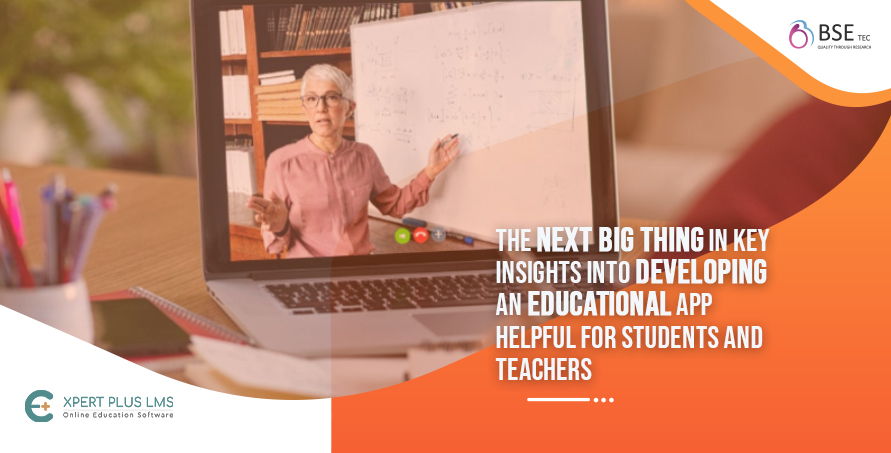 It is the 21st century, where we are already living amidst a digital world. This century primarily revolves around rapid developments in technology which has brought about a dramatic turnaround to almost every industry today. Various businesses and companies are adapting themselves to this online era by following the various mobile app development trends. This mobile revolution has given rise to different apps for multiple usages. 
What kind of apps are in demand in 2021? 
After the pandemic has hit the world, it has become of utmost importance to have an app for every business or industry and education is no exception. By now, everyone must have become familiar with the concepts of eLearning and digital education, which has taken the world by storm. Traditional classroom teaching has undergone substantial changes by becoming more personalized and having a smarter approach with no more monotonous & exhausting blackboard and chalk methods.
Also read, "How Real-Time Video Streaming Can Benefit Your Business?"
Features required in an educational app
In the android app development trends 2021, educational apps play a very important part by making the lives easier of both teachers as well as students.
Learning is no more confined to four walls of the classroom, it has become widely accessible and convenient.
So, it is very important for the companies to know, what are the features required when you are developing an educational app and how can you develop it?
Log-in and Registration – Having an easy login process by linking it with social media, is one good way by which one can easily register themselves into the app, just by one tap. This makes it very convenient for the user, be it, students or teachers.
Dashboard and User Profile – An indispensable feature for both learning and teaching purposes, which consists of the profile information about the user which is customizable and can be modified according to preferences.
A Robust Database – A strong architectural powerful database is necessary if you want your educational app to make all the difference. It is a storehouse, where all the information related to study material, profile and other data is stored. Therefore, it has to be updated on a regular basis.
Interactive Live Video Sessions – It should have a segment where the students and teachers come in on one platform to have a live interaction with one another which is going to provide worthy educational sessions, by bridging the physical gap and adding a human element to it.
Rating and Feedback – Rating and Feedback constitutes a very important part in educational apps as you need to know the students and teachers insights on how useful your app is. The responses will help you decide and will make room for improvement which will help in enhancing your app further.
How to develop an educational app? 
Building an educational app from the beginning is extremely expensive and ridiculously time-consuming. Therefore, instead of developing an educational app from scratch, you can utilise eLearning clone scripts like Expert Plus LMS for creating an app.
Summing up
So if you want to create an app like Udemy, with other integrated features, then contact BSEtec now! Hurry! Don't miss out on their live demo.