The Ultimate guide to driving more users in your Udemy Clone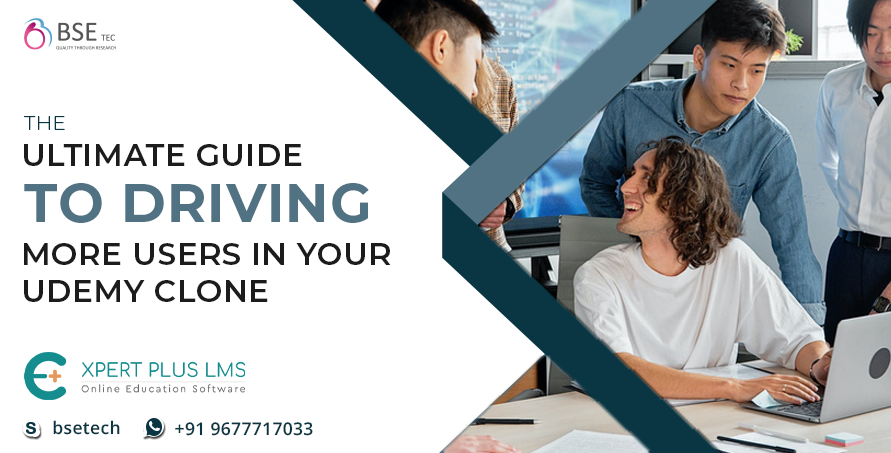 Development of a successful udemy clone doesn't only mean that you create one but on the other hand, You have to put your 100 percent in the marketing and user acquisition too. But sometimes it's not come out good to balance all of it efficiently. Elearning software needs to be perfect with development and promotions with the content quality in order to be good in this more competitive and rapid growing industry. You can make it easier if you choose the right udemy clone script like Expertplus. ExpertPlus is the best open source udemy clone script loaded with readymade features and the latest technologies available in the industry. We can also tell you how you can attract more users into your udemy clone.
Here are some ways to use to attract more users into your udemy clone
Promote the m learning more :

 Promoting the Mobile learning will; get you as many users as you would not even think. The population that you are targeting is more students, and they use half of their prime time using mobile phones, and they will feel more comfortable using Mlearning to gain knowledge rather than from PC. You can get an optimized mobile application with an SEO friendly website for your learning management system with ExpertPlus easily with high-end technologies available in the market. 

Getting friendly with AI :

 AI or Artificial Intelligence will have more impact on the elearning industry more than any industry as it increases user experience in every aspect like promotions, course contents, data analysis, personalizations, and many more. You have to develop your platform with the clone provider that would be capable of getting these technologies in the right order for you. You can get in touch with the AI experts at

BSETec

for more details about it today. 

Develop UGC strategies :

 UGC or User-generated content is something that drives quality content towards a platform with more chance of getting seen over the internet and you can take that to another level if you consider it in a good way and properly execute it with adequate strategies., 

Air Tight on Technical part :

 To develop the best and advanced udemy clone requires having the best technology partner to have it developed with all the customizations you desire with the latest technologies available so that it works fully functional all the time. With the Udemy clone script like

ExpertPlus

, you are not only getting a highly customizable clone script but also you are getting a professional technical team on your side that will take care of all your professional technical needs and maintenance by providing you additional benefits for free so that you can take care of other marketing and content related process to attract more users over the platform from day one when it's ready.
BSETec is popular for not only its quality clone scripts but also for its additional services and after-sale support that makes us more special for entrepreneurs like you and we do this only to make sure you grow and with your growth, our brand clone scripts also get praises that's the only benefit we have in exchange. 
Check out its free live demo to see how it works in real-time, and also drop a comment below if you want to know anything related to the elearning industry.
Contact Details
Email : support@bsetec.com
skype : bsetech