Top 11 Statistics on Live Video Streaming You Should Know!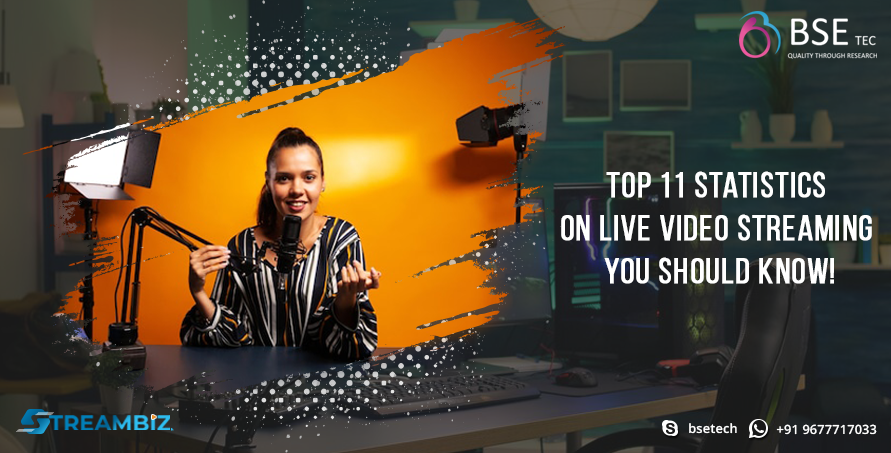 With various forms of consumption shifting to digital live streaming platforms, it's no surprise that the media and entertainment industry has transformed and continues to transform. Online streaming platforms are currently playing an important role in the digitalization of consumption. Despite the disastrous effects of COVID-19 on many industries, the market for online streaming platforms has been rapidly expanding. Here are some of the important stats related to live streaming, indicating clearly how it is here to stay.
Netflix, Amazon Prime, and Hulu alone are expected to triple their combined content investments by 2022.

According to Intel's 5G Economics of Entertainment Report, video could account for up to 90% of all 5G traffic.

Cisco's Visual Networking Index (VNI) Forecast predicts that by 2022, 82% of all internet traffic will be video.

Per Cisco, video

live streaming

will make up 79% of all mobile traffic by 2022.

In 2018, brands spent more than $90 billion on video content. By 2023, that number is expected to rise to more than $100 billion.

Adults in the United States now spend nearly 6 hours per day watching videos. According to Nielsen, the span (5:57) represents an 11-minute increase in video consumption, with 6 of those 11 minutes coming from TV-connected devices.

Users watch live video 10 to 20 times longer than on-demand content, according to Forrester, making live streaming a powerful way to deliver interactive content.

According to an Interactive Advertising Bureau survey, 47% of live streaming video viewers worldwide are streaming more live video than a year ago.

According to Nielsen's U.S. Video 360 Report 2018, 42% of the U.S. population now has live-streamed online content, up from 25% in 2017.

A bad stream has a low tolerance among consumers. Many viewers will only tolerate a sporadic stream for 90 seconds.

The video streaming market is expected to grow 19.9% during the forecast period, from USD 473.39 billion in 2022 to USD 1,690.35 billion in 2029. Fortune Business Insights provides this data in its "Video Streaming Market Share, 2022-2029." In 2021, the global video streaming market was estimated to be worth USD 372.07 billion.
Why you should consider having your own Live streaming platform: Launching your online streaming platform provides a goldmine of benefits that would otherwise be unavailable if you relied on an external resource or third-party live streaming apps.
Brands can connect with their audiences in new and innovative ways by using live streaming. It's a powerful, low-cost way to boost your enterprise marketing strategy, connect with potential leads, and cultivate loyal customers.

Your content to be more accessible to your target audience.

You may not always have complete access to behavioral and user data when using a third-party online streaming platform. The analytics platform lacks the full transparency that comes with owning a digital streaming platform.
Are all of these streaming statistics motivating you to start using live video in your business? Try Streambiz, a one-of-a-kind Bigo live clone script, to launch your own live streaming platform. Contact BSEtec for more details and a live demo.