Trends That Have Put The Online Food Delivery Industry On A Roll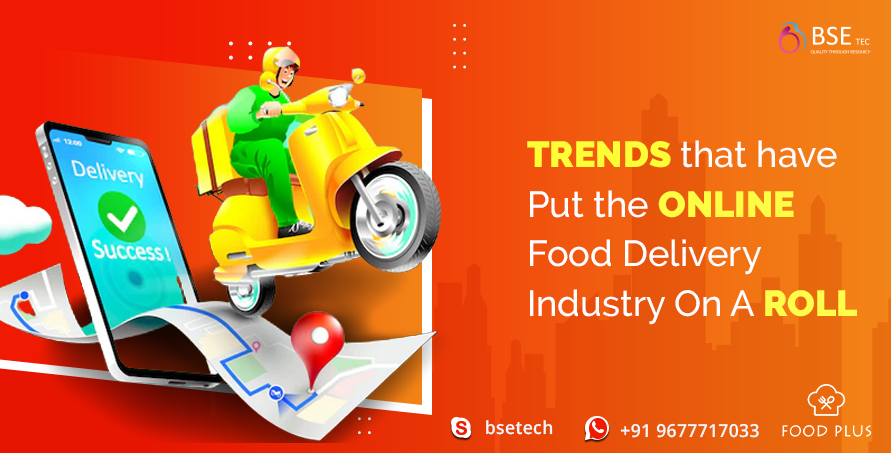 The online food delivery industry is evolving at an interesting rate due to the unique innovations and rapid technological advancements. Food retailers, cafés and restaurants have become accessible to customers like never before. Online food delivery apps have entirely revolutionized the global market. From hot pizzas, to soups or a mind-blowing Italian cuisine, one can get it all at the convenience of their homes with just a few clicks on their smartphones. More so, due to the ongoing coronavirus pandemic, these restaurant and food businesses have faced a huge upheaval as people are confined to their homes due to nationwide lockdown. However, these food delivery apps have come to the rescue by somehow being able to sustain and save the restaurant industry from letting it crash down. For this very reason multiple entrepreneurs and numerous businessmen have been investing in online food delivery app development like DoorDash, Zomato, etc. However, it is very time consuming and expensive to build an app from scratch. So, these businessmen are opting for food delivery clone scripts like the DoorDash clone with the latest trends in food delivery industry. 
Top 5 Trends in Food Delivery Industry
Some of the trends that have put the online food delivery on a roll are– 
Contactless and safe delivery– Even though Covid-19 has made contactless delivery the new normal, after the global pandemic is over, nothing is going to be the same ever again. People will try to keep safe distance and want hygiene to be the topmost priority when it comes to food. Infact, passing of dirty cash through hands has been made minimal and digital wallets are being used at all times, even at the time of delivery. 
Evolution of cloud kitchens– There has been a huge surge in the number of cloud kitchens as people are preferred home cooked food, but want to order it online. Moreover, nowadays people are reluctant to dine out, so this has given rise to cloud kitchens, where with minimal investment you can also start your own food delivery business. 
Millennials driving the future of the industry– According to some records, millennials spend the highest percentage of their income on prepared food than any other generation. In the world of online food ordering, this alone is the most important demographic, because due to the hectic schedules and fast paced lives of the millennials, it is easier for them to just order something at their convenience. 
Multi and non-human delivery options– To avoid hiring new delivery drivers, with vehicles, and to avoid the hassle of paying the insurance, technology has come up with drone and robot delivery options. Soon we will see the sky blackened with drones flying around delivering food orders and other packages soon. 
Multiple payment gateways– For no contact cashless payments, technology has come up with digital wallets, UPIs, credit and debit cards, with which payment has been made easy and quick. You don't even need to worry about losing your money or theft as everything is going digital. 
Conclusion
This is the time when the food delivery business is making all the hype. There is a tough competition among who is going to serve the best-priced, tastiest and freshest food in a quick time. So, if you're also thinking of opening your own online food delivery platform, use our food delivery script integrated with the latest trends in food delivery industry– DoorDash Clone called Foodplus. To know more– contact BSEtec today.