Udemy Clone App – step into the E-learning Software Business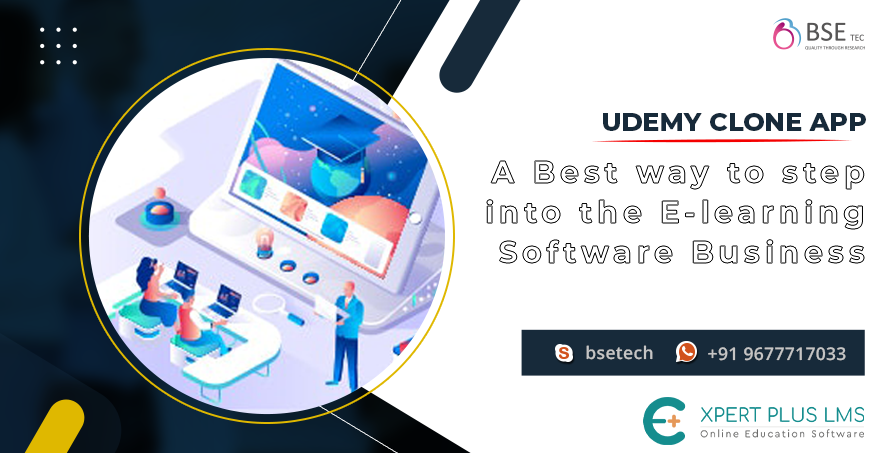 The development of an eLearning platform is the best online thing that entrepreneurs can do in the year 2020. The eLearning industry is right now experiencing rapid growth, All because of its need in the global lockdown. Now parents are also trusting over the learning management system to make online education more effective. As this industry still requires many more improvements, then there might be an opportunity for you. The eLearning industry requires a platform that follows the latest trends and technologies that improve the learning experience. Nowadays, You can easily develop your online training software just like udemy. Udemy clone scripts are easily available and they are easy to use. ExpertPlus can be the option here. ExpertPlus is the most advanced udemy clone script that develops your platform with the latest technology available and also it is loaded with readymade eLearning features. 
Why Udemy clone for development?
Using the Udemy clone script to develop an eLearning platform just like udemy. Also with the ExpertPlus- Open source udemy clone script, You can do every customization you desire in your platform. There are many benefits of using the Udemy clone for development like Udemy clone script launches your online training software in a matter of hours and you can be sure of its cutting edge technology to run 24/7 functional without any errors. Readymade udemy clone script like ExpertPlus comes with Readymade features like 
Advanced Admin Dashboard

User Management
High-tech learning
Courses Management
Course Certification
Theme Management
Transaction Management
Social Sharing
Signal Sign-in and Many More
The Best part of developing your udemy clone app is that you can start your platform with AI-based technologies like Augmented Reality, Virtual Reality, and Virtual Assistant. Clone scripts like ExpertPlus come with the latest technologies like Laravel 5.5 fantastic framework, Bootstrap responsive design, and many more. It is also an AI-enabled script. We can say that the Udemy clone app to enter into the eLearning business is the smartest choice because it is way ahead in terms of technology and much affordable than other sources of development. 
How much does it cost to own an Udemy clone?
Udemy clone scripts like ExpertPlus are super affordable because it is developed by the BSETec and BSETec always promote entrepreneurship by their variety of platform development scripts and digital solutions. You can own the free of cost version of ExpertPlus for eLearning platform development and take your step for the development of a better platform for your targeted audience.
The Enterprise version of the Udemy clone comes at just $299 with all the enterprise benefits and the high-end exclusive tools.
Also, The Open-source version of ExpertPlus is available now for entrepreneurs to buy for development with their customized ideas.
We also want to mention that with BSETec, You also get some additional benefits like Free Installation, Free system upgrades, Free of cost technical support of best in class developers, and field experts.
So With the ExpertPlus, You can own an eLearning software for free with the best LMS. If you just start with the free version of it. We want you to check out the free live demo of it to see actually how udemy clone works as the final product With ExpertPlus.