Udemy Clone : Tips to Develop more simulated Elearning Environment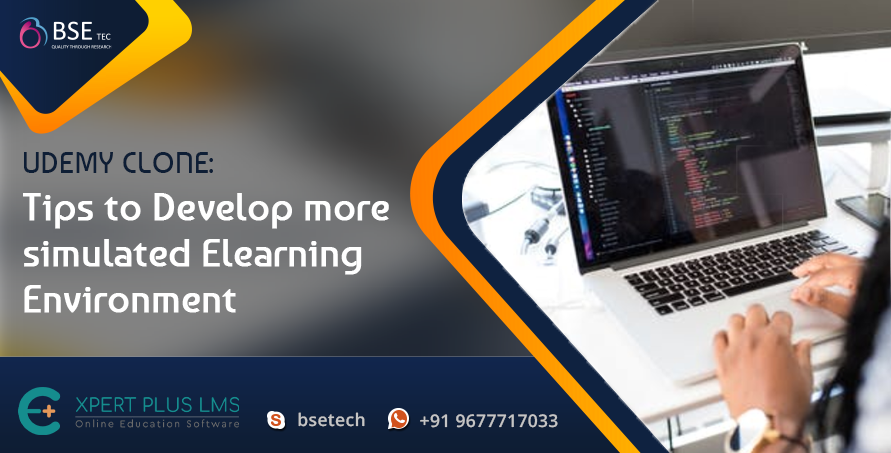 The elearning industry is experiencing the biggest growth in the decade because of the exposure it is getting in the year 2020. This year because of the global pandemic elearning became the primary source of learning, and now it is having a chance to prove its potential in the industry that it can do a lot better in the education system and it can really lift up the standards of learning. Elearning is having many misconceptions and many obstacles. For instance, 
Everyone thinks elearning is all about watching recorded sessions and all.
Also, They think that eLearning is beneficial for a side hustle and side skill enhancements. 
These are the biggest misconceptions, and we know that the year 2020-21 is the year when we can overcome these challenges to become the primary and most important source of learning. The best thing is to develop elearning software with more tools and features with more trends followed. This can be easy if you just follow the most followed and futuristic approach that can be a new trend in coming years which is simulations in elearning software 
You can develop a more useful and profitable platform that can revolutionize the industry with a more advanced platform to make it more worthy for learners around the world. You can develop your elearning software just like udemy with less cost and more advanced simulation experience. 
Simulation in elearning means when you integrate more AI-based features like AR (Augmented Reality), VR (Virtual Reality), Virtual Assistants, and many more. You can enhance knowledge experience by many times with these technologies as they provide a real-time experience of any topic or course contents to learners. 
There are many things you can do to develop a more simulated experience in udemy clone to give more value to learners. 
You can do more personalization with the simulation tools, and this is the best thing you can do because it will also develop the individual learning experience in elearning software. 

You can utilize simulation in elearning for more quality and premium content courses to drive more learners into your elearning software in lesser time as your targeted audience (Millennials) always get excited about these types of technologies. And it also gets them to stick to the course that increases more completion rate on elearning software. 

With simulations in elearning, you can develop many new possibilities with UGC (User-generated content) area, and you can develop a more enhanced platform for instructors to prevent their knowledge sharing skills through your high-end udemy clone. 
In order to develop this advanced udemy clone with AI simulation and many more advanced udemy features, You can utilize the udemy clone script- ExpertPlus. ExpertPlus is a clean coded open-source udemy clone that is loaded with many more readymade features and AI integrations with high-end learning tools to develop a more advanced learning management system at an affordable cost. It is also backed up by professional guidance and support of BSETec and its experts in this industry that can help you in brand development for more growth. 
You can check out its features and tools in real-time through a free live demo right now, or you can directly raise a query to get in touch with our product expert on given details. 
Contact Details
Email : support@bsetec.com
skype : bsetech