Upwork Clone Script – A Complete List of All the Features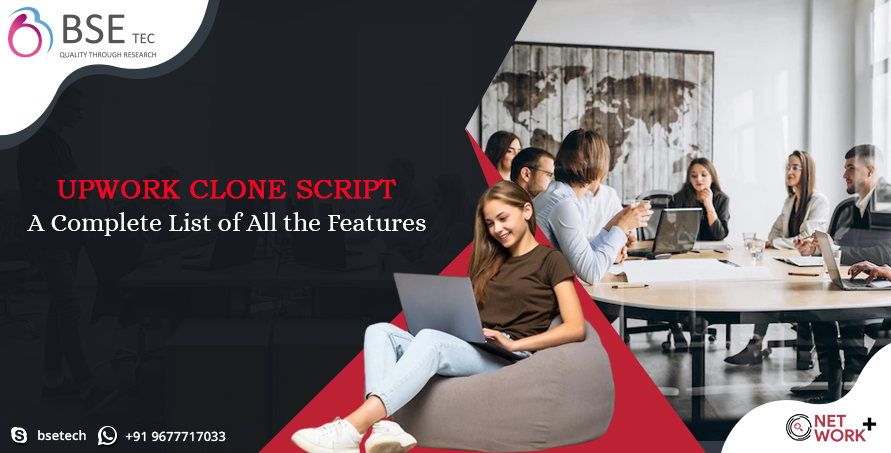 Upwork is a largest online connecting platform between businesses and skilled freelance professionals. It is a  work marketplace where skilled professionals can sign up and apply for the jobs posted online. They can also bid on the works posted to secure their places. Upwork provides a platform for businesses to recruit for a short or long term project. This gives the companies a competitive advantage of not needing to recruit a permanent employee. With upwork, enterprises can hire highly skilled individuals to do the said job and they need not spend on upskilling their employees. 
Why is Freelancing increasing?
After the pandemic, many people are seeking control and flexibility that traditional work arrangements cannot always afford. Mindsets of professionals are changing around how they want to work, and, as a result, many talented and highly skilled professionals are turning to freelancing, to pursue work-life balance. With this, websites like Upwork are also constantly increasing, as there is a great demand for such platforms. Many investors are showing interest in developing such upwork like websites. Here are some pointers indicating why upwork clone scripts play an important role in launching upwork like websites rather than developing them from scratch!
Read Upwork Business Model: How Upwork Works & What Is Upwork Clone?
Why an Upwork clone script?
An Upwork clone script can be useful for several reasons:
Customization: A clone script can be customized to suit the specific requirements of a business or organization. This allows businesses to create a unique platform that aligns with their branding and operational needs.
Cost-effectiveness: Developing a platform from scratch can be time-consuming and expensive. Using a clone script can help businesses save time and money by utilizing pre-built features and functionalities.
Faster time-to-market: A clone script can help businesses launch their platform quickly, as the development time is reduced. This can help businesses enter the market faster and gain a competitive advantage.
Established user base: An Upwork clone script comes with an established user base that is familiar with the platform's features and functionalities. This can help businesses attract users more easily and increase engagement on the platform.
Low-risk option: As clone scripts are pre-built and tested, they offer a low-risk option for businesses to launch their platform. They can test the market demand for their platform without investing a significant amount of time and money in development.
Read Upwork Business Model: How Upwork Works & What Is Upwork Clone?
An Upwork clone script typically includes the following features:
User registration: Allow users to register on the platform using their email address, social media accounts, or other methods.
User profiles: Users can create and customize their profiles with information such as their skills, education, work experience, portfolio, and certifications.
Job posting: Employers can post job listings with details such as job title, description, requirements, budget, and timeline.
Proposal submission: Freelancers can submit proposals for jobs they are interested in. They can include their experience, qualifications, and pricing.
Project management: Employers and freelancers can communicate and collaborate on projects through the platform. They can exchange messages, files, and updates.
Payment processing: The platform should support secure and seamless payment processing for projects. This may include integration with popular payment gateways such as PayPal or Stripe.
Review and rating system: Employers and freelancers can rate and review each other after completing a project. This helps build trust and reputation on the platform.
Search and filter: Users can search and filter job listings and freelancer profiles based on criteria such as skills, location, and experience.
Notifications: Users can receive notifications for new job listings, proposals, messages, and project updates.
Admin dashboard: The platform administrator should have access to a dashboard to manage users, projects, payments, and other aspects of the platform.
Analytics and reporting: The platform should provide analytics and reporting tools for tracking user activity, project performance, and other metrics.
Multi-language support: The platform should support multiple languages to cater to a global audience.
Mobile responsiveness: The platform should be responsive and accessible on mobile devices to allow users to work on-the-go.
Security features: The platform should have robust security measures in place to protect user data, prevent fraud, and ensure compliance with relevant regulations.
Customization options: The platform should allow for customization of the design, branding, and functionality to meet the unique needs of each client.
Overall, an Upwork clone script can provide businesses with a quick and cost-effective solution to launch their platform, while also offering the flexibility to customize the platform to suit their specific needs. Looking for an Upwork clone script? Look no further! Our comprehensive list of features includes everything you need to build a successful freelance marketplace. Get in touch with BSEtec for more details.
Did you find this article useful? Let us know by leaving a comment below or join us on Twitter and Facebook.