Using Periscope like Apps for a Business – Complete Guide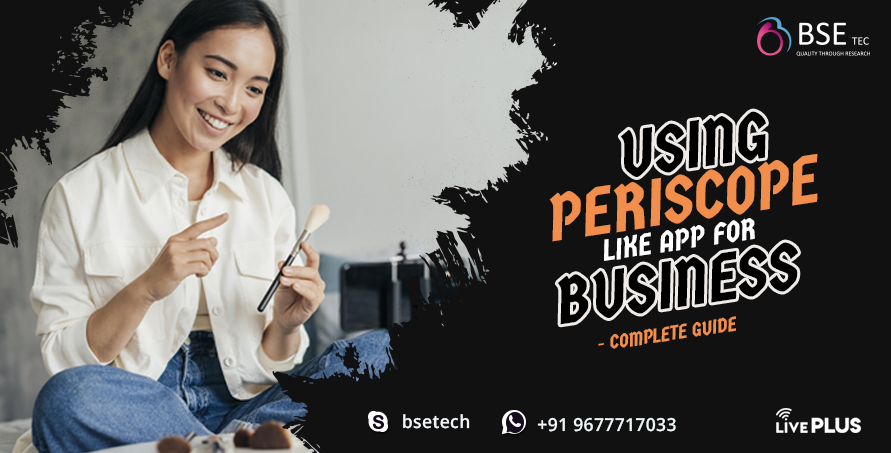 Periscope is the live streaming software available in the industry with advanced features and live streaming tools. Today we are seeing that much new live streaming software like Bigo live is coming into the picture with new concepts and tools with the same features in the market. The live streaming industry is growing rapidly today in the field of education, entertainment, and worldwide broadcasting. The major reason behind this tremendous growth of periscope like apps must be the preference of users towards live video over the recorded ones. Today if an entrepreneur wants to develop an advanced platform that gives access to users for interactive live streaming tools and a user-friendly platform to get connected with broadcasters around the world, Then there is a great chance for it to become a great success in the market. 
At BSEtec, Today we are going to present a Live streaming software development resource where you can get an advanced video streaming app with a website backed by emerging technologies to enter into the market. We are proud to present you with LivePlus. 
LivePlus is the cutting edge live streaming PHP script that can develop a way more interactive live streaming software for your venture. LivePlus is an open-source periscope clone script that is even loaded with high-end technologies and tools to give you the great advantage of using advanced tools backed by emerging technologies.
How can you Develop a Perfect Business Model with LivePlus?
You can develop a perfect business model in Live streaming software with LivePlus as it includes many features for you and users to earn more money in the platform itself. Features such as 
User gifts

– In this feature users can buy coins under In-app purchases in both android and IOS. Users can send these coins as a tip to broadcasters and broadcasters can withdraw those coins on their exchange value for real money and you as an admin can get some exchange commission over that withdrawal. 
Advertising-

You can even customize google analytics banners in profile pages or bottom tab bars in the Live streaming app where you can earn from businesses around the world by getting their ads placed on your platform. 
Membership Plans

– You can also introduce some premium features under various membership subscriptions to users and earn more as an admin. Under this feature, you can get some premium features such as live multi broadcasting, Premium chat feature, Ad-free experience, and much more. 
You can experience live streaming software -Live plus with its Free Live Demo available right now and you can also understand its working and end development performance of LivePlus in this demo. 
For more information on high-end integrations and features that you can get additionally with this periscope clone script, Visit LivePlus.