Why E-Learning app Script Is The Best Business To Start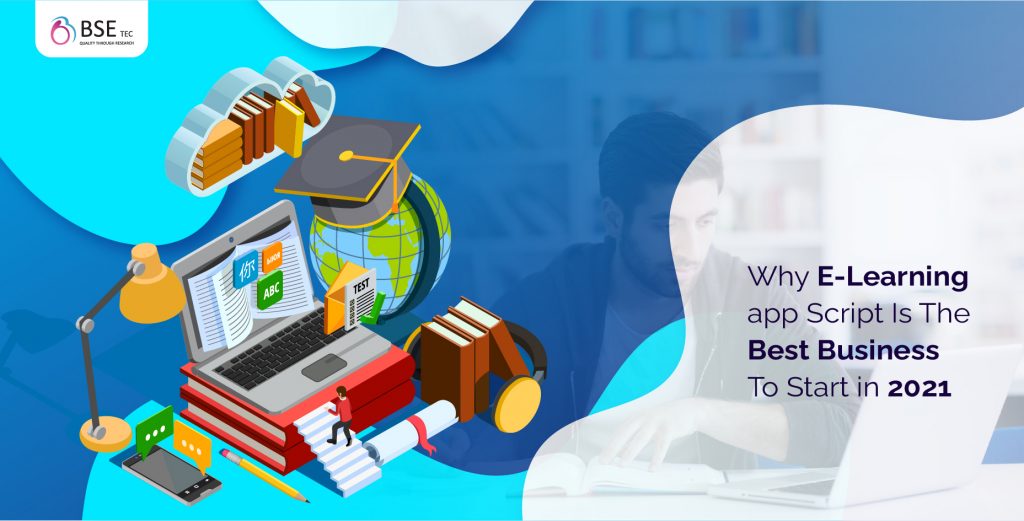 E-learning or digital learning is the new normal in the field of education. Most students have started embracing online courses more than online classes because of the flexibility factor that comes with E-learning sites. E-learning involves the courses designed and pre-recorded, further notes and additional materials are brought under a complete package for the students to learn easily. 
Now, there are different ways to learn online, like video lectures, tutorials, tips and DIYs, etc., But the structured courses more often come with certification or other forms of credits to acknowledge the performance of the students. In this article, we'll closely analyse the strengths and weaknesses of online learning and how you can succeed if you create an E-learning platform right now.
Pros and cons of E-learning
Pros:
Easy Access:

Unlike conventional learning methods, E-learning can be accessed by a wide audience regardless of the place come from. Mobile learning has enabled everyone to study remotely just with the help of an E-learning application, usually downloaded from online stores. The courses are specific, flexible and come with certification which makes it a compact. Besides students, companies also utilise this tool to train their employees to increase their productivity.
Variety of options:

Students have a range of options in a specific subject that they want to learn. There are tutors from various parts of the world and with varying experiences. This gives a chance for the students to learn the way they want to and choose the teaching method that they find comfortable, which is not possible in the conventional learning setup. Also, each course has its pros and cons and the students can determine how the course is even before trying it out, with the help of the reviews posted by the students who already took up the course. Besides, there is a course overview or trial video with the course which helps the students in decision making.
Low cost:

E-learning involves cutting down on various costs like space rental for the coaching centre, printed textbooks, travel expenses for the students as well as tutors, and miscellaneous expenses that arise when classes are conducted offline. 
Customisable:

The course can be easily customised by the tutors in the way that they feel the students can grasp the points they make. It could be in a video format or audio lessons, text and 
Cons:
Social contact is minimised:

Face-to-face communication is missing so the students might feel isolated and there's a minimum chance for immediate feedback and doubt-clearance. However, students can interact through the internal messaging system.
Network issues:

Although tech issues come up in places where there is poor network connectivity, this can be solved by downloading the courses whenever the connectivity is good. 
Deviation:

Despite the courses being structured perfectly for the students to learn systematically, they often miss out on several sessions because of procrastination. To avoid this, most E-learning platforms come with notification and alerts.
Tech knowledge for tutors:

The tutors must hold knowledge on how to use certain tools to create the courses without any glitches. However, there is an umpteen number of video tutorials to create the courses without any hassle.
Why start now?
Online learning has been existing since long and the students who wish to improve their skills always check for new courses related to their niche. Adding to that, the COVID-19 pandemic has caused us a lot of setbacks and academic institutions have been shut down. The only source of learning as of now is digital, through e-learning websites, online classrooms, video conference and the like. 
So there is a great demand for the online learning platform, making it the ideal time to start online learning software using an Online learning script.
Elearning tools
Online courses offered in websites like udemy, coursera, Lynda, skillshare etc.,

Classroom portals like google classroom, canvas, blackboard, etc.,

Video-Sharing sites like Youtube, Vimeo etc.,
How to create an E-Learning website
Creating an e-learning website from scratch costs you about $10,054 for the basic features and add-on features cost separately. It takes several months to even a year to get the complete E-learning website or app ready to use. If you want to minimise the cost and time, you can use an udemy clone script like Expert Plus. 
An E-learning clone script is way less in terms of cost and takes a few days to create, customise and launch the complete app.
Here are a few steps to create an E-learning platform:
Decide your niche and theme

Choose the right online learning script

Customise your app with the features that you find relevant

Launch the app versions on iOS and Android and also the web version.

Promote your E-learning platform through an ideal medium- Social media, Ads etc.,
Features of E-learning app
Bootstrap Responsive Design:

The app should have responsive design so that it can be used by anyone regardless of the device they have. This also lets smooth navigation and great interface for the users.

Hi-Tech Learning:

The tutors get to design the course in different formats like video, audio and textual document, they can also include links to sites like youtube.

Quiz:

Online tests and quizzes help in assessing the students and giving them an idea on how much they have progressed.

Multiple Payment Gateway:

Payment should not be hard as the student might lose interest eventually when they have to go through a lot of processes to pay the course fee.

Course Certification:

The students get a certificate once they finish a course.

Email Templates & Settings:

The admin can send Emails to the students for various purposes. It could be a promotional email or subscription notification, etc., The admin can choose from the pre-defined Email templates and send to the students and the tutors as well.

Go to meetings:

The classrooms have become virtual now and the students can clarify their doubts from the tutors on specified date and time as discussed and attend meetings through go to meetings feature.
Top E-learning websites
Udemy:

With more than 150000 courses and 24 million students, udemy is the top E-learning website and offers best support.

Coursera:

Coursera is known for its collaborations with top universities around the world.

Linkedin Learning:

Linkedin Learning, previously Lynda, has gained popularity among the corporate training and bootcamps.

Khan Academy:

KhanAcademy is one of the most preferred learning platform for school students.

EdX:

EdX is created by MIT and Harvard to provide university-level courses to everyone. Some courses are absolutely free of cost.
Conclusion
If you have an idea to create an online learning website, you can start right away using Expert Plus udemy clone script. Besides the features listed above, Expert Plus has great features and comes for absolutely less cost. We also provide full-on support and free installation to ease your work. So, why doubt? Just go ahead and check out our demo app to get a complete insight on our E-learning app script.