Why Is It the Best Choice to Build an App Like Etsy?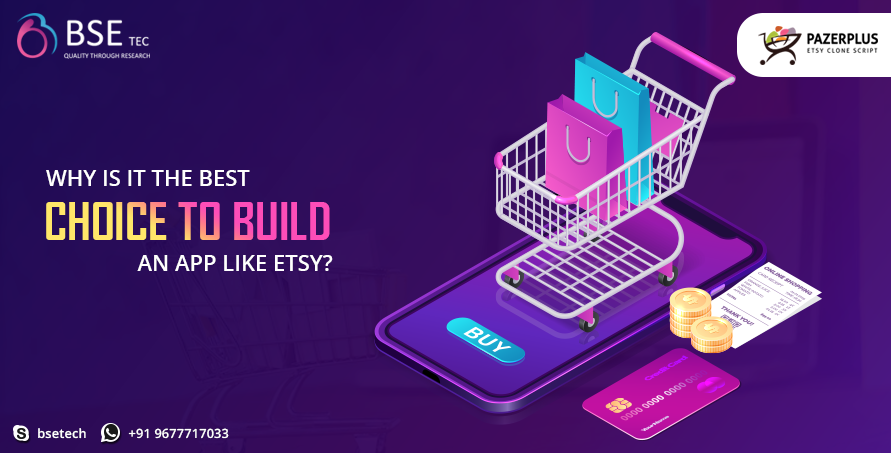 In the last decade, there has been an extreme upsurge of internet users around the world. With the mobile revolution that took place, every person has slowly and steadily become dependent on the internet for everything–ranging from cutlery to jewelry, from bath salts to notebooks, and so on. This has compelled businesses and other users to move online for their daily sales and purchases. Therefore, having an online marketplace is not a fad or a trend, it is the reality that every business industry is slowly coming to terms with. However, the online marketplace is not limited to one particular industry–rather has become a huge arena for a multi-vendor marketplace– like Etsy, eBay, or Amazon. The prime objective of these marketplaces is to connect the sellers with the customers while building brand awareness and encouraging adoption of the new normal by enhancing digitalization to the next level. Etsy is a unique eCommerce platform where hand-made goods and accessories, vintage clothing, and furniture, etc. are sold. This has given rise to many new ideas in the minds of the entrepreneurs to invest in developing a similar marketplace. 
However, building a platform like Etsy from scratch is quite time-consuming and very expensive. So, to make an app like Etsy– the best alternative option is to use Etsy Clone Scripts. 
Why Build App like Etsy – Top 5 Reasons
If you're wondering, why build an app like Etsy–
Easy Payment Options– Online marketplaces allow the customers to pay digitally, which has become quite the necessity during this pandemic– and people nowadays usually rely upon digital payments, as no one wants to hassle over giving the exact amount of coins. But, this problem is solved by the multiple payment gateways provided by Etsy-like marketplaces. 
Convenient to Use– A person sitting at the comfort of their home, can order anything, at any time during the day– with just a few clicks on their screens and the item will get delivered to their doorstep. If that's not what convenience looks like– I don't know what does. Online marketplaces have become the departmental stores 2.0, and people rely upon them even for their daily needs. 
Power to Choose the Seller– One can choose which vendor they want to purchase from. It gives them the edge over any offline store– where there is only one vendor in every shop. If you want to buy a shoe, you can find 3-4 vendors selling the same shoe and maybe at different prices. You can go ahead with your purchase with whichever product suits you and your budget. 
Bridges the Gap– The main purpose of creating an online shopping platform like Etsy is to build a bridge between the buyers and the sellers and give them a seamless platform to connect easily and do the needful. This has incredibly transformed the way small businesses work too– by providing their items to ship to different places over the world, which had previously been limited to a small location before. 
Online Shopping is Here to Stay– Covid-19 has changed how people shop and made them choose online platforms instead. Moreover, millennials live a fast-paced life, unlike Gen-Y, who prefer to multitask and get everything done at the same time. They have no time for in-store shopping. Therefore, online shopping is here to stay even after the pandemic. 
Also, Read How Do You Choose The Best Etsy Clone Script
Take Away
If you want to build your eCommerce platform like Etsy, do not hesitate to contact us. We provide the best Etsy clone– Pazer Plus, which is highly customizable and affordable too. Get in touch with us today!