5+ Best Learning Management System Created Using PHP Script 2021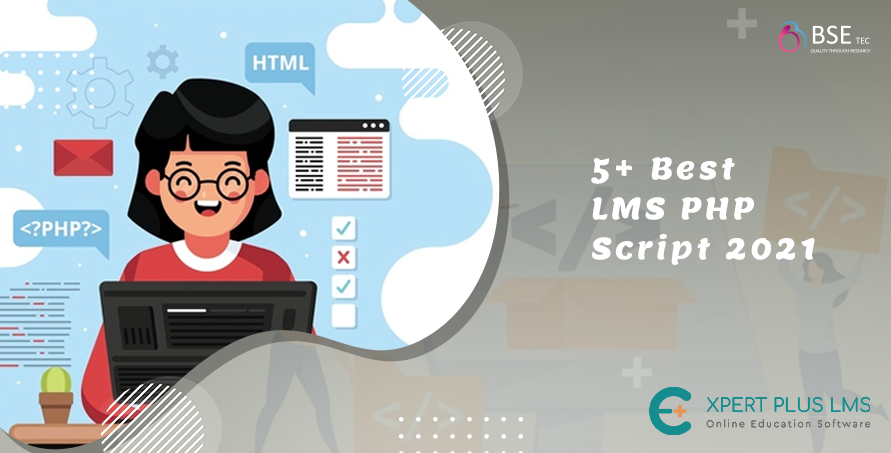 If you would be among those top best learning apps online, how would you feel right now? Proud! Isn't it? Today there are multiples of online training software that makes your life easy to learn online without any communication barriers. Millions of users are online, every second, every day are connected to various e-learning software or called e-learning android apps in simple terms. Well, let's discuss more on how it would benefit you as a learner, or as a business person looking to jump into the world of e-learning management systems being the owner of top 5 e-learning software just like Expertplus LMS.
Online Learning has been a great advantage for many teaching businesses around the globe. These learning software's are built or created using PHP script 2021. Since PHP specializes in administering learning management systems, it's always a great option to have for your own online teaching business. In past five years these online learning software platforms have been in more demand. Also looking at the recent pandemic news we are probably seeing how e-learning platforms for android are booming in the learning industry. All this learning software can be very handy while traveling, being anyplace and anytime.
Looking at the great demand of PHP applications, there are almost 5 major classic e-learning software's like Expertplus LMS, Udemy Clones and others as you follow for your benefits.
Udemy Clone App
Surprisingly Udemy Clone script is a well organised e-learning software that makes it easy for individuals to set up their own learning courses without technical skills required. Already there are millions of Udemy users, successfully logged in to achieve a life-time paid course to their targeted audience. You get absolute free updates and free support for life-time technical queries. It works faster and more smoothly while operating or designing your own e-learning platform. This application is freely available for all the users across the world, for everyone without comparing age and culture.
Read Elearning Software: All Features you Need to Know | Expertplus LMS
Academy LMS
Academy LMS available for android mobile phones, it is the same as other PHP applications that allows the user to create a learning source online class interaction. Both the learner and the instructor can interact with any communication gap, especially as a teacher or instructor you can make an unlimited amount of training courses or subjects by uploading videos and documents.
eClass Learning Management System
eClass is also one of the most trending user friendly e-learning software that help to expand your highly customised online course. It secures your online learning management system with an excellent packed audience for clear end to end communication. Mainly known for best SEO practices so that you can easily optimize your Course and sell without any limitations.
Students who come across your course can easily purchase from any part of the world at any moment of time. Best suited for quick learning, this application also is purely built in with PHP script.
Smart School, School Management System
If you want to salute one learning management software that helps the school to be managed fully online, it's smart school clone script software. This application completely manages students, teachers, exams and other records in one centralized platform. This online school management platform is a modern software that works by automation process. It covers all the expectations of school learning and managing activities, moreover it also includes executive fee collection to exam results. It also includes 30+ modules for the user by giving extra-ordinary support like super admin, admin, accountant, teacher, receptionist, librarian, students and other family members.
The application is called smart school, a smart structured PHP application for learning management systems.
Expertplus LMS for Bonus Offers
Besides the Udemy clone, we call it the universal Expertplus LMS, with offers and extra bonus modules to add, manage, collaborate and a lot more. It is one of the most excellent choices for many students and teachers, this app is loaded with bonus surprises for all the learners as well as teachers. Made by PHP script, Expert LMS app helps educational organizations, institutes or anybody to offer online courses, the application supports all the smartphones. Moreover, academic programs offered by various colleges and other bodies of educational experts in various subjects can easily be offered as paid courses or for free. Today more than millions have downloaded this application and are able to freely access and install without any external technical support. Very handy and easy to module and set your courses online.
Manage everything right from documents, training classes, audio files, images, subjects more. It's absolutely free!
Benefits Offers of Universal Expertplus Learning Management System
Helps you to organize eLearning content on one platform
Unlimited access to online learning management materials.
Easily helps and allows you to track an individual's performance.
Absolutely reduces learning time.
Healthy records of organizations for updates and with compliance regulations.
You can always be quick to expand your eLearning courses.
Highly motivates social learning experiences online.
Get your application now! Boom Up your courses online with Expertplus LMS Free! Hurry! 0% Cost!