BSEtec´s successful new release JOBPLUS – the authentic Jobberman clone script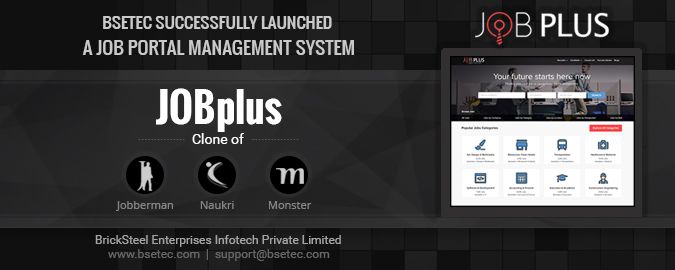 JOBPLUS– the top-notch job portal management system has been successfully launched, after hard work of our dedicated and industrious team members. The best part of Job plus is it is the right blend of online job portal and online education script. As a result, it is sure to bring the target customers to the site.
Being inspired by the original Jobberman, Monster and Naukri, we have developed the new JOBPLUS and Bootstrap technique has been adopted for designing, so that the website created with the help of this script can be accessed through all the devices. Huge number of services can be availed, as we have used the advanced Laravel framework to develop this script. The admin can install third party plugins, as well.
The admin panel in JOBPLUS is built with simple, effective and functional tools, which can be easily operated by the admin, without any training or a techy´s help. Our tailor-made Jobberman clone script allows you to customize, start and run a website within a few hours. The powerful admin panel gives all the required facts within a fraction of second, through pie diagrams and charts. The admin can customize the course list, email templates, job settings, payment settings and language settings to easily manage his website.
Every little feature that makes the Jobberman, Naukri and Monster powerful and successful is incorporated on our Jobplus.
To make it a signature product of BSEtec. We have included the following features, to make it more functional and productive.
o Advertisement management
o Package management
o Browse the resume/ CVs database
o Jobs and applications
o Job questionnaires
o Orders listing
o Invoice generation
o Job alerts
o Search and browse the job
o Newsletters
o Report abuse
o Success stories
We expect your continuous support to make JOBPLUS a grand success.
For more information, please do visit https://www.bsetec.com/jobberman-clone/