Top 3 Elearning Trends and Predictions for 2021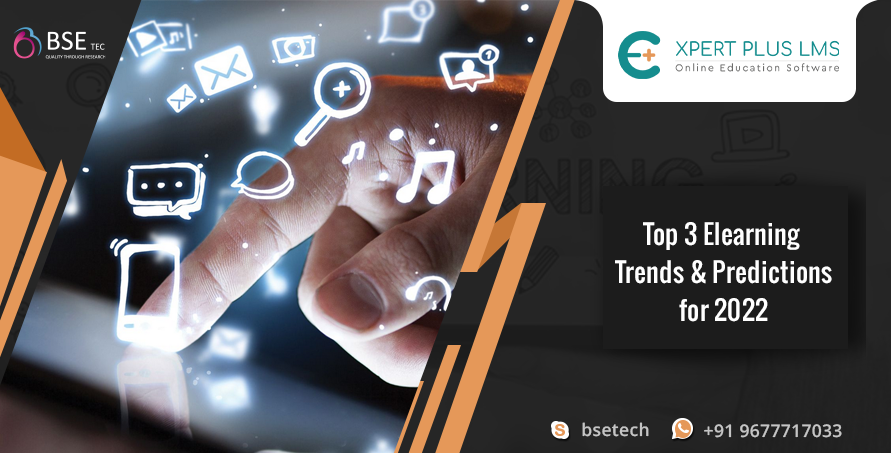 2020 was the best year for every entrepreneur who is coming with the most advanced elearning software in the market. Elearning industry is in the spotlight because now it became the primary source of amid covid-19. All the educational institutions and other coachings are currently in lockdown, and here now elearning has to fulfill the mass demand of educating learners around the world. Elearning is now having an opportunity to gain the trust of parents and learners around the world by eliminating the false image that they have about authenticity for online education. Entrepreneurs are doing everything they can to get all the trust of parents in elearning so that they see the benefits and worth of quality education virtually. 
Boost your Elearning Business with ExpertPlus
As a software development company in the elearning category, We are also predicting great potential in the elearning industry from its futuristic technical advancements and promising tool enhancements. Here are 3 eLearning predictions that are going to make this industry more valuable- 
Elearning Trends and Predictions for 2021
AI in eLearning

Elearning is all about developing educational content that stands out from traditional learning and gives learners the learning experience that they will stick to course content. Interactive learning is the major part that elearning software must provide in every course content. As of now, we have many AI-based tools that can do this for us. In 2021 we may see many entrepreneurs coming into the industry with elearning software that is AI-enabled and got AI-based tools like Augmented Reality and Virtual Reality to offer the best in the kind Learning experience for users around the world. With these high-end tools, elearning course content would be much more user-friendly, and it will keep students stick to the course and end of the day. It would increase your course completion and retention rates overall the platform. Also, AI drives many more additional benefits to the software. For instance, it improves the all-over performance of every feature and enhances the database management system that helps in further advancements.

Personalization

Elearning would be better and will be able to serve users with better advancements if it would go for pure personalization. It means the course recommendation system is better. The features would be preferable to users, The more refined learning system, The more enhanced monitoring and goals dashboard system, And many more. We may see these futuristic advancements in every upcoming elearning software in order to get the most out of any elearning software. 

Authenticity with class

2021 can be the year where we might see some visions coming into reality for the elearning industry. We know that the image of elearning is quite different in users' minds and every learner and parent thinks that elearning is only good for getting additional learning but we know that it has the potential to beat that image by going for primary source status. We might see elearning software with more in- depth promotional strategies and more advancements to prove the point of its authenticity to be the primary source of getting basic education like graduation, diplomas, and even masters fully online. 
We at BSETec always work hard with potential and passionate entrepreneurs to make any industry better with all the technical expertise and resources we have in our bucket. We develop quality clone scripts with every customization you require to conquer all the necessary goals. This is the reason we are available in the market with ExpertPlus. Expertplus is the most promising and AI enabled udemy clone script that allows you to develop your learning management system with every customization you desire and this is the best lms that is even loaded with great basic readymade features and integrations that you might feel insightful to have. 
We highly recommend entrepreneurs to check out the amazing open-source udemy clone script here to see how well this script can help you be a part of the industry that is developing this fast. You can check out its free live demo right now to experience its class and authenticity with ExpertPlus.