Essential Factors to Succeed in the Social Media Industry with Instagram Clone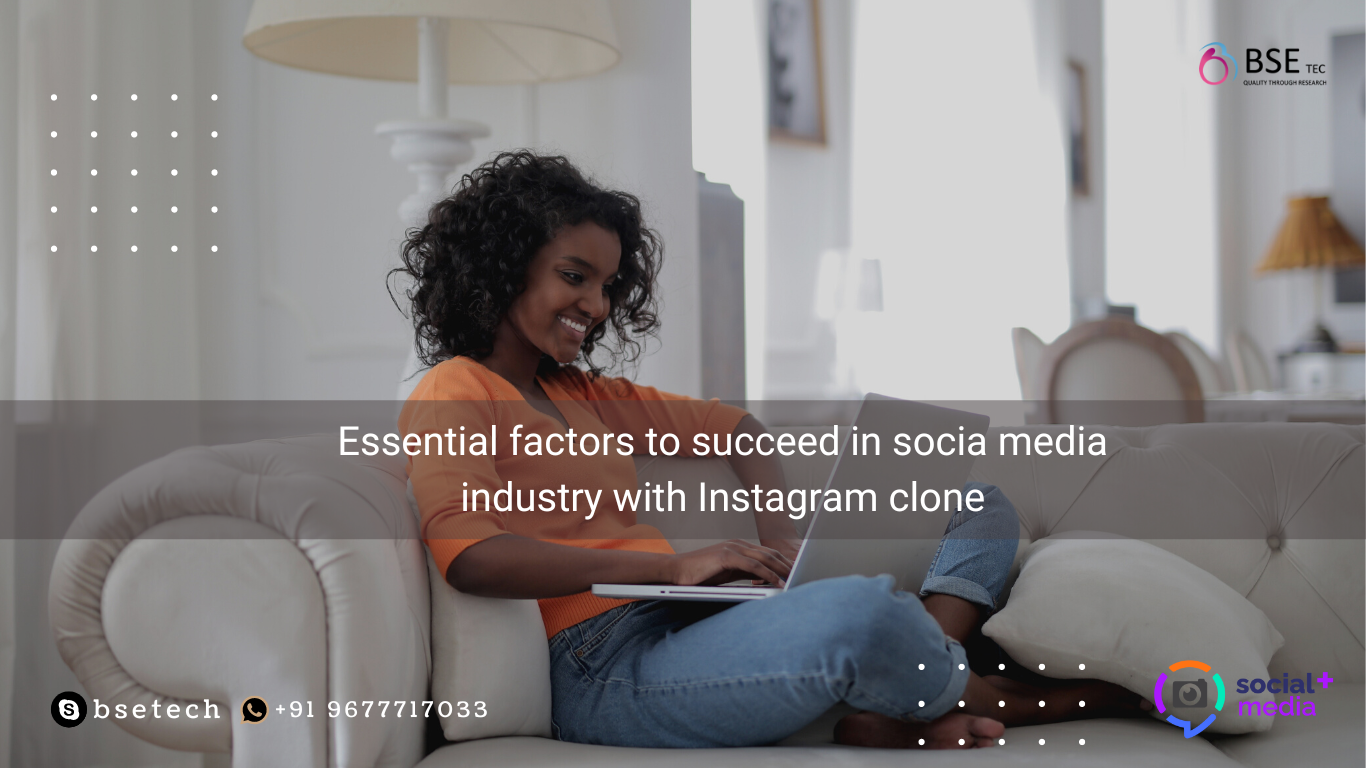 The social media industry has been booming with possibilities and has witnessed widespread popularity among users, especially the millennial. People have become avid users of such social media platforms because it's a platform where people can not only share everything about their lives but is also being used for interacting among peers, family, relatives and friends from all over the world. Social media has proven to be very fruitful for marketing purposes as well because it drives in a lot of user engagement which is a great source of producing sales. Since the inception of these apps, it has been spreading like wildfire and there has been a spike in the numbers of social media apps ever since. 
Many companies have been investing their resources in creating a social media platform like Instagram. However, building a social media app from scratch takes a huge sum of money and consumes a lot of time. So, many entrepreneurs are opting for the Instagram clone script, Social Media Plus. It is a cutting-edge script and is loaded with tons of features. 
Read Why Social Media Clone is a Revolutionary Startup Trend in 2021
How to Succeed in Social Media Industry with Instagram Clone?
Some factors that you need to remember for succeeding in the social media marketplace by using the Instagram clone are–
Doing your research and planning– The first and foremost thing that you have to do before you invest in creating an app like Instagram is to do your proper research and then plan your app– What kind of features do you want? What will be its functionality? Where does it stand in the market? Who is your competition?…etc. You need to be fully aware of what journey you are embarking upon and you shouldn't just take a leap of faith. 
Defining a niché audience– Before you start your app development, you have to define whom you are supposed to serve and you need to define your target audience. It is a vital part of the app creation process because on that basis the app will be given an interface, which will be suitable for meeting the specific audience's needs. 
Add a unique feature– What your app is offering that other apps in the market doesn't? I mean, what is your USP? That's what is going to make your app successful. You cannot be generic and just follow the crowd without any ideas of your own. While using the Instagram clone script– you don't need to think of the coding and technical part, that will be handled by the experts. But, you do need to watch out for making the app unique using your creativity. 
Digital Marketing– How will people come to know about your app? Well, every answer stems back to technology. Digital marketing is the new trend in the market today and it's here to stay. From email marketing to blogs, to social media marketing, you need to promote your app everywhere until it reaches a point where people start resonating with your app as a brand of its own. 
Using an SEO friendly script– Using a Search Engine Optimized script has perks of its own. It drives organic traffic by ranking higher up in the search engine, which in turn boosts brand visibility and it helps in your promotions too. 
Now that you know what factors are truly important for making your app a huge success– opt for Social Media Plus, the crisp social media app clone by BSEtec. For more information contact us now.