The Evolution of Live Streaming Business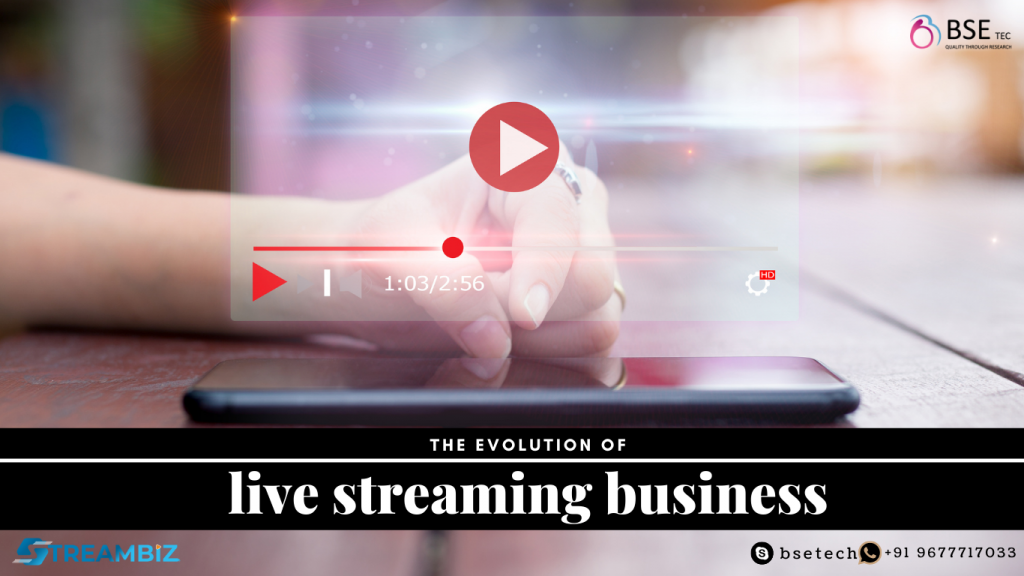 The trend of a simple, yet breakthrough– Live Streaming Technology has invaded the marketplace and has taken off at a staggering speed. The dramatic effects of technology on business and the way businesses are conducted have become quite conspicuous. This technological advantage is being taken by some businesses through the live streaming platforms. It has proven to be beneficial not only for the business, but for the consumers as well. Providing a sense of excitement to the audience, live streaming is inherently a very personal and intimate platform to make the customers feel inclusive and exclusive simultaneously. Nowadays, live streaming represents an opportunity to create your own live streaming platform for your business, that will grow and spread interest in your brand or company. This is why many companies and entrepreneurs are looking forward to curating their own live streaming platforms for taking their business venture to the next level and reaching a wider audience. However, instead of developing an app from square one, they are choosing to use live streaming clone scripts– like periscope clone. As there is an unprecedented level of engagement and interaction with the audience, which helps one to get ahead of the curve– as the live streaming platforms have not yet been overcrowded with many companies.
Benefits of Live Streaming for a Business
Live streaming has numerous benefits for a business, like–
Live streaming in business will help you in building credibility and trust with prospective buyers towards your brand.

Live streaming technology bridges the gap between the physical world and the digital world.

It helps to create an atmosphere of real-time brand engagement. 

It creates brand awareness and brand loyalty.

It is easier to 'go-live' instead of developing a polished on-demand video. 

It also helps to understand what your audience likes and dislikes.
How Live Streaming is Being Used in Business?
Live streaming is an evolving field, and the way it has been used in business is varied. Some of the ways it is being used in business are–
Live Q/A–

A live stream where the one who is broadcasting is holding a Q/A session, in which people are asking questions through live comments, or a product quiz is being held– these things help to build the customer's trust towards the brand. 
Live product promotions/tutorial/launch–

If there is any new product coming up in the brand, or any tutorial or a promotion of a particular product– doing it through a live stream can help in getting brand awareness and recognition. 
Live board meetings–

This is the most popular way live streaming is used. It can address the employees internally and the stakeholders and general public externally. This gives a sense of quality of the brand. 
Live behind the scenes–

Live streaming the BTS of an event or a product launch, just gives a better insight of the company to its customers. 
Live stream an offline event–

Many people are not aware when an event takes place or sometimes they are too far away or cannot afford to go overseas for the event of a particular brand. However, live streaming will give them the experience of being present there– right at the comfort of their homes. 
Conclusion
If you're wondering how you should begin to invest to boost your brand's visibility through live streaming– BSEtec is here with it's best live streaming script Live Plus. It is the periscope clone script, which is fully customizable, SEO friendly and has many amazing features, like Gifts, withdrawals, etc. So, why wait? 'Go Live' today!