Food Delivery App Clone – How To Build A Food Delivery App Like UberEats, Deliveroo & GrubHub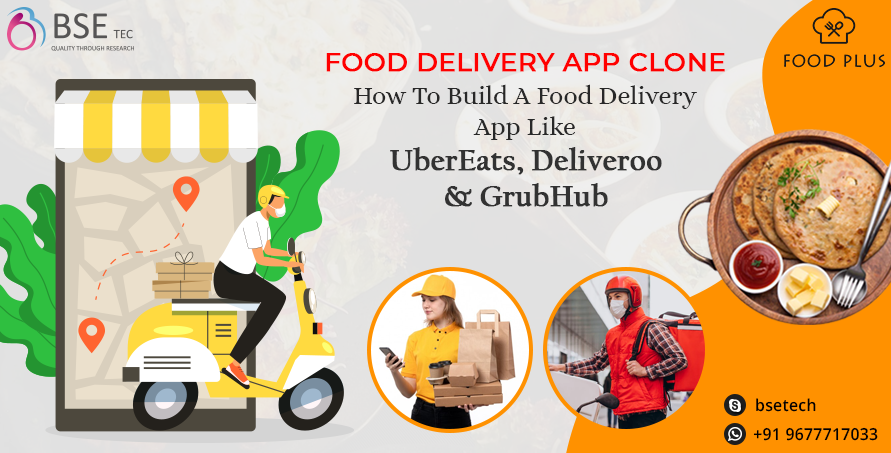 Food delivery apps put an end to all restaurant wait times and lines because you have an online food ordering and delivery app that allows you to quickly and easily order your favourite food from your favorite restaurant. With multiple online coupons and discounts, you may select from your favourite cuisines and order at the cheapest pricing available. From a user point of view, Food delivery apps are god sent. But for restaurant owners and other enterprises who are thinking to launch a food delivery app! Read further to know more!
Why Food Delivery App Is A Great Idea?
There are many reasons why you should lauch an online food delivery app. They are
First, it is an on-demand app, people need convenience and we are ready to make them comfy and convenient plus delivering the order and earn money in the process of comforting them with their favourite food. Yayyy!

It gives you the much needed online presence.

Streamlining the action of Ordering- Processing- Delivery.

Easy to attract new customers.

Effective and more specific  marketing strategies.

Never goes out of market unless people stop eating!  
How To Build A Food Delivery App Like UberEats, Deliveroo & GrubHub?
1. Ground Work To Do Before Building A Food Delivery App
Every business should have a strategy and a strong foundation before launching an app or product. Only then will it survive the market and the competitors and be successful. In that case, here are a few top key criteria you should thoroughly research. 
Know Your Target Audience:

Not everyone likes ordering food online; some people enjoy homemade food customised to their tastes. So you must understand your target audience and who is likely to use your online food ordering app! They can be the Gen Z generation or the millennials who don't have time to prepare food in their hectic schedule, so the first step is to know your target audience and start planning and strategizing your marketing plans accordingly.

Decide Your Budget:

You can be a startup, small business or a big giant who would like to launch an online food delivery app. Deciding how much is your budget is more important.

Develop A Custom Website:

Food delivery apps are cool! But, hey, not everyone likes to instal apps for every purpose. There are people who prefer ordering it through a website. So, make sure to launch a web platform (did I forget to mention that by "launch a web platform," I meant a responsive and mobile-friendly web platform?) 

Pre Launch Marketing Plan:

Pre launch marketing plan is to create a hype around your app. The goal is to make people talk about your brand before the launch to make them all excited to use the app. For example, give them discount coupons so that they start using the app when launched.                                                                         
2. Choose a Business Model: Choose a business model based on your news, it can be the traditional aggregator business model or the in-built logistic business model where both ford ordering and delivery or integrated in the same app unlike aggregator model where it is done separately. Also validate your Online Food Ordering And Delivery App.
3. Choose UI/UX And Tech Stacks and Finalize The Major Features: Attractive user interface is far off from functional ones! The main theme while choosing an UI/UX and other tech stack is to provide a human centered software or mobile app! When the app is intuitive and give a good user experience you are already halfway through. A good app that is easily accessible to users will help you achieve returning users in turn you can reach your set business goals and ROI.
4. Choose The Right Mobile App Development Company: Whom soever you opt for to develop your food delivery business, freelancers, agencies or mobile app development company, the selected one should understand give the app in time, app deployment, license, sticks around your budget and should provide better support and maintenance even after launching your food delivery app.
5. Doordash Clone Scripts
Developing and launching an app that makes our life convenient should also be hassle free and instant! Thats what doordash clone scripts do! It helps you to launch your online food ordering and delivery business instantly and seamlessly. Doordash clone scripts are readymade white label products that are pre-tested and ready to use after customizing it according to your needs.
6. Determine The Cost Of Food Delivery App Development
On-demand food delivery apps like UberEats, GrubHub, and Zomato blend two most loved things by humans, Comfort and food. So, there is no doubt the chance that your food delivery app becoming a successful one!
Doordashclone Script – Food Plus:
Ready to take your food delivery app idea off the ground, then you are at the right place. Checkout FoodPlus, the best doordash clone to launch your online food ordering and delivery app instantly. Get in touch with BSEtec for more details and a free live demo.