How Much Does It Cost To Create A Food Delivery App Like UberEats?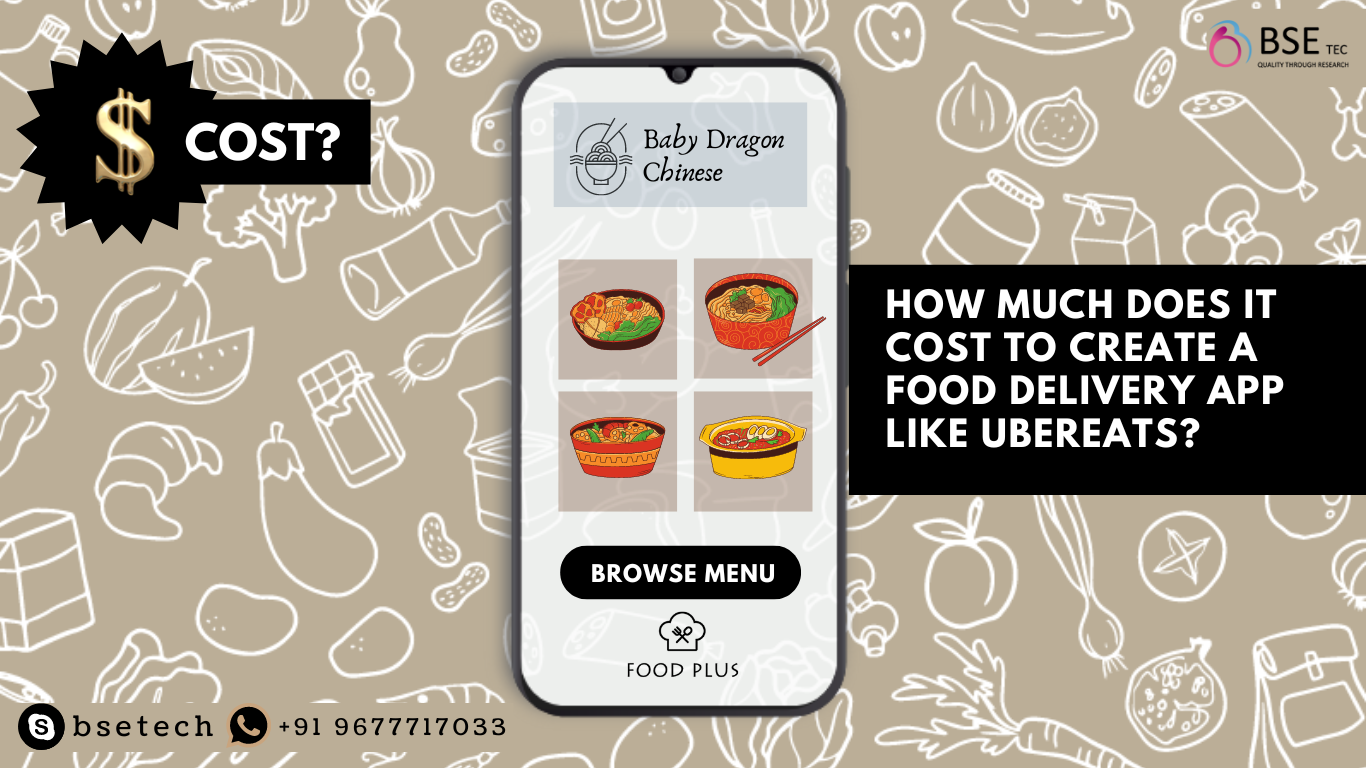 Are you into food delivery business? Are you running your own food truck or restaurant? Are you interested in launching an online food ordering and delivery app like ubereats, foodpanda, or doordash but wondering how much it would cost to develop such food delivery apps? Well, you are at the right place! Here is a brief blog on how Much Does It Cost To develop a Food Delivery App Like UberEats?
Key Features In Your Food Delivery App:
How user-friendly your app is is what sets you apart in the competitive online food delivery business. User metrics are now an unavoidable part of user engagement. We have won about half of the game when we provide simple and appropriate features for every user, restaurant, and dasher.  Because repeat customers are the jewel of any business, we must deliver a hassle-free and user-friendly app to everyone. So, here are the basic must have features in an food delivery app for each panel.
Customer Panel

Restaurant Panel

Dashers Panel
Customer Panel: 
Customer panel should include the following features for easy online food ordering, simple and aesthetic browsing menus!.
Sign-up/Log-in

Search Menu

Shopping Cart

Payment Integration

Track Order

Rating & Review

Customer Support
Restaurant Panel:
The elements of the restaurant panel revolve around the usefulness of seeing customers, accepting payments, and tracking the dasher till the order is delivered. Restaurant panel should include the following features.
Managing Food Items And Menu

Handling Payments For Orders

Live Tracking System For Dasher

Consumer's Profile

Managing Orders

Observing Reviews

Updating The Delivery Provider Status To The User

Records Of Previous Orders

Daily Analytics
Delivery Panel: The Dasher panel's features should be oriented on the deliver'man's usefulness. The dasher intends to use the app in the manner of a restaurant owner. A dasher's panel should have elements that make delivery and payment easier and more straightforward.
User's Profile

Location And Address Of Restaurant And Consumer

Payment Method For A Smoother Transaction

Section For Receiving Ratings And Reviews

Receiving An Order Of Delivery

Handling The Delivery

Sending Regular Delivery Status To The Consumer And Restaurant Owner
Developing A Food Delivery App Like Ubereats:
You can develop a food delivery app in 2 ways,
Building from Scratch:

Developing an app from scratch necessitates the use of the following technology stack, as well as the hiring of qualified developers. Just a gentle reminder that developing an app from scratch is really expensive.
What Technology Stacks Are Needed? 
Creating an app like UberEats used to be more expensive and time-consuming. Fortunately, developers are aided by the variety of technological stacks accessible. Here are some stacks that can help you build a food delivery app.
Cloud Services- Azure, AWS, Kahu, Cloud Sigma

Registration – Google Sign-In, Facebook Login SDK

Payment: Paypal, Stripe, Amazon Payment, Wepay, Braintree

Maps and Locations – Google Maps, OpenStreetMap, Mapbox, Mapkit JS

Restaurant Listing – Foursquare API, Grubhub API, Yelp Fusion API

Analytics – Google Analytics, Localytics, Apple Analytics
Ubereats Clone script:

These Clone scripts are tested ready-made codes that allow us to launch our food delivery app in a matter of minutes. These are 100% white label scripts, making customisation simple.
How Much Does It Cost To Develop A Food Delivery App Like UberEats?
Typically, the cost of developing a food delivery app is determined by the features offered in the app. A typical restaurant's online ordering software as part of a food delivery app will cost between US $12,000 and US $25,000. If you choose a complex app that is also integrated with the restaurant's online ordering system, the developer would most likely charge around US $40,000. But you have white label clone scripts which are pocket friendly and helps you to launch your food delivery app swiftly.
Choosing an App Development Partner
It is once again difficult to locate an app development company that can turn your app idea into a fully functional app. Before making a final decision on your app development partner, several elements must be examined and many questions must be answered. After all, the goal is to locate the ideal team to help you turn your app idea into a reality.
How Food Plus can help you!
FoodPlus is the best ubereats clone app. It is an easier approach to establish a food delivery app on the digital world as it is a ready made, pre-tested whitelabel product with all the key features tailored to meet all your online food delivery business needs. If you want to learn more about the app, you can always contact BSEtec or download the demo app from the play store or app store.