How To Create a Food Delivery App Like Swiggy – Complete Guide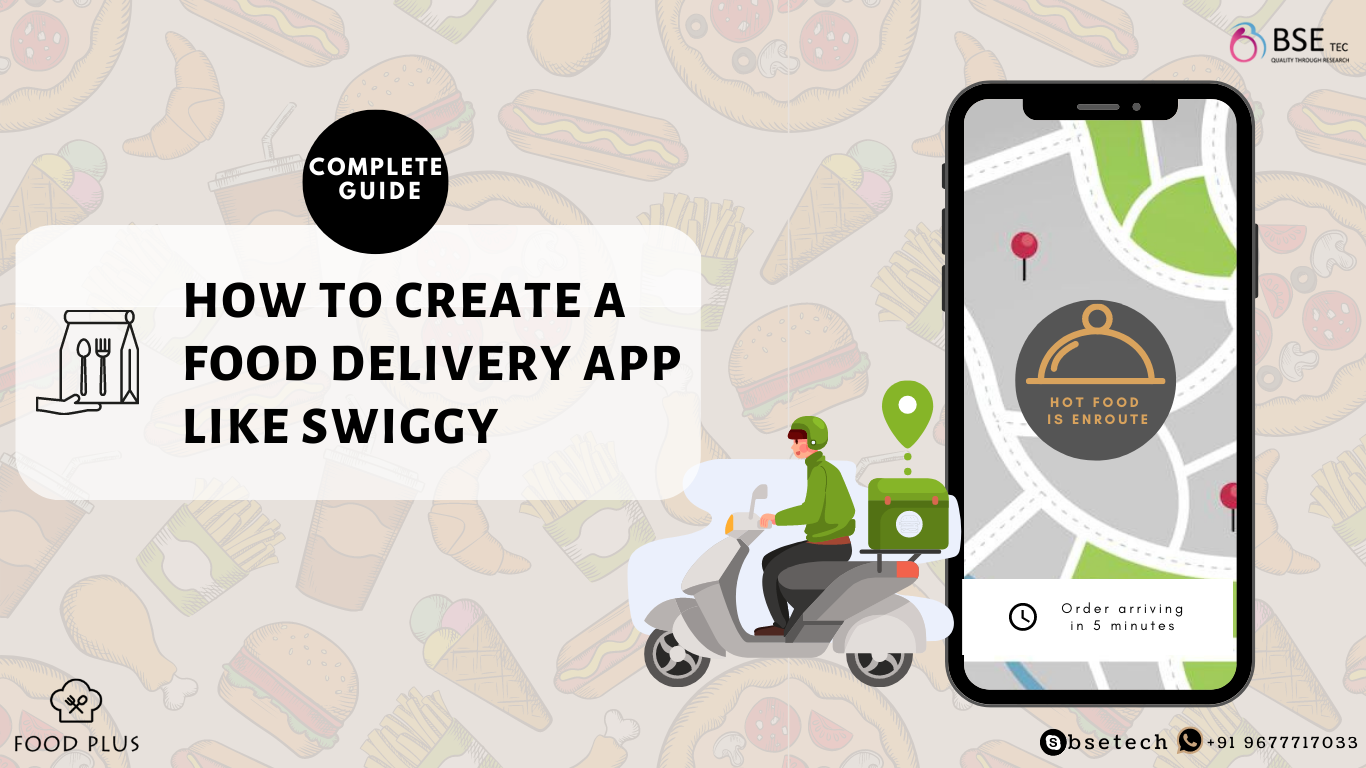 Though Swiggy started too small, its growth is so huge that it even devoured food delivery giant Zomato by delivering 1.4 million orders in a day. Many food delivery apps like Tinyowl, Foodpanda lost the race long back, while Swiggy grew up to be a tour de force. For this, there are 5 key activities of swiggy that made it outstanding from the rest of the food delivery vendors. They are,
Building partnerships with restaurants, eateries, and retailers.

Hiring and managing delivery.

Acquiring and retaining customers.

Supervising the technical operations behind the delivery and payment process.

Instant redressal of grievances of customers and partners as well.
Swiggy Business model: 
Before going through the steps to create a food delivery app like swiggy, it is important to know how swiggy makes money. For any investment how much monetary value you generate says how successful you are! Though swiggy earns through its logistics and grocery delivery apps, below is based purely on the food delivery sector of swiggy.
    Read Food plus – a professionally crafted Food Delivery Clone App
Food delivery:

Swiggy being a middleman between the customers and restaurants, it charges a nominal fee from customers as delivery charges.

Surge Fees:

During peak lunch hours, festivals, when there is an increased number of orders, it charges "Surge fees" in addition to delivery charges.

 Restaurant Commissions:

and Swiggy eases the process of delivery for partner restaurants and charges a commission of about 15-20% from their partners for each order the listed restaurants (as commissions, though they give 2-3% discounts on commission often) for using their platform.

Priority listing:

Nothing comes freely, to be listed at the top of the search, there is a premium membership facility for restaurants, to make them show at the top of search results.

Swiggy in app advertising:

Swiggy generates revenue by selling the attention aggregated on its app to restaurants looking to market themselves. Swiggy allows two different kinds of advertising across its web and app properties — higher priority listing of restaurants & banner promotions. Swiggy ads work on a Cost per click model, meaning advertisers only pay if users click on their ads.

Swiggy Access Cloud Kitchens:

Swiggy launched Access, a program to house multiple restaurant partners under a Swiggy operated central delivery kitchen facility in order to help partners expand to neighborhoods they don't operate in.

Swiggy Subscription:

Inspired by the freemium model (Freemium is a business model in which the owner or service provider offers basic features to users at no cost and charges a premium for supplemental or advanced features), this is a concept by which customers pay for subscribing to Swiggy, and in return, they get to enjoy unlimited free deliveries for orders above Rs 99. No surge fee & exclusive offers are few more add-ons for Swiggy Super subscribers.
   Know More Why do Swiggy Clones Create a Tremendous Impact Nowadays?
5 offbeat features to keep in mind while creating swiggy like app:
Vast choices of Restaurants:

Including a wide range of restaurants, helps you to bring in a wide range of customers.

Order Scheduling:

This feature helps to get an order delivered at the desired time.

Geo-location:

What made the

food delivery app

to be a huge success is the Geolocation feature, the customer can exactly know, whether the order is accepted, when they are preparing, where the delivery guy is at the moment, and in how many minutes he will deliver the food.

Rating System:

 A rating system is a real-time review of a restaurant's service, so with this, the customers can easily identify and go for more highly rated restaurants than randomly choosing a restaurant with the probability the food may or may not be good. So this rating system gives customers what they should opt for based on other customers' experiences.

Internal Payment System:

Swiggy offers a wide variety of payment options, UPI/ DIgital wallets, Mobikwik, Credit and Debit Cards, Sodexo Meal Pass, Ticket Restaurants Meal & Zeta Food Card, LazyPay, and Cash on Delivery.
      Steps to create an App like Swiggy:
Attractive & easy user interface:

More the simple user interface and ease of access, the higher the success rate of any app, so the first step is to opt for a more minimal and functional user interface.

Active performance on all devices:

Responsive bootstrap design is a must-have feature, The app should adapt to any type of electronic device a customer is using, mobile or tablet or PC.

A Great package of information: Listing each and every list of restaurants briefly 

Diverse & secure payment methods:

Offering a wide variety of secure payment methods provides hassle-free checkout of the orders and provides diverse options.

Provide offers & rewards:

To pull in more customers it is important to provide attractive discounts and coupon codes. Discounts encourage customers to try a more profitable brand or service. Coupons can also help attract existing customers to come back to your store.
The final step to develop a Swiggy like App:
Last but not least, you have to develop the app in order to start your food delivery service. There are 3 ways to build your own swiggy-like/ Swiggy clone app. They are
Do it yourself:

If you are techy, and you know the technical know-how, then you can develop your own live streaming website by using WordPress.

Hire a developer:

Well if you have the cash to spend, you can hire a developer to build a platform for you. Beware, this can get pricey. The approximate range of developing an app like Swiggy is 5000 USD – 8000 USD and it takes 600-800 hours to build an app like Swiggy.

Swiggy App/Website clone scripts:

These are ready to use Swiggy website/Apps available in the digital market. Checkout

FoodPlus.

These Swiggy clones are pre-tested, and ready to use scripts and are available at a very affordable cost without compromising on the quality.
Conclusion:
Interested in starting your own Food delivery App like Swiggy? Then, to create your own swiggy clone app, try the imminent Food Plus, Swiggy clone script/app right now. Contact Bsetec for more details and ask for a free demo.