Google Recently Launched ARCore 1.0 – Android SDK for Augmented Reality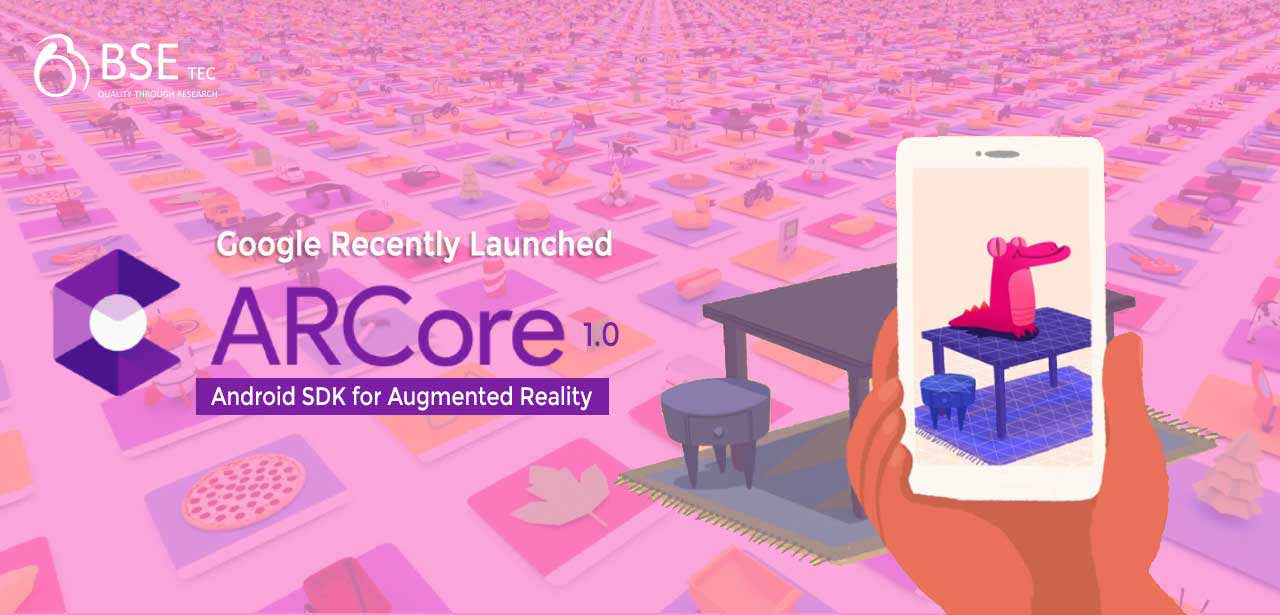 After completing trial phase, Google has introduced its Augmented Reality ARCore of 1.0 version. They have launched this portal with over 100 million of Android gadgets. ARCore allows developers to publish Augmented Reality game applications that communicate with the real world with the help of our camera. Moreover, developers will be able to create their games based on an AR concept to the Google Play store, targeting 100 million Android the customers. First, we need to understand what ARCore framework is. Much the same as Apple's ARKit, ARCore enables our typical smartphones to run AR applications. ARCore applications will either overlay 3D images over the telephone's camera or enable you to utilize the mobile as a camera in a 3D world, moving your perspective around as you move the mobile.
To have a success in their ARCore launch, Google has already partnered companies like Snap, Sony, Wayfare, Porsche and others to carry experiences in ARCore app to their life.as the intro launch, Google already worked with the below smartphones to offer the functionality of AR: Pixel, Pixel XL, Pixel 2, Pixel 2 XL, Galaxy S8, S8+, Note8, S7 and S7 edge, LGE's V30, V30+ (Android O only), ASUS Zenfone AR and OnePlus's OnePlus 5. The above list is just a sample implementation of Android phones. Google has already stated that their targets will extend to 100 million of phones to incorporate. Apart from the above companies, Google has started to work with Samsung, Huawei, LGE, Motorola, ASUS, Xiaomi, HMD/Nokia, ZTE, Sony Mobile, and Vivo implement ARCore in their future gadgets. Therefore, you can expect this launch soon in Galaxy S9 that supports ARCore framework.
The features of ARCore will resemble Apple's ARKit. However, the one distinction may be that Google offers more adaptability with regards to the size of surfaces that you're ready to extend digital models onto, ARCore 1.0 will dispatch with "Enhanced environment understanding that empowers clients to put virtual resources on any finished surfaces." Furthermore, Google has announced interesting information that ARCore is also going to launch in China. However, the implementation of ARCore will not be that much easier, as Google has nothing to do the commercial with China. In China, we find no Google app, service and moreover, no play store to download the applications. Google has faced the commercial obstacles by partnering with Xiaomi, Huawei, and Samsung.
While Google has tested its ARCore version 1.0, it still working with the broadcast of its Lens computer vision tool, however, it says it will convey it to more clients going ahead. Moreover, the performance of the Google Photos app will be soon running on Android and iOS 9. Furthermore, it is anticipated that these functionalities will be implemented soon in following devices: Huawei, LG, Samsung, HMD/Nokia and Sony. Let us hope for more launches from Google.
Are you looking for best augmented reality app development? BSEtec will give you hand for your app development. One among top web and mob app Development Companies BSEtec has launched 4 AR based applications.