How is Artificial Intelligence used in the EdTech industry?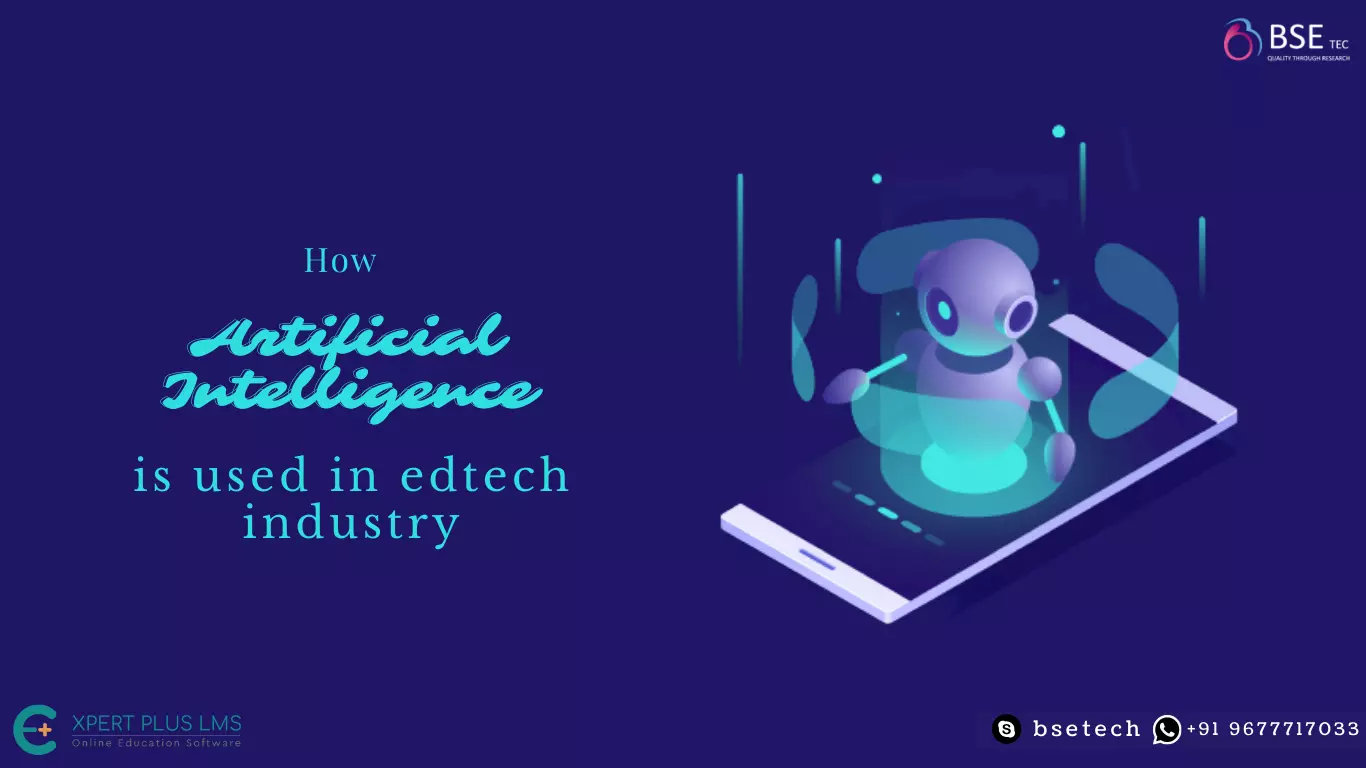 In this age of technology, the most important thing to stay updated is in the education sector. AI is not that nerdy teacher who is smart in her subject. AI is the smartest teacher you will ever have well. Multi-faceted, Versatile in every area. We can reap the full benefits of Online education with AI-powered by LMS. Below are some of the smartest ways Artificial intelligence serves us in the EdTech industry.
Customized learning Journeys:

The latest fad in the education sector is integrating

Learning management systems (LMS)

  with artificial intelligence. Name a Better Duo Than AI and Personalized Learning—We'll Wait. Automated assistants and AI teaching assistants are a boon to both teachers and students. There is no "one size fits all" when it comes to education. Each student is unique and the learning style varies from student to student. Basically, there are four different learning styles, Visual learning, auditory learning, kinesthetic learning, and Reading or writing learners. It is overwhelmingly tedious for the teacher to understand and adapt teaching styles and learning activities for each student, but, with smart AI-powered

LMS

,

customization is seamless.

Personalized learning

refers to the instructions in which the pace of learning, learning activities, and teaching approaches are optimized based on the student's learning style, and performance.

Automated grading:

With AI grading can be seamless and 100 percent accurate. At first, AI was used for grading multiple choice questions, in competitive exams. With AI grading lakhs of MCQ assessment papers are a piece of cake, fast and with zero error. Now with advancements in technology, using machine learning and Natural language processing, Automated Grading System (AGS) has emerged as an efficacious tool. It is an AI-powered computer program that assigns a grade and provides basic feedback to essays, and summaries written by students. Briefly, the computer program compares the semantic content of a student's summary of source documents to a "gold standard" summary provided by us. Grading assessments and assignments for large lectures takes a large chunk of a teacher's time which can be used for other productive activities. This time can be used to interact with students, prepare notes for the next class, or invest that in other professional development courses. 

Performance analysis:

Your L&D executives and business stakeholders can access data like the list of best and worst performers, employees' learned skills, completed modules, and many other things thanks to the

AI-based LMS

. The managers of the organization can view internal statistics and compare them with industry standards. Setting up prompt internal mobility provides a chance for the organization to close any potential skill gaps.

Boosts ROI:

Return of investment skyrockets with AI-powered LMS more than the regular courses. Thanks to AI for personalizing courses based on learners' interests. To harness this benefit fully, make sure you have a fully functional, responsive, and good learning environment with customized, high-quality, and appropriate training that can be completed limited time. Even in MNC's professional training courses, the amount invested in each employee brings better ROI as the AI constantly monitors 
the learners and closes the learning gaps by suggesting the required courses. With smart upskilling and reskilling employees, companies have a much better ROI.
Wrapping up, launching your Learning management system with integrated Artificial intelligence is a smart move to outgrow your competitors as well as to gain monetary benefits like increased return on investments. To launch an AI-powered learning management system, checkout Expertplus LMS, 100% white label, SEO-friendly udemy clone script, Contact BSEtec for more details and a free demo.