How to Make an App Like to Udemy: Online Tutor Marketplace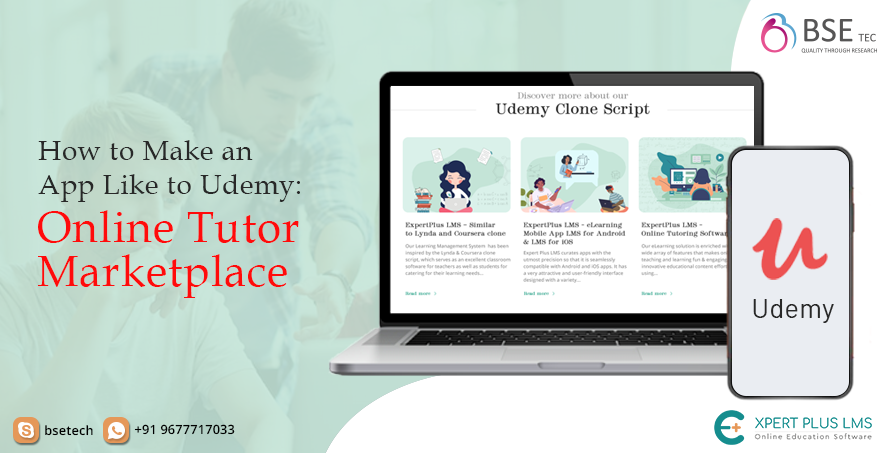 As you can see, the digital learning sector and apps like udemy have been booming recently. This is because, even after the pandemic, people choose online classes since they allow them to learn at their own pace and in their own environment. So, if you want to start your own udemy like website, you've come to the right place.
What functions for a platform like Udemy?
You may be wondering! What makes Udemy more successful while others try to survive in the game? Well, there are three significant factors that made udemy take the center stage. They are,
Online tutoring marketplace

like Udemy serves a diverse worldwide audience with varied socioeconomic levels. Unlike traditional methods, where we get quality instructors only in top institutions where the fess is high,

udemy like websites

provide quality education worldwide at an affordable price and in many foreign languages.

They provide free superior educational products and services to individuals and businesses alike. Udemy follows a Freemium model, where they provide many free courses and premium courses, you can learn quality stuff from the free courses as well and later opt for premium courses if needed.

They provide unique course authors with a revenue generation toolkit.
How can apps like Udemy draw users and retain their loyalty? 
Here are a few pointers to help you retain your students in an online course marketplace and promote loyalty!
Engage your students: Being an instructor entails more than just creating a course. It is critical that you connect with your students in an online situation. Successful teachers do more than just create content; they also spend time communicating with their students. We encourage you to cultivate a community of dedicated students.
Ways for connecting with your students: There are various methods for communicating directly with your students. You can make announcements and promotional mailings, send direct messages and communicate with students in your course's Q&A forum.
Promotions: Use promotional announcements to promote your new courses to your current learners or to give coupon coupons for your existing courses that people may share with their friends and family.
How to develop a Udemy clone app? 
You can develop Udemy clone app either from scratch or opt for ready made Udemy clone scripts to develop your app. But before that there are certain crucial elements to consider while developing an online education app. They are,
Planning and Understanding the Market, Identify Target Users: 

It is critical to plan the dynamics of an app like Udemy. You must have a clear plan that addresses all relevant issues. Here are some straightforward questions to ask.

Who is your targeted audience?

How are you planning to make money from this venture?

What is the size of your app going to be?

What resources will be required to get an MVP up and running?

Is the app developed in-house or by a third-party development team?

Are we opting for a

Udemy clone script

?

What is the timeline for developing an

Udemy clone app

?

Determine Revenue Model:

A well-thought-out monetization strategy is an excellent method to launch an online learning and teaching business. Here are some popular monetization tactics used by industry titans.

Features to be incorporated:

The user should have a seamless experience while signing up for courses or paying for them. So, there should be stellar user friendly features in the app!
How can ExpertPlus LMS help?
All of the above features are available with our top-notch udemy clone script, Expert Plus LMS. It is a 100% white-label product that is ready to use and doesn't need any coding or technical experience. You can be set up your udemy like website in a matter of minutes as it is ready to use and pre-tested. Begin developing your Udemy Clone app today and contribute to the increasing universe of knowledge and education! Contact BSEtec for more details and a free live demo!