What Makes Udemy Successful? Udemy's Business Model And How It Generates Revenue – A Deep Analysis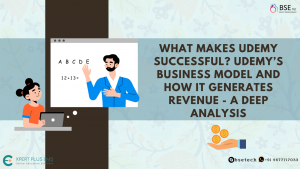 Udemy is a course marketplace. In simple terms it is a digital learning platform that offers a wide range of hard skills, soft skills, and non-degree courses. The platform provides more than 150,000 courses which include categories like Design, Photography, IT & Software as well as Business and Entrepreneurship. Udemy is a platform for instructors to create and market their own preferred courses. An instructor can make use of Udemy's course development tools, they can upload videos, PowerPoint presentations, PDFs, audio, ZIP files and live classes to create courses. The important elements of Udemy are the learners and the instructors, these are mutually inclusive and both are equally important for the success of Udemy.
So, now we know what Udemy is? But what made it a pioneer in the digital learning platform? How does it work? How does it generate money? Let's see.
Read 5 tips and tricks to choose a Successful Udemy Clone Script
Udemy's Business Model:
Udemy adopts a freemium revenue model. Freemium is a business model in which a company offers basic or limited features to users at no cost and then charges a premium for supplemental or advanced features. So basically Udemy is free to sign up and access the free course. This is an excellent marketing strategy to bring learners in, because once they enroll in a free course, there is a 70% chance of conversion from free to paid course, by seeing the quality they offer.
How does Udemy make money?
Udemy works on a marketplace business model like popular e-Commerce websites like eBay. It doesn't own any product or service. In simple terms, it acts as a mediator between instructors and learners. 
Subscription Revenue Model:

In this model, students and professionals are charged with a monthly/quarterly/ yearly subscription for providing unlimited access to subscribed content. For example, Udemy Pro Cost (Udemy's subscription fees): $19.99 per month. A large part of the money is generated through subscriptions, and this is proven to be the stable method for generating revenues.

Commission sharing with Instructor:

Udemy is just a mediator that offers instructors a platform to create their own courses, though Udemy does not sell any products, it commissions the instructors for using their platform for selling courses. The commission rate depends on the number of students enrolled in that particular course. So, every time a student buys a course, the company earns money.

Revenue Sharing Model (Instructor Revenue Share):

Also known as the performance-based income model, the revenue sharing model is the distribution of the total revenue generated by the sale of products/services between the contributors/stakeholders.

Udemy Organic:

Organic sales occur whenever a student browses the Udemy platform and finds a course he/she is interested in. Furthermore, no instructor coupon is used when purchasing the course. In this scenario, Udemy and the course instructor share 50 percent of the course sales. Udemy charges a 30 percent fee for any sale made through the company's Android or iOS app.

Instructor Promotion:

The student discovers the course through a coupon or referral link issued by the instructor. In this case, the instructor receives 97 percent of the course revenue. An additional administration fee of 3 percent is applied by Udemy.
So Udemy is already in the race of the ever-growing online learning platform. The e-learning market is expected to exceed $375 billion by 2026. So, it is never too late to invest in an e-learning platform or Udemy clone scripts. "Better late to be than never" If you are an entrepreneur /tutor looking to start an e-learning platform/ Udemy clone script/ Learning management system for setting up your online course, then you have to check out the best in town LMS platform, ExpertPlus LMS.
Also read 3 Different ways to use Udemy Clone Script Successfully
More about ExpertPlus LMS:
ExpertPlus LMS, a unique and imminent product Udemy clone script created by a team of high-tech engineers, with all the Udemy features that are ready to use. For further details contact BSEtec and ask for a free demo to build your own online learning management system.