How You Can Own Upwork Clone Script With Advanced Features?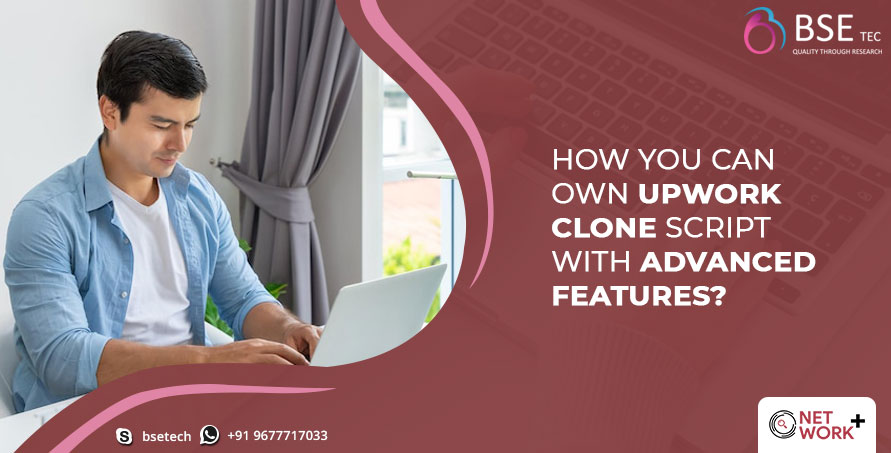 The development of the freelance marketplace can be the best decision of your career as it is a rapidly growing industry. The increase in more freelancers coming into the industry by leaving full-time jobs. The reason behind this boom is that professional skills holders are experiencing that there is no point in giving services to one company for the rest of their life. It is not productive or beneficial as it doesn't do anything good for their professional career. By freelancing they get the liberty of developing their name as the brand through giving freelance services to clients over the globe.  
Choosing the Upwork clone script as the source of development of the freelance marketplace is the smartest choice; it is a more convenient and affordable method that develops platforms with the more advanced technologies in no time. We always suggest entrepreneurs check out NetworkPlus once for this matter. NetworkPlus is the best open-source Upwork clone script in the market loaded with many readymade and add-on features that allow you to develop your platform with the latest technologies available in the market. 
How can you own it?
Owning an Upwork clone script is so easy if you follow a simple procedure and in that way, you also get to choose the right Upwork clone script. 
First, you need to decide what features or what type of working you desire in your freelance marketplace as it is going to be the basis of your Upwork clone. 
Secondly, You have to develop the marketing plan that includes the targeted audience and how you will reach out to them, and what features you require for that purpose.
Third, You can explore the free of cost live demo provided with the Upwork clone script- NetworkPlus to make sure you are going with the right script.
Fourth, After you decide all these things then you can get in touch with us for a deep discussion about your requirements including in Upwork clone development as we will be developing it for you with all the customizations you require. 
That's it, You will get all the customizations and features you require with a fully developed SEO optimized platform in very less time. And by that time you can work more on your marketing plans alone.
Along with the Upwork clone script, You are also getting an incredible service from BSETec. AT BSETec we give full independence on using open source Upwork clone script with any customization you require with our professional technical assistance. We also give free installations and free system updates regularly with premium technical support to make sure your platform is fully functional all the time.
You can explore every readymade feature in the Upwork clone today at NetworkPlus, Or you can directly get in touch with us by dropping a word below. 
Contact Details
Email : support@bsetec.com
skype : bsetech