How Much Should I Pay to Get an Instagram Clone Developed?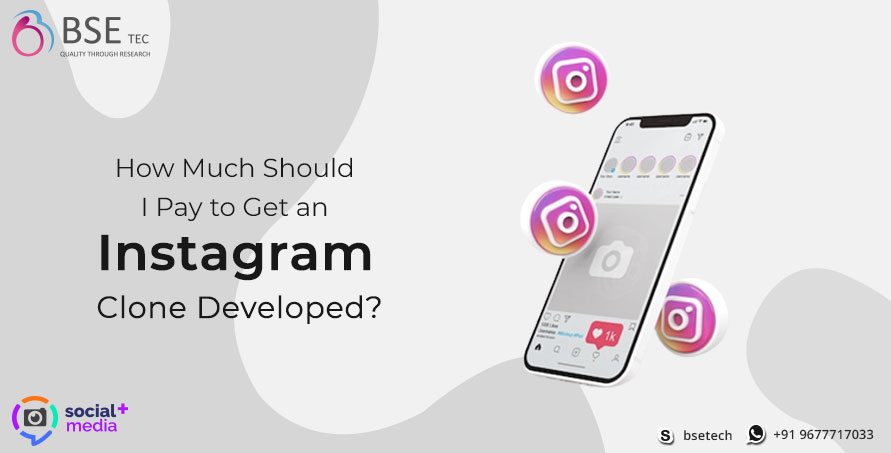 Instagram began as a photo sharing app almost a decade ago. But as the years progressed, instagram transitioned itself with ground-breaking functionalities and transformed itself from being an underrated and unpopular platform to becoming an overnight internet star. It has become one of the irrefutable rulers of social media and is truly considered one of the most influential and strongest platforms to connect with the global audience today. One of the major reasons behind the exemplary growth of instagram is due to the constant and effective product improvement- which means it not only provides a channel to communicate with your family and friends on a personal note, but has also become an empowering tool for the up-and-coming businesses helping them in their promotions and marketing purposes. These intriguing features have inspired many businessmen and entrepreneurs to invest in creating apps like instagram. However, to make an instagram-like app from scratch, it will take about $50,000 to $60,000 due to the number of features and the number of hours that is invested by the developer. Moreover, it will take around 10-12 months to create an app from the beginning. Due to this very reason, these businessmen are resorting to instagram clone scripts. 
Benefits of Instagram Clone Script
The features provided by the instagram clone script helps the app to work seamlessly and have a number of benefits too.
Easy and simple registration process– The login and registration process of the platform created by the instagram clone script is very easy, simple and hassle-free and easy to access by the user. 
Manage profiles– You can manage your profile as well as follow/unfollow profiles of your relatives, friends and colleagues and even the profiles like celebrities, news portals, digital magazines, etc. 
Post photos/videos– The instagram clone script provides you with a large platform where you can click pictures or videos and share it as a post and curate your own virtual album, capturing all your special moments and memories.
Push notifications– This feature assures engagement of the user, as it pops up in the notification bar stating about posts, or if someone follows, or if someone has commented on the post, etc. This compels the user to open the app and respond to it. 
Privacy and Security– The users put in their personal information like their mobile number, email Ids, and also they communicate through personalized chats, and if there is no privacy or security then the users will feel threatened and vulnerable of using the platform. But, thanks to the Instagram clone script– which assures good end to end encryption.
SEO friendly– The instagram clone script is SEO friendly and helps your app rank higher in the search engine, which in turn will bring about a huge amount of organic traffic to the website. This will enhance the popularity of your platform and also boost its visibility.
Fully Customizable– Instagram clone is highly customizable with a great variety of themes and templates to choose from. You can customize it according to your preferences and tastes. 
Conclusion
The instagram clone script provided by BSEtec provides all the above mentioned features and does not even cost a fortune. It stays in your budget and takes way less time to develop than building a new app. If you are looking to build your social media app like instagram– don't think twice- get in touch with us today!