Most Enlightened NFT-Based Business Ideas In 2023 To Reach High On Your Business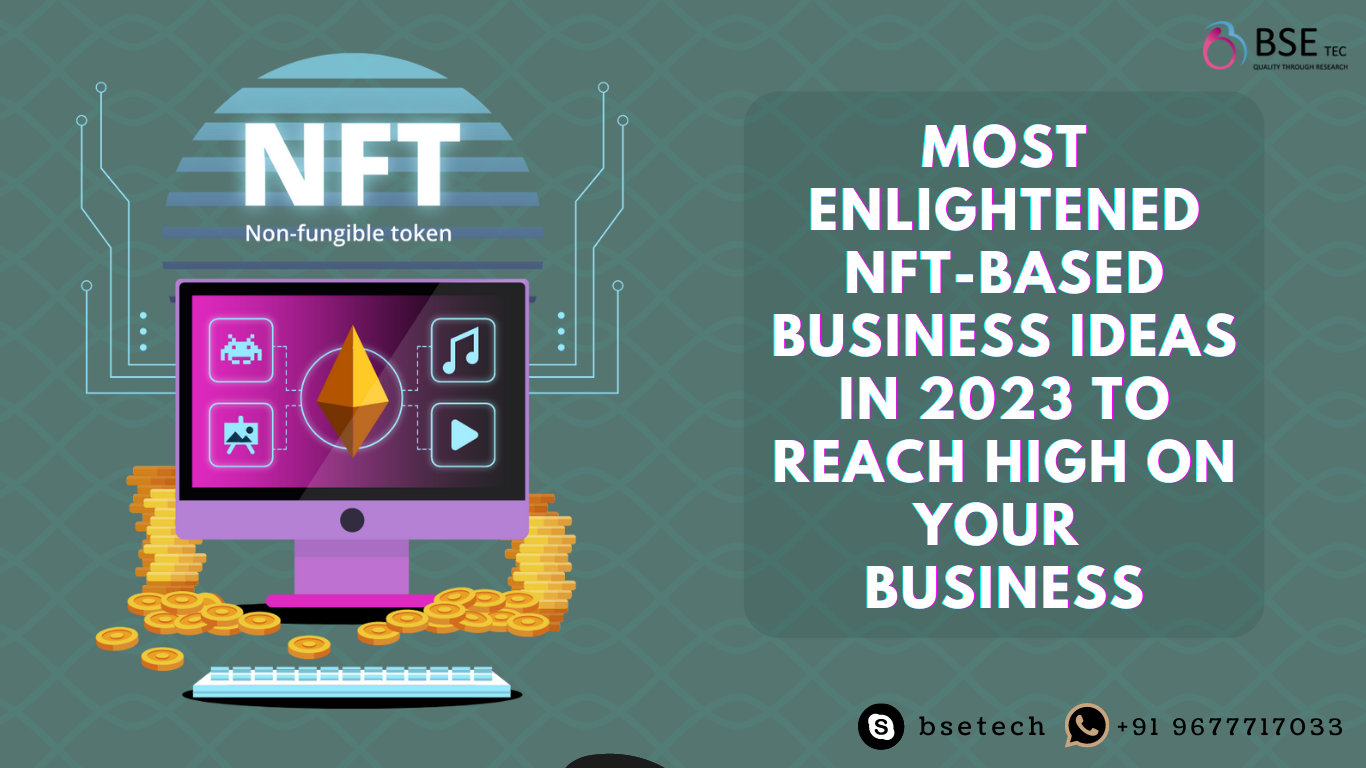 With time, NFT's excitement is growing exponentially as the NFTs' popularity has skyrocketed in the past year. This appears to be the main driver behind people entering the revolutionary NFT market. This blog will walk you through the top NFT business ideas you might take into consideration if you're an ambitious entrepreneur who is excited to enter this industry but is still unclear on where to begin.
Provide White-Label NFT Services
These days, NFTs are the trend, and the buzz is well-deserved given the advantages that an NFT platform may provide, such as revenues from NFT sales. White-label NFT services are pre-built, ready to use, and entirely adaptable to your NFT business requirements. An NFT white label service should be pre-integrated with all the necessary features to support buyers and creators in their free creation, purchase, exchange, and sale of NFTs. You simply need to add your own NFT business branding to make the NFT service appear to be your own.
Make NFT Online Courses
Entry into the NFT industry would be highly difficult, expensive, and labor-intensive. You might therefore start NFT online classes to share your IT expertise & knowledge with others. In 2021, e-learning overtook all others, making it an excellent choice to reach a worldwide audience and generate income. Consider uploading NFT-related courses to well-known online education venues like Udemy. You might consider creating your own YouTube channel where you would upload your classes. In any case, gaining influence in the NFT industry would be a possibility.
Start An NFT Lending & Borrowing Platform
Users of the NFT loan platform will be able to utilize NFT as collateral to obtain loans for other investments or to start their own businesses. This platform benefits from transparency, interoperability, cross-chain compliance, and immutability. This would increase the number of end users using the NFT lending and borrowing platform, making it a lucrative market to enter.
Create NFT Wearables
Wearable technology that displays your NFT assets is the hugely anticipated next thing in fashion. One current example is the buzz that has developed around NFT jeweler Eduardo Jaramillo after the release of the pendant that uses NFT. With the development of technology, there are many more chances in the NFT sector. Wearable NFT gadgets would be the way of the future since they allow NFT owners to view their digital assets.
Become An Digital Creator (NFT Artist)
Without a doubt, the piece of art is arguably the most well-known in the NFT industry. It would be preferable for you to create your NFT art and sell it on well-known platforms like OpenSea, Rarible, SuperRare, Atomic Hub, etc. if you have excellent design skills. Making the decision to become an NFT artist should only be done if you are confident in your skills and abilities because there is fierce competition for making, minting, and selling artwork. At this point, your NFT will be valuable, enabling NFT aficionados to purchase your artwork.
Create Your Own NFT Virtual Reality
Due to the recent boom in the virtual world, now would be the ideal time for you to develop and introduce your own virtual reality. As a result, this platform presents virtual events including performances, NFT galleries, digital exhibits, and numerous other comparable things. Decentraland, a decentralized virtual marketplace where users can purchase virtual plots, serves as a prime illustration.
Launch NFT Marketplaces:
NFT Marketplace is a digital marketplace where users may easily trade their NFTs. On this platform, the auction will be performed in the traditional manner with fees such as commission fees, listing fees, initial setup fees, etc. These sources of income serve as the foundation of a sizable income. Despite the abundance of platforms on the market, the NFT industry offers newbies a greater range of alternatives to create their own NFT markets.
If you've wanted to achieve this, team up with a reputable NFT marketplace development business or use a white-label NFT marketplace script like Mint Trade, and have the platform built according to your specifications. Contact BSEtec for more details and a free live demo.