Purchase Your Outstanding E-Learning App With Stellar Features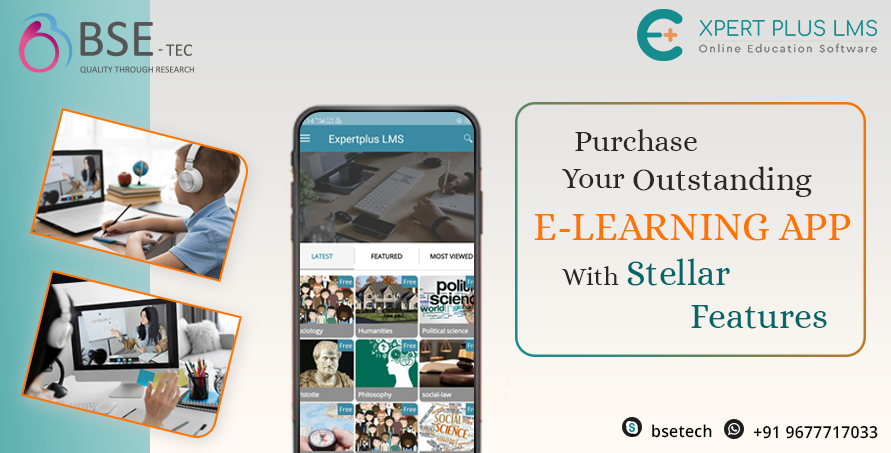 The world has seen an enormous rise in the adoption of e-learning apps in recent years, especially with the current COVID-19 pandemic that has forced most students and professionals to switch to remote learning. eLearning apps like udemy course marketplace have proved to be a game-changer for both students and educators as they provide easy access to a wide range of learning resources and facilitate learning at the learner's convenience.
Read Top 5 Reasons Why you need to switch from traditional classroom to Online class
Why is the Market For eLearning Apps Growing Steadily?
The sudden work-from-home and learn-from-home model that took place during the pandemic made students and learners realize how effective and efficient online learning programs are. Though opting for online learning started to gain momentum, the following three are the strong reasons why the market for eLearning apps is rapidly growing.
Simplified Learning: With Visualization and adding fun elements like interactive videos and gamification have made learning so simple and have paved the way for a deep understanding of the concepts and engagement ratio.
Affordable Smartphones: Yet, another undeniable reason is the availability of affordable smartphones. Nowadays everyone has a smartphone and access to high-quality internet connections. As a result, everyone can download eLearning apps like udemy and learn on the go.
Self-Paced Learning: Everyone can log in to the online course and study at their own convenient time and pace. There is no rush of completing the syllabus in a given time. The students can access the course whenever and how many times they need.
Read

Top 6 Benefits of Udemy Clone Scripts
If you're thinking of investing in an eLearning app, it's important to make sure you purchase an outstanding app with stellar features. Here are some essential features that an eLearning app should have:
User-friendly interface: A user-friendly interface is essential for any eLearning app as it allows learners to navigate through the app easily and quickly to access the content they need.
Compatibility with multiple platforms: An eLearning app should be compatible with different platforms like mobile, desktop, and tablet to cater to the needs of all learners.
Personalization: Personalization features such as adaptive learning and personalized recommendations based on the learner's progress and interests can make the learning experience more effective and engaging.
Gamification: Gamification features such as badges, rewards, and leaderboards can motivate learners to complete courses and increase engagement.
Multimedia support: eLearning apps should support multimedia formats like videos, audio, and interactive animations to provide a more engaging and interactive learning experience.
Analytics and Reporting: Analytics and reporting features help learners and educators track progress and identify areas for improvement.
Collaboration tools: Collaboration tools like forums, chat rooms, and group discussions can facilitate peer-to-peer learning and increase engagement.
Social media integration: Social media integration can make it easy for learners to share their achievements and progress with their peers and educators.
Investing in an eLearning app with these features can provide a better learning experience for learners and increase engagement and motivation. So, if you're looking to purchase an outstanding Udemy Clone App, make sure it has these fabulous features.
Check out Expert Plus LMS, the best Udemy Clone Script in the digital world. Get in touch with BSEtec for more details.