How to Develop a Real Estate Mobile App for Property Listing – Development Cost & Features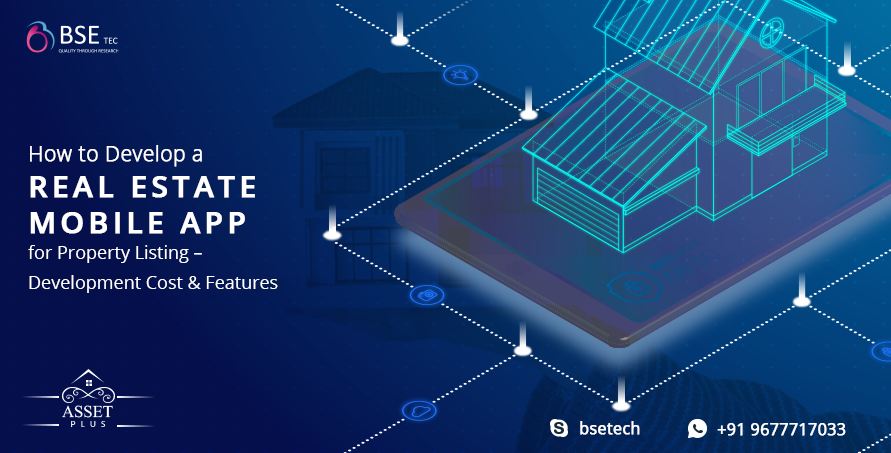 The real estate market is booming with possibilities. As agencies and companies are rapidly jumping into real estate mobile app development, some apps are quickly becoming the Ubers and Instagrams of the real estate world. Two such examples are Zillow and Trulia– very popular real estate apps in the US, both of which have over 160 million active users in a month. So, if your enterprise operates on the real estate market, real estate app development is what you must embark upon to boost its marketability and gain traction. 
Going through brokers and property agents is so outdated in the era of digitalization. Looking for a property in a particular city is hectic and time consuming. Moreover, agents take a hefty sum of money. 
But real estate apps are likely to cut off the need for these agents and replace them with mobile phone apps and technology instead, which provides real-time experience of glancing through various properties listed in the app– especially without moving an inch. 
If you're thinking of building an on-demand app for your real estate business, congratulations, you're on the right track to take your business venture to the next level. The mobile application will enhance your brand recognition, so, it's crucial to know the factors involved in a development process. 
Investing in real estate mobile app development is an expert move, as there is a great expansion in the number of smartphone users, the demand of mobile app development has also increased several fold. 
What are the Features Needed in a Real Estate Mobile App?
Some features that are fundamental in a real estate app are–
Property Profiles with images 
Real estate agent listing
Know The Biggest Contribution Of Real Estate Apps in Business
Now, after you've enlisted what are the features you want in your real estate mobile app, you might as well be interested to know–
How to  Develop a Real Estate App and the Cost of Development Involved?
The development of mobile apps with just the fundamental features and functionalities fit under a tight budget, but the more complex the app you are willing to build, the more will be its development cost. 
Based on your target audience you must choose the right mobile app development platform– Android or iOS, or both. 

If you're choosing both, the development time will be higher and so will be its development cost. 

For developing an app from scratch you need vital resources– money, time and energy. 

You may need to hire an app developer if you have zero coding knowledge. 

For developing an app, a developer will take a handsome amount, which is not feasible if you're on a tight budget. 
This problem is solved by a real estate clone or real estate php script – like Asset Plus. 
Asset Plus is the Trulia or Zillow clone script developed by BSEtec. 
Why Should You Choose a Real Estate Clone Script like Asset Plus?
It doesn't cost you a fortune to develop your app using the real estate php clone script.

It takes a lot less time to develop, as it doesn't require involvement of coding, you don't need to invest on an app developer.

It is customizable to suit your needs and you can use different color schemes and themes.

It increases your visibility and increases app traffic as you're using a replica of popular real estate apps– Zillow and Trulia. 

It has a property listing script where innumerable properties can be listed, be it under the rental section or lease or for sale. 

It comes with 24×7 customer support.
Read The Billionaire Guide On developing a profitable online real estate Marketplace Script
Conclusion-
A mobile app can help real estate companies to grow their businesses. You just need to find the right approach to the process of developing and promoting your program. You must act thoughtfully and calculate every step and not rush & make hasty decisions on real estate mobile app development. Only then your investment will pay off with interest.