Top 5 Industries that Uses Live Streaming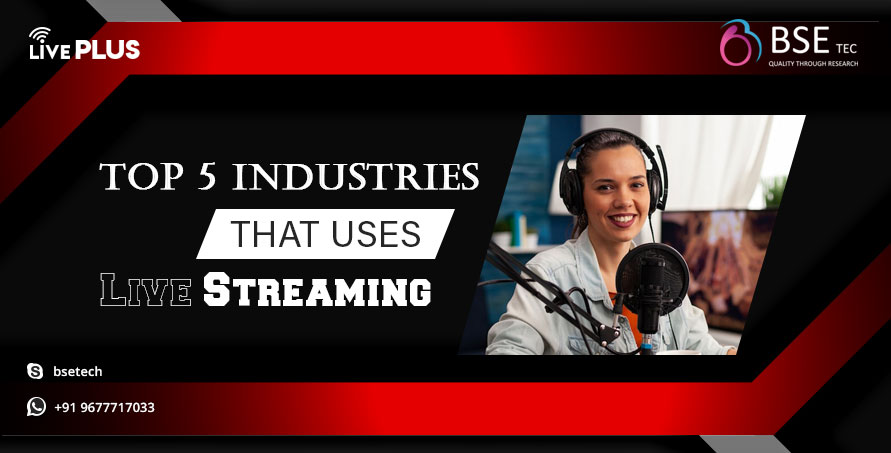 Creating a live streaming platform can be a rather unpredictable venture and take a lot of effort to produce. Live streaming in companies may not sound like a viable idea at first– although the benefits it can provide to the industries in today's world can be mind-boggling. Live streaming is the new radio– only it is more personal and has a human element added to it. Live streaming has become a fundamental marketing tool in creating brand awareness and promoting brand recognition. Live streaming platforms provide a whole new platform to reach existing customers and boost new clients. 
Industries That Use Live Streaming
Live streaming has tangible benefits for your business, no matter the size of your company. Live streaming has become more accessible than ever and many businesses are taking advantage of this opportunity. Some of the industries that use live streaming are–
Video Games– One of the very first ways in which Live Streaming had been used for, and is still in use. Live streaming video games like PubG, Call Of Duty, etc. bring in millions and millions of views online. This is because of the widespread popularity of watching someone play and comment on the videos in real-time. This gives the viewers an idea of how to play better and what techniques and strategies they too can use in the gameplay. 
eCommerce– Live streaming in the commercial industry is a fairly new concept, however is penetrating the marketplace at a very rapid pace. Customers can view the live streaming and can buy the products being broadcast. This also gives the viewer a fair enough idea of how the product looks like in real life, and thus, builds the credibility of the brand. 
eLearning– Using live streaming in the eLearning sector has substantially increased as the Covid-19 pandemic has hit the world. Students have to sit at home– and do their online classes. But, to make it less monotonous– doing these classes online but in real-time helps to improve the focus of the students and also provides them with a classroom-like experience. Therefore, the application of live streaming in the eLearning sector is really helpful. 
Digital Fashion– Fashion brands have become digitized; magazines have become digitized, and any industry we may name. But, digital media has given a face to these magazines or fashion brands. To add the icing on top of the cake comes live streaming– where one can provide the Behind scenes of an event, or showcase the live event, or host contests and giveaways– all of which helps the brand to gain popularity. 
Micro-Influencing– Instagram and Youtube have given rise to micro-influencers, and this is becoming a real job that people are choosing as a career option these days. Live streaming in micro-influencing has gained prominence as these influencers host Q&A's or contests and giveaways which attract other youngsters as live sessions keep them hooked to their mobile screens. 
So, if you're still thinking to give your company an edge over your competitors by integrating live streaming software into your business, then this is the time to do so. Don't waste time, contact BSEtec today for getting a live demo of Live Plus– the periscope clone script.