Types of characteristic features that a Udemy clone script must possess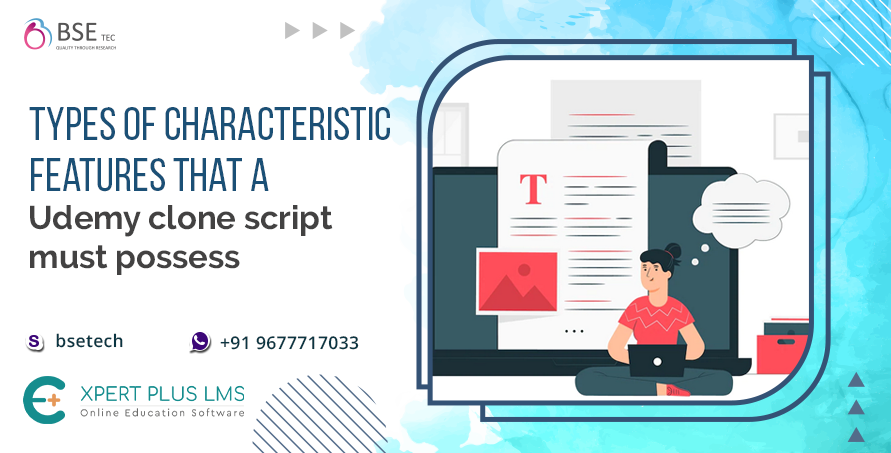 What is Udemy clone script?
Creating an Learning management system like Udemy is going to help in bridging the gap between the students, schools and educational institutions and help in sustaining the classroom ecosystem to an extent.Hence, many are choosing Best Udemy Clone Scripts for building their eLearning platforms 
Nowadays, people search for questions online rather than checking books or asking someone knowledgeable. Advances in technology have led to the advent of mobile phones, where everyone has everything at their fingertips, that is available online. The same goes for education. Many spaces and platforms have been created which impart knowledge on a variety of subjects, modules and building materials with a wide range of topics to choose from. Among them, Graphic Designing, Digital Marketing, English Speaking, French, Copywriting, Coding etc. to name just a few. Udemy is one of those learning platforms that has provided tough competition across all eLearning platforms available online. 
Why is Udemy so popular among the people?
With its simple and easy UI and a variety of learning modules, it is becoming more and more popular with each passing day. However, in view of the popularity of Udemy, many entrepreneurs have begun to invest in building their own platforms that can surpass other eLearning platforms. 
Read "An Entrepreneurial Business Opportunity with the Udemy Clone"
Why choose a Udemy clone?
Curating an app or website from the beginning is a lot of hard work and may cost a ton of money, which can put you into a debt trap. Hence, many are choosing Udemy Clone scripts for building their eLearning platforms. 
What are the characteristics to look for in a Udemy Clone Script?
User-Friendly Interface-

The users should be able to navigate easily and swiftly through the eLearning platform and not only tech-savvy people should be able to access it. 
Multi-Language Support –

The Udemy clone must have multiple language support so that people from different parts of the globe can easily understand the subjects in their own preferred language. 
Customizable – 

The Udemy clone comes with deep customization, with extremely ecstatic themes and features, which is interchangeable according to the mood of the user or choice of the admin. 
24X7 access – 

Are you a full-time student or do you have a job or are busy with household chores? Whatever the case may be, with this Udemy clone, you create such a platform that is accessible 24X7 to all the people even at odd hours. 
Look At "How to Build a Udemy Clone – ExpertPlus"
Summing up
If you want to create an app like Udemy, choose Expert Plus LMS, the best Learning Management System in the industry. Contact BSEtec  today!