An Entrepreneurial Business Opportunity with the Udemy Clone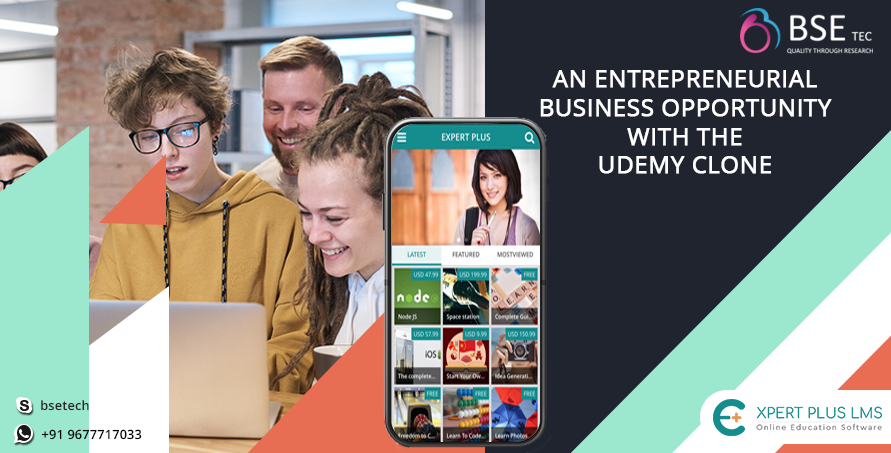 If you want to launch your own E-learning software that lets you start your own e learning marketplace for teaching and learning similar to Udemy then you have come to the right place. We have a fair enough idea about the amount which is charged by well reputed colleges and institutes which is very high and not everybody can afford it. This opens up a compelling opportunity for businessmen and entrepreneurs to develop E-learning platforms that are open to all sections of the society, so that they can access them with just an internet connection with no extra charges, or with minimal course charges. Udemy Clone, Expertplus is an online learning software which helps you to build your own Learning Management System for imparting knowledge and education. With the E-learning industry gaining popularity the demand for E-learning platforms is on the rise. The way smartphones have revolutionized the learning process is unquestionable. So it is time for companies to rethink their training strategies and creative learning programs specially for mobile devices. But building a website or an app from scratch is going to cost you a fortune and will be too time consuming. This is when the udemy clone is going to help you build your own E-learning platform within a few days. 
Benefits of Mobile Learning
Let's see some of the benefits of mobile learning–
E-Learning boosts the engagement of learners. They are much more motivated and their understanding improves a lot. 

E-Learning improves the learning time which means that even the people who have to juggle between their work life and education can easily use mobile learning platforms.

E-learning improves the organizational functions by making it more adaptive to market changes.  The traditional classroom cannot change the curriculum if there is some change required, but E-learning makes it a seamless and flexible experience for the users as well as the owners. 
Experience A Rocketing Success With The Futuristic Udemy Clone
What are the benefits you're getting if you are opening your business using an Udemy Clone?
Deep customization– The Udemy Clone has incredible customizable options and a variety of templates to choose from, where you can change the themes, color schemes, backgrounds etc. 
User friendly UI–

The User Interface is very simple yet appealing and attractive, which makes it very easy for the user to function through the app in a lucid way. 

Social login–

The login process is not too lengthy and can be done using any social media platform, making it easier for the students and teachers to login and function efficiently.

Multiple Payment Gateways–

The payment can be done using any option, be it UPI, net banking, wallets, credit card, debit card or PayPal etc. which makes it easier for the customers to pay for the in-app purchases they are making for some specific course. 

Discussion forums–

Discussion forums make users interact with one another and in that way they learn better as they get a personalized experience about the subject. Here they can ask questions, discuss, raise their opinions and also debate about issues. 

Language support–

The Udemy Clone provides language support which means that it has multi language settings and courses can be viewed and understood in the preferred language of the user.
Why is Developing a Udemy Clone App the Right Idea for your E-Learning Business
Conclusion– 
When it comes to choosing something for your business you should be wise enough to choose what is best for you. Expert Plus by BSEtec is the best Udemy Clone offered in the industry. It is affordable, scalable and customizable with extensive feature rich experience. This is an opportunity knocking at your doorstep, asking for you to open your own business venture by using our Udemy Clone. So, why wait! Book your demo today!