Where can I find the best Freelancer clone?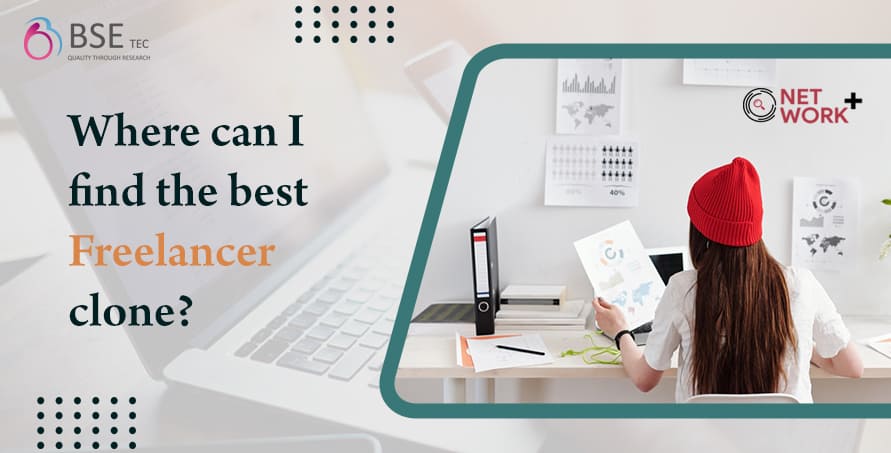 Freelancers are everywhere. Freelance work has grown immensely over the past decade and is expected to further increase in the coming years. With such growth, it is predicted that freelancers will account for as much as 80% of the entire workforce worldwide by 2030. Take Your Freelance Business to the Next Level with Upwork CloneFreelancing is a great way for professionals to earn extra income, gain valuable experience and keep their resumes fresh. Most freelancers enjoy an average of three times higher pay than those employed in traditional jobs.
Freelancer clones have been around for a while now and the appeal of Freelancer clones is that they offer all the features of their bigger counterparts, but have lower fees and are more affordable. Yet, it is still difficult to find the one that fits-all-solution. That is why BSEtec is here with the ultimate solution to create a ready-made freelance Website with all new features. With cutting-edge technology, Upwork Clone Script App, Freelancer Clone – NetworkPlus serves to be the most useful script to begin a Freelance Marketplace. It is an Upwork Clone Script, specially designed with Angular 6 and Django framework to provide unmatched accessibility options. It is a user-friendly script that allows you to set up a freelance marketplace, manage projects and clients, and build a team of freelancers in no time. It has every single feature that would make a perfect freelance marketplace effective and receptive to many users. Advantages Of Readymade Upwork Clone Script And How You Can Workaround It Freelancer marketplaces are popping up left and right, but they're not always easy to use. That's why we have developed this Upwork Clone Script that is not only user-friendly but also customizable.
Key features of Upwork Clone Script- Network Plus
Admin Dashboard

User Management

Freelancers and Client's login

Multiple Payment Gateways

Subscriptions

Categories Management

Milestones Dashboard

Disputes Management

Chat System

Push notifications

Workroom for private communication between freelancer and client

Rating and Review system
Along with these Readymade features, there are some desirable things about
Upwork clone script
that you must know
It is a

Single View Application

which ensures the availability of all the data in a single page and reduces the need to jump across different applications to access information.

Network Plus – Upwork Clone marketplace script has a

predefined setting for managing categories

based on the requirement of the users.

It also provides a

bidding system

which helps both freelancers as well as the clients to make the job flexible in terms of time and payment.

It has an

Escrow System

to ensure smooth transaction of money from the client to the freelancer on completion of each job.

Network plus – freelancing bidding website

is an

SEO friendly

application which helps the non-users get an insight about the application via search engines. This tends to increase the number of active users and visibility amidst the competitors in the same.

It also has a feature that gets the

rewards system

in the platform. When any freelancer completes certain tasks and accomplishes certain goals, they can be rewarded with free connections or free coupons to use within the platform for paid subscriptions.

Users can

learn while earning

with the inbuilt courses on freelancing and even in the field of earning right in the freelancing platform so that the freelancers can sharpen their skills and even show off their learning badges to the clients and earn more projects over the platform.
BSEtec have the technology part covered for you
We understand freelancer development is a complex process and comes with a lot of moving parts. Creating the digital infrastructure for Freelance Software development from scratch requires a longer turnaround time and hence becomes costly. So, BSEtec can provide you with the best solutions by creating a customised freelance website with Network Plus – Upwork clone script. Check out our website to know more about this incredible script.