Why is Augmented Reality Crucial to Your Business?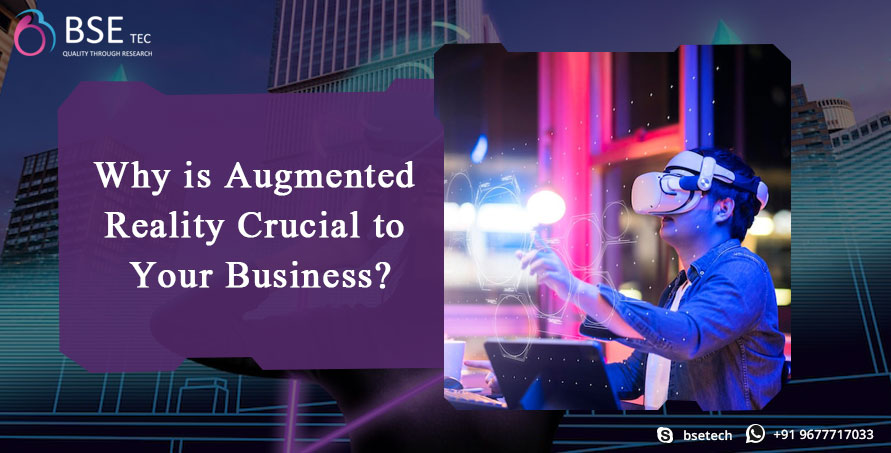 From being a novelty entertainment concept to an imperative enterprise tool, the technology of Augmented Reality has penetrated its way into the marketplace and transformed businesses around the world. Augmented Reality has the capability to layer digital information in a tangible form atop the real-world view in which we perceive. And hence, AR effectively enhances or "augments" our experience of the world around us. Augmented reality is a versatile form of technology that can be experienced on handheld devices like mobile phones, magic mirror, smart displays as well as projection mapping experiences. Augmented reality effectively builds a bridge between the physical and digital world. It gives a completely different way to interact with customers, suppliers, colleagues and prospects. Although it is only at the initial stage of unlocking its true potential, AR has demonstrated significant market capabilities already. Businesses are significantly trying to welcome new and exciting trends for enhancing the user experience and customers. Therefore many companies are investing on implementation of Augmented reality in Business apps. 
How is augmented reality benefiting and why is it crucial in business
Augmented reality gives the customer an in-store experience– When AR is integrated into a business model, it enables the customers to have a first hand experience like at the store at the comfort of their homes. This is why augmented reality is being used in eCommerce apps. It may help you to see how a piece of furniture will look inside your home, and this gives the customer an experience that cannot be overtaken by offline stores. 
AR creates an immersive experience in eCommerce and gaming–

From Pokemon Go to try and Buy options on Sephora and Lenskart, AR provides an immersive experience in giving the customers insights on how they will look if they purchase the product or they can play games in which they have to be present in real life as well as blend it with digital technology. Thus, AR in eCommerce will take online stores to a whole new level.

AR promotes interactivity and engagement in students–

AR gives the students the opportunity to understand a topic or subject in depth. It helps to promote creativity and enriches the grasp of the students into a particular subject by making learning fun and engaging. This by default helps in promoting interactivity among students as they can immerse themselves into the digital world and enhance their skills. Therefore, AR in eLearning is taking huge leaps and bounds in today's scenario.

AR allows training without risks–

In education or work training of high risk jobs, like Human Anatomy or the Military, AR training helps them to get their work, military, medical or educational training done without getting hurt or by having any physical injuries. This is really a revolutionary change that has been brought about by implementing AR in e-Learning. 

AR helps in visualizing future properties–

AR in the real estate marketplace helps in visualizing architecture before putting in a lot of resources like time, money and materials. Therefore it helps to to create the properties visually, where people can actually have virtual tours of the place and thus AR is so great in adding value to the overall customer experience. 
Conclusion
If you are looking to develop an AR based mobile application, then you are at the right place as BSEtec offers you a variety of clone scripts for web and app development that are extremely affordable and quick to launch. For more details contact us today.