Why is Developing a Udemy Clone App the Right Idea for your E-Learning Business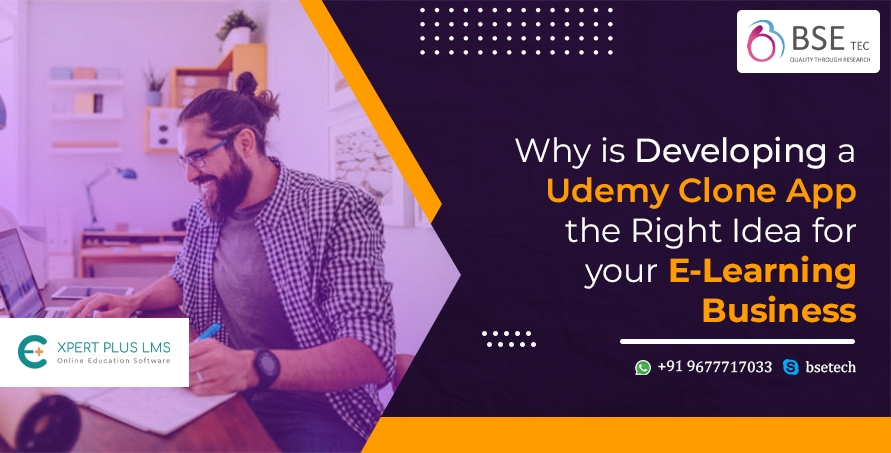 Elearning business means you develop an online learning application for getting more users and market share in the industry for online course content and instructor lectures. Even these eLearning apps are so helpful in cracking competitive exams for learners. 
What is the Udemy Clone script?
Udemy clone script is the new and smartest source of development of an eLearning software with readymade features and latest technologies at an affordable cost. Udemy clone script is a completely different approach from development by scratch. Udemy clone is the easiest and convenient for any business and entrepreneurs for development as all the technical aspects and platform development with all your customizations. Development of udemy clone doesn't mean that you have to duplicate the platform like Udemy, As it is only getting inspiration from a platform like Udemy but all the codes and designs are written and owned by clone providers.
Best Udemy clone for development
ExpertPlus is the best open source Udemy clone script developed and designed by BSETec. ExpertPlus is also an affordable udemy clone script, and even it empowers entrepreneurs to develop elearning business software with minimum resources because it comes in three variants. 
Open source Udemy clone script – ExpertPlus

Enterprise Premium Udemy clone script – ExpertPlus

Free Basic Udemy Clone Script – ExpertPlus  
Features of ExpertPlus – Best Udemy Clone Script
The Premium Pack with exclusive features and even with additional benefits are so affordable as it just costs $200 to develop the best LMS with high-end technologies available in the market. The free of cost version of ExertPlus is even very popular and trending because it also develops your learning management system with all the readymade features and even the latest technologies available in the market. ExpertPlus, the best udemy clone script in 2021 is  fully loaded with readymade features like: 
Advanced Admin Dashboard 

User Management
Courses Management
Instructors Management
Certifications
Social Sharing
Push Notifications
Android and IOS studio
Multiple Payment Gateway
Subscriptions
High tech learning
And many more. 
We at BSETec not only develop elearning software with high-end features and flawless technologies but we also believe in developing brands from scratch that is the reason we always give independence to entrepreneurs to customize the clone script like the way they want and even we guide them about new and trending technologies and integrations to utilize for development to make it more worthy for them. You can develop your online learning software for free with us even with the additional benefits like free installations, Free system upgrades, and even free technical support. 
You can even explore the free live demo right now to see how it works in real-time with all the readymade features and high-end integrations with ExpertPlus. 
For more information, You can get in touch with our elearning software expert at BSETec.                             
Contact Details
Email : support@bsetec.com
skype : bsetech