How to Create a Real Estate Website like Zillow?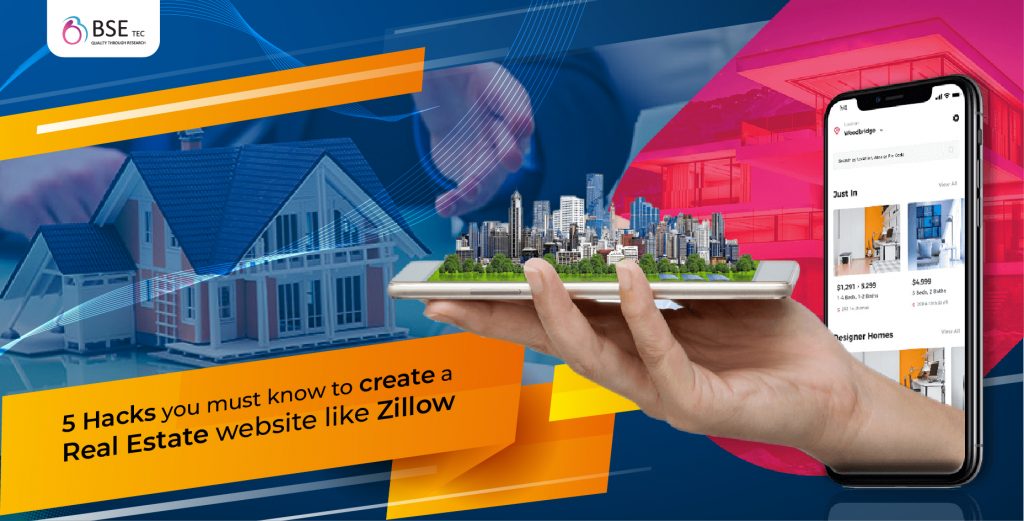 Getting everything online is the new trend and now the real estate market is also in the spotlight with this trend. Zillow is the biggest example, that is doing a tremendous job in the property listing app category. Also, the clients are loving the concept of exploring property online with more efficiency and it is also convenient. Buying a house is the most secure and best choice in long term investments. The demand and growth of platforms like Zillow are increasing rapidly because of its features and Automated benefits. With the online platform, the lead generation process became easier and efficient. The decision making got a lot faster because of accurate suggestions and unique filtrations in the property search.  
What is a Zillow Clone?
The zillow clone is the advanced clone script created with the latest technology and loaded with the readymade features like the Admin portal, users management, Leads management, and many more. These scripts are more advanced because they get regularly updated with new technical improvements and are also created with keeping new developments in mind. 
Which is the Best Real Estate PHP Script?
If you want to develop a real estate website like Zillow, then you need the right zillow clone script. That comes with the latest technology and modern features that you require for your buyers. We would suggest you give one look to AssetPlus- a Zillow clone with an open-source script that gives you full freedom and Reliability to create your platform at a worthy price. If you choose your clone script then your technical part will be almost done and now you can work on other things like deciding how you want your website to look, Who are your targeted audience and service areas, making a brief list about what kind of properties you will be dealing with.
Know How Technology in Real Estate is Playing a Crucial Role
How to Create a Real Estate Website like Zillow? – 5 Hacks You Must Know
Stronger leads management system

– If you are developing a platform for a niche market like real estate where getting a sale is exhausting and keeping follow ups with everyone is a hustle, Then you must need an advanced lead management system in your platform that gives agents and builders feature to keep every record and perfect follow-up of every client. Also, the main source of getting a buyer on the website is getting traffic and capturing a lead. so your platform's technology should be updated for making it functional 24/7 for buyers to get on with you. 

Next Big step-

When you are going online with something to sell and also developing a productive website for that, then you need to know, to whom you are presenting the website. In real estate, you are targeting investors and homebuyers. In the year 2020, there are very few people surfing on pc but there is a maximum number of users that search for property and realtors on mobile only. So it will be an important thing for you to get a mobile-optimized website. Also you need to get a platform with a mobile-ready lead capturing system too. For getting a more genuine and good number of leads. Also with the mobile-optimized website. you can also get

AssetPlus – Trulia clone script

for developing your mobile app too. Because in-app the user experience increases by many times when it comes to getting your customers the virtual tour of the property. 

Perfect automation is a must

– In the real estate business, follow-up is everything. You can get a sale from anyone if you stick with the perfect follow up. You need to see if your platform is sending automotive responses through text or mail to customers as an automated follow up, Till the time the agent takes over the client, calls, and text. But your platform should be capable of the automotive follow-up texts all the time for buyers to make sure they feel that they are important to you. 

The virtual tour speaks a lot-

Here comes the technology that speaks a lot and is liked by everyone. Virtual Reality (VR) can be your platform's highlight. You can give your clients the exact site visits in virtual reality with the help of VR enabled house video. Also, you can present a 3D video of your listed properties to give your client the 3D tour of the property they like. This feature will faster the decision-making process and will engage your client with the platform. 

Proper call to action

– The best way to capture more leads and make your website's content better would be by improving your call to action content. You need to have the call to action content that engages with your visitors perfectly for exchanging the contact information. 
Tip: Make sure you have social media accounts updated and sync with your platforms. Social media plays a vital role in the success of any online brand and it brings more valuable leads, So make sure you update it with qualitative content regularly. 
Features of Zillow clone script
Property Listing : In the Real estate PHP script, Admin can list as much as properties they want in categories under residential and commercial also that too divided in other categories- Rent, sell, lease. Also, users can list down the properties according to cities and individual addresses. 
Bids management : 

In the online platform, The builders and agents can also create a bid for a particular property with the lowest and highest amount and with the deadline date. Users can bid for their price and talk to agents about it, also the bid ends when it reaches the highest amount or deadline date. Whichever is earlier. 

Advanced Map Search :

 With this feature, users will be able to search for a specific property, or property in a specific place and can conveniently search that on the map of their desired place to see if it suits the locations and users can also explore the neighborhood places around the property. 

Lead management : 

In the advanced clone scripts like the AssetPlus – Zillow clone script, You get a lead management system, That lets you manage all the traffic leads and other leads captured from your other platforms. 

Mark searches :

 With this feature users will be able to save their searches for future recommendations and requirements. If anything comes in regards to that search then users will get the email alert for that. 

Ratings/reviews :

 To make the platform more user-friendly and transparent, there is a feature of reviews and ratings for everyone (properties/builders/agents). It is incorporated into the platform to gain the trust of buyers and make them feel safe on the platform. 

Valuable calculators :

 There are many types of calculators on the platform, That users can utilize to see their eligibility for the property and also for knowing the exact cost of the property including every extra charge.

Users/Agent/builders Registration : 

There are separate dashboards and login columns for agents, builders, and users to manage their needs and for their personalization's. 
How much does it cost to build a website like Zillow?
With the software development companies like BSEtec, It's easy now to get an online presence with the latest innovations. For the entrepreneurs, it's easy to set up an online venture because they can develop their platform at a very affordable price. For AssetPlus- real estate PHP script, You can get it at only $299 (Encrypted). And also you can request a price for open source script. Here are some of the benefits you will get along with our Asset Plus Zillow clone:
 3 Months Free Support & Updates

 Full access to its source code

 Premium Technical Support

 Free Installation

 User-friendly admin panel

 Prevent backdoors

 Reliability

 Flexibility and Freedom

 Support and Accountability

And much more. 
Take away
The decision of developing a real estate website like zillow is the right move in the year 2020 and it will surely increase your revenue by many times because with the internet there are no geographical and time boundaries. You can acquire customers from anywhere you want and you will be serving them 24/7. We at BSETec support all types of ventures that are developing their online image and we always act as a technical pillar to support them whenever they need us. We take care of their platform's high-end technology and their platform's updates and technical fixes. With website development, you can also get a very responsive designed application under your brand and can cover more audiences with application-based features and resources. You can directly get a price quote for an open source script by giving us your little information below and our expert will be in touch with you soon with all the information. Also till then, you can check out our free of cost live demo of AssetPlus, For your understanding of how every feature works in the script.