3 Trends to expect in Freelance Marketplace script in the year 2021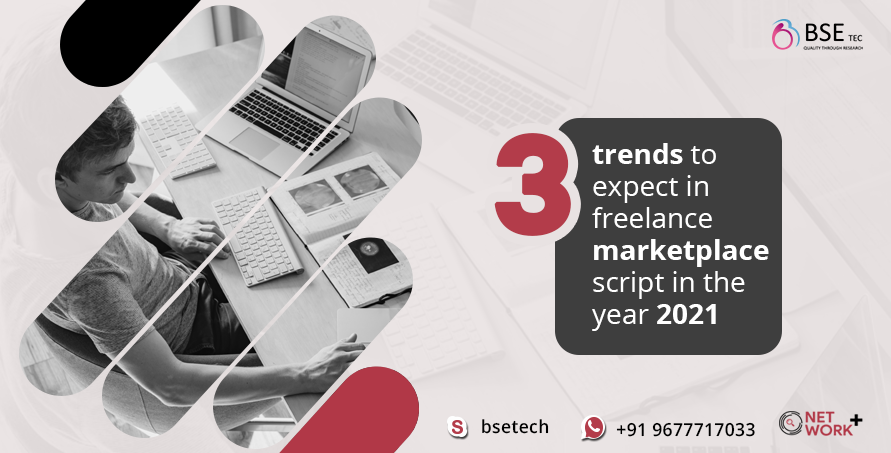 The freelance marketplace is now becoming a globally known platform due to an increase in more professionals coming into freelancing by quitting full-time jobs. We also think that jobs are so overrated, and they are not for the people that have a passion for their skills. Also, professional skills have more worth in freelancing rather than working full time for others they can build their service as their brand.
With freelancing they get all the recognition they require in the industry, and they get the liberty to choose between the work and the clients. So that they can work independently by deciding what to charge and with whom to work from all over the globe.
We also think that there are very less platforms that are even credible in freelancing. That's where an opportunity lies for entrepreneurs to develop a platform that stands out in the market. Developing a freelance marketplace is easy nowadays as you need only a perfect Upwork clone script loaded with unique and useful tools then you are good to go.
Here are some new trends that you can expect shortly in the freelance industry to focus on
Next level authenticity

 : There are many flaws in the freelance industry nowadays that are not making it a credible industry to work in. This is the reason that you can make your USP for the development of the platform. You can apply the new layers of verifications. The freelance marketplace should have authenticity in not only freelancers but also clients that in. You can even add an escrow management and dispute management system to make it a more trusting platform for freelancers and clients around the globe.

Technology introduction

 : In the coming time, We can expect that in the freelance marketplace we see more technological advancements. We can see more personalizations and more useful tools for refining searches and recommendations for freelancers and clients. We may also expect to get AI features on board with the Upwork clone scripts to develop a platform that is more responsive and credible for users.

Upgraded clone scripts

 : Clone scripts are the best way of developing a freelance marketplace with more advanced features and high-end technology at an affordable cost. You can explore the

Upwork clone script

designed by BSETec named NetworkPlus. NetworkPlus comes at a very affordable price, and it is loaded with readymade useful features like an Escrow system, Authentication system, user management, dispute management system, reports management, Bidding system, Responsive Design, and many more.
At BSETec, you not only buy the Upwork clone script, But you are also getting the technical expertise of BSETec's professional development team. You are getting a technical pillar for your brand that is going to work with the development of your brand by heading forward with you at every step of making it successful. 
We suggest you explore the free live demo right now to get to know what advancements we are talking about. 
Else, you can directly talk to our product development experts right now by reaching us on the given information.
Contact Details
Email : support@bsetec.com
skype : bsetech