eLearning to Boom in Post-Pandemic Global Economy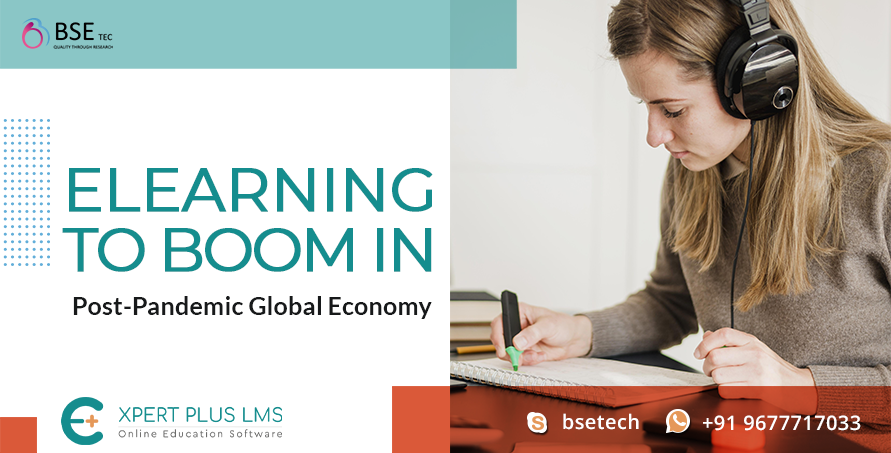 Online education came much far in the year 2020 as the world is depending on it over the education of all the students around the world in Lockdown amid Covid-19. Elearning today is also experiencing a great boom in the industry as it is now the only option and it is in great demand from parents and learners around the world. Today eLearning is trying to change its image with its long potential to educate with quality over affordable resources that traditional learning is currently failing to provide. Elearning is all about getting words into action where teaching is no longer all about throwing educational topics to students but it gives an impact on their career by making them understand all the things more conveniently. The eLearning industry is today expected to grow at record-breaking speed by reaching the 500 Billion dollar mark this year in annual revenue at the global level. But these are just assumptions as the experts in the industry are presenting this number as a generous milestone but they also believe that elearning can be the most preferred source of getting an education as the new entrepreneurs are making a great impact on parents by coming up with a high end learning management system in the market. 
Build Your Own Elearning Software with ExpertPlus
eLearning Industry before Global Pandemic
The elearning industry before 2020 was a similar tech industry as it was just an industry where we had some elearning software with some courses. There was no spotlight on elearning, and that was the reason that it doesn't get any chance to prove its real value. Elearning before a pandemic was just a tool to acquire some additional skill set. But no learners were taking elearning as the primary source of education as they were not getting some important PGDM or Ph.D. courses on the elearning. Elearning before 2020 was also not that advanced as most of the LMS was only providing the same elearning lectures recorded over the platform and no one was giving the interactive learning experience over Elearning software. This was also the major reason for its setback before 2020. 
Impacts on eLearning after a Global Pandemic. 
2020 is the worst year indeed as the COVID-19 hit all the industries and businesses along with the mental stability of human habitation. Education also got some setbacks as most of the universities and colleges around the world are still in lockdown due to safety concerns of spreading the virus. Elearning made it revolutionary and easy for learners around the world to be connected with quality education in tough times. Elearning also got some major improvements and breakthroughs in the advancements of LMS. By being in the spotlight as it became the primary source of education where traditional learning is not serving the learners, The industry came up with many new elearning software that is making it better for learners to adopt advanced learning, and learners are now finally getting the value of enhanced LMS in the industry. 
Learn the Effective Strategies to make the most out of your Elearning Business
Elearning will also contribute more to the global economy by competing with other major league industries in terms of revenue and market domination. As we are seeing tremendous growth in elearning advancements and operations enhancements. Elearning is acquiring more users than ever and most of it is coming as the part of the educational degree or major course over the platform that is giving more worth to the industry to contribute to the economy. According to many reports in the industry, Elearning is all set to get a high record of 500billion dollars mark in terms of revenues by this year. The more users it gains by adding more value in their lives with advanced features and elearning tools, the more it contributes to boosting and dominating the world economy. 
Elearning Software Development
To develop a strong industry, All it needs is the best elearning software in the market. We are now experiencing an increase in more entrepreneurs in the industry coming up with more advanced elearning software with high end learning management systems. You can also see some more advancements and integrations like AI in the elearning software development as they give more of an interactive edge to the platform. These features also get students to stick to the course by getting them to interact with the topics and virtual instructors through advanced integrations. 
How Easy is it to get Advanced eLearning Software in 2021?
Developing an elearning software platform like udemy, Coursera, and Unacademy today is so easy As we have clone scripts in the market that can be used as the source of development for advanced elearning software with primary features and advanced interactive tools like Augmented Reality, Virtual Reality, and Virtual Instructors. You can even get more additional benefits like when you buy a udemy clone script that all the technical parts along with platform development according to your customizations and needs will completely be developed by the clone script provider. 
ExpertPlus is also a good option to go for if you are looking to contribute to the elearning industry with advanced elearning software with advanced tools and customizations. As the matter of fact, ExpertPlus also comes with many readymade benefits like 
Admin Dashboard 

User Management
Courses Management
Instructors Registration
Course certifications
Various Automation
Seo Friendly Website
Elearning tools
Social Sharing
Internal Messaging system
Classrooms
And many more 
Checkout it's FREE live demo right now to see how every feature works with udemy clone script and even you can claim the best in class clone script today for expertplus for free of cost under its basic version. Also, it comes with the open-source udemy clone script version and an enterprise version that just costs $ 200 with all the premium integrations, additional benefits at ExpertPlus. 
Takeaway
In the end, We want you to know that the elearning industry is going to be in the major leagues under the world economy as it is growing from all the points included revenue generation, User acquisition, content generation, and technical advancements. These are enough to make it more valuable than ever. Elearning is the best industry for today's entrepreneurs as products like ExpertPlus are the best example of a resource that anyone can utilize to develop the best udemy clone website with the Udemy clone app for IOS and Android. 
Get in touch with us today to know more about the advanced integrations and custom ideas to get into elearning software to make it more efficient. 
Reach out to us by any mean of communication given below-