Fascinating Udemy clone traits that can help your business grow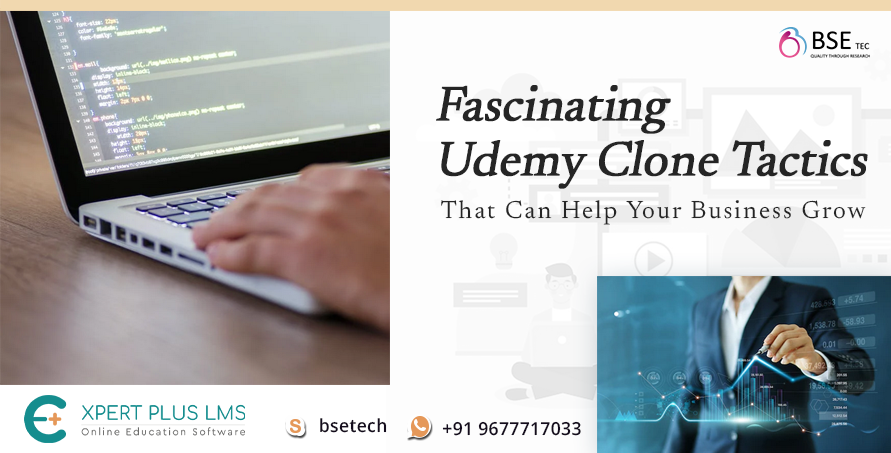 Filmmakers remake a  blockbuster movie. Studios pick remakes because the original movie brands are popular, and many remake movies have proved to be blockbusters as well. So, basically imitative design over innovative design has always been in the society, and imitative design has proved to be successful too! Likewise, Udemy clones will help your business grow in unimaginable ways. This is because of the following promising features it possesses.
Also, read Launch your Udemy Clone App – Start Online Tutoring Business
The exquisite study features: Online education offers a hi-tech learning experience. Unlike the traditional method of blackboard and chalk piece, which is bland and boring,  Online learning platforms have visually appealing course disposition. Colorful, imaginative, and appealing displays are not only a way to lift the mood and make the learning environment a brighter, happier place to be. It includes Videos and illustrations of the subject for deep learning. Visuals draw the attention of the learner and enhance engagement. Engaging with content helps students to learn faster, and this is where visual content excels, making the student engage more which in turn improves their interest in the subject and paves a way for better understanding of the subject.
Multi-language settings: Physical classes are set up in a place/ town and the student in and around that institution enrolls for the course. It is not accessible for other peers to take up the course, That's not the case with online learning. Students around the world can enroll in a course they want to pursue. With inbuilt multi-language settings, every student can learn and access their preferred language, and with that, your business too grows and goes global!
Cost-Effective: E-learning does not require learners to travel to be in the same place which saves a lot of conveyance money and time simultaneously. Also, there is no need to invest in any special equipment or learning resources for each module of their course. Learners just have to log in to the application or portal at any point of time, which also removes the need to spend on textbooks or other course materials.
Retention rates are higher:
More students can enroll: Physical classes can accommodate a limited number of peers, whereas in online education there is no limit to the number of students enrolling in a course, which again is a positive impact on your online teaching business. Moreover, you are able to deliver quality teaching to each and everyone enrolled. 
Flexibility: One of the significant reasons why many students prefer online learning is because of the flexibility it offers. Unlike traditional classes that have a fixed schedule, online classes are typically asynchronous and give you the freedom to organize your classes at your convenience.
Multiple certificate courses: Online education enables the teacher and the student to set their own learning pace, and there's the added flexibility of setting a schedule that fits everyone's agenda. As a result, using an online educational platform allows for a better balance of work and studies, so there's no need to give anything up. Also, a student with more spare time can enroll in as many courses at a time, which is not possible in face-to-face classes since he has to commute to different places to take up different courses, there are no time/ commuting constraints with online learning.
conclusion :
Are you looking for a top-notch udemy clone script  to set up to expand your online education platform? Then you are at the right place! Check out ExpertPlus LMS and Contact Bsetec for more details.