How decentralized Food Delivery App is transforming Cloud Kitchens?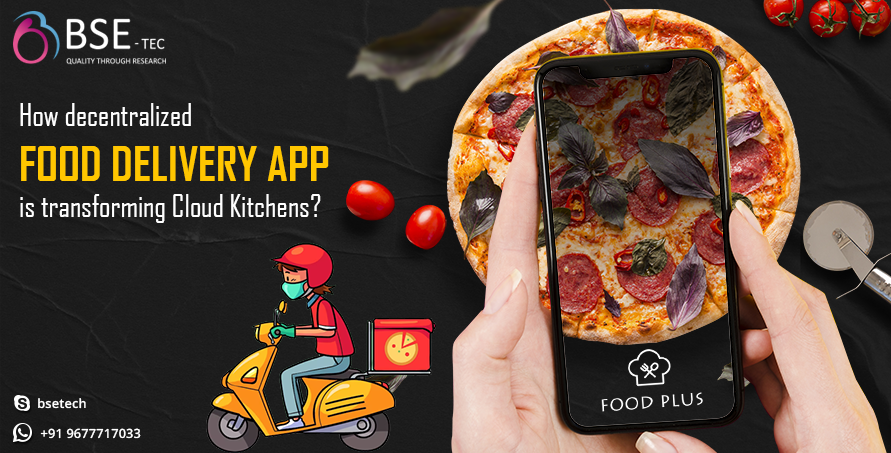 Kids to elders prefer one click online food delivery applications like swiggy, zomato, uber eats. Why do people upgrade with Online Food ordering applications? And these apps are in top downloads and make this food (Hotel) industry to attire greater capitals. It onboards young entrepreneurs passionate in the food delivery industry. 
As per restaurant online ordering statistics 31% say they use these third-party food delivery services at least twice a week. 34% of consumers spend at least a minimal currecny per order when ordering food online. 20% of consumers say they spend more on off-premise orders compared to a regular dine-in experience.
What grabs you to order the food online?

1. Multiple cuisine foods exploration
2. No waiting time in restaurants or takeaways
3. Crazy carvings
4. Attractive discounts by restaurants & platform mediums
5. Quite simple not to say lazy
6. Food delivered wherever you are!
Obstacle faced by customer / restaurant owner / Dashers
1. High fees and commissions for restaurants
2. Longer delivery time
3. Dasher decline to pick up order/ insufficient dashers at peak ti
4.Lack of order processing transparency
5. Misleading of personal data by Dashers
6. Dasher Payment Issues
7. No Real time Operational Updates: Food ordering applications basically create a trio communications creating chaos in real time operations.
8. Lack of transparency in the ordering process
9. Restaurants License Authenticity

How can decentralization help overcome these obstacles?
Crypto wallets provide secure payment methods and a streamlined refund process as programmed nevertheless currency gets missed .
Fake identity overcome by digital id management with help of Blockchain adheres strict security standards of the food industry. It also protects customer information and transactional data from fraudulent services .
Smart contract powered dasher payments , with ease of ordering and tracking through decentralized food delivery applications , the dasher gets earned value credit securely without delay .
No third party fees as everything is decentralized in one hub , decentralized food delivery applications cut down the intermediaries payment for delivery , logistcis .
Reliability : Decentralized food delivery application ensures the quality of product with transparency, Once user chooses desired restaurants gets the menu planner and picks choice to remit the payment .
If decentralized, records like restaurants name, menu , payment detail where they maintain records programmed using solidity which is executed automatically if the platform owner enables secure data.
Smart Contract : In-depth of predetermined features of smart contract stored in blockchain disperse the earned  commission value  as per percentage set up in a decentralized network data transparency is maintained between restaurants & dashers.
Smart Verification : To ensure order placed, order delivered , order picked up are highly aligned with decentralized food delivery applications with one time password , order id , traceability , geo sharing determining authentication identity .
How Food Plus Helps?
Foodplus is a food ordering application which can be customized to work with blockchain for decentralization to provide secured & transparent data among multiple customers and restaurants. It has numerous applications like Food order acceptance, partner assignment, live tracking of partners via Google Maps, dialer option, chat mechanism,  to assist your dasher every single step is transparent using blockchain – decentralized food delivery applications. 
 BSEtec – leading blockchain development company offers a food delivery app that is customizable on to the blockchain that is a secure, efficient, and transparent solution for the food delivery industry. With its decentralized features and integrations, the script swaps traditional online food delivery services. It is a perfect solution for businesses looking to launch their own blockchain-based food delivery service and capitalize on the industry's growing demand for blockchain technology. Connect with BSEtec blockchain experts and get your applications live in the play store & app store. 
Did you find this article useful? Let us know by leaving a comment below or join us on Twitter and Facebook.