Make Learning Easy With Udemy Clone App Development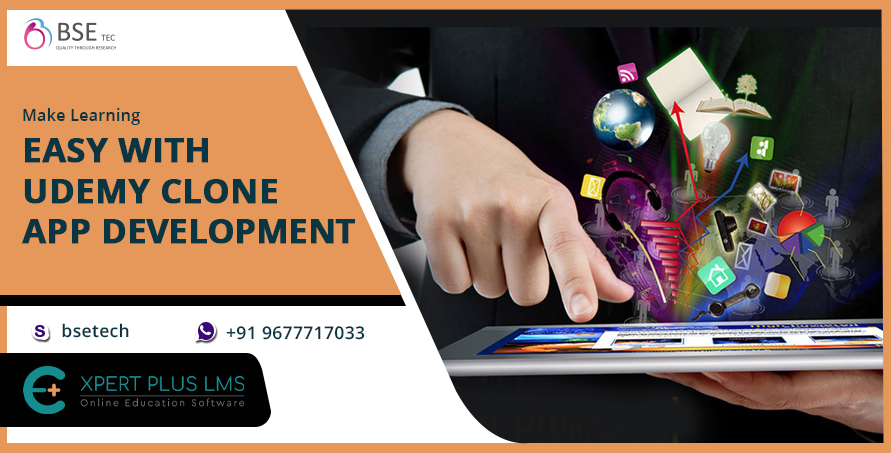 The constant growth of technology and the transition to the digital world have made it necessary for the entire industry to step up and build their online platforms to 'be where their customers are' and it has of course impacted the education sector as well. The moulding & adaptation into online learning modes have proven significant growth soon after the emergence of the Covid-19 pandemic and that has led to an exponential growth in eLearning applications and websites for implementing & integrating computerized learning methods.
From 2020 itself, the transformation of classroom learning into online learning has undoubtedly been the biggest trend in the field of learning and education, affecting the lives of students and teachers and eLearning has laid a solid foundation, hence it is here to stay.
How to make an app like Udemy? – by using the Udemy clone.
The open-source Udemy clone is undoubtedly one of the best resources one must use for creating an eLearning application. Many companies have opted for this eLearning clone script as from-the-scratch development is not only expensive but also very time-consuming. Therefore, clone scripts like Expert Plus LMS come to the rescue and help to build an app like Udemy easily, without even any prior knowledge of coding.
Look At "Launch your Udemy Clone App – Start Online Tutoring Business"
The features provided by the clone script are 
SEO friendly – The clone script is Search Engine Optimized, which means that it will rank your app higher in the app store, which will by default increase your traffic count into the app, and as a result, your app will have a higher chance of success.
Customizable to the 'T' – Your eLearning app can be modified, changed & customized according to your user's or your needs and preferences. You can change the themes, choose from a wide array of templates and finally, you can change the fonts, styles, background, etc.
Multi-language support – Your app can be accessed in different languages, which makes it user-friendly and easy to navigate & understand for laymen or people across the globe with different native languages, which makes learning easier.
Admin-Instructor commission – Your app will provide admin and instructor commission for every paid course bought by a student or a participant. This means you can monetize & optimize your content in the app, which makes it beneficial in a variety of ways.
Integration of AI, AR & VR – Artificial Intelligence can be deployed to make the app more personalized, which means, the app can be beneficial for all kinds of learners; be it auditory or visual. It can also help to make the learning process quite immersive by creating an artificial environment with blended reality using AR and VR technology.
24X7 access – And, finally, one thing that this eLearning platform offers which sets it apart from traditional classrooms is that it can be accessed and will be available all seven days for 24 hours each day, and the user experience is smooth as butter.
To Sum Up
If you want an eLearning platform like Udemy, then what are you waiting for? Contact BSEtec already and get started with solving your eLearning needs! Hurry! Get your live demo of the app today.