The Best Coursera Clone Script in 2022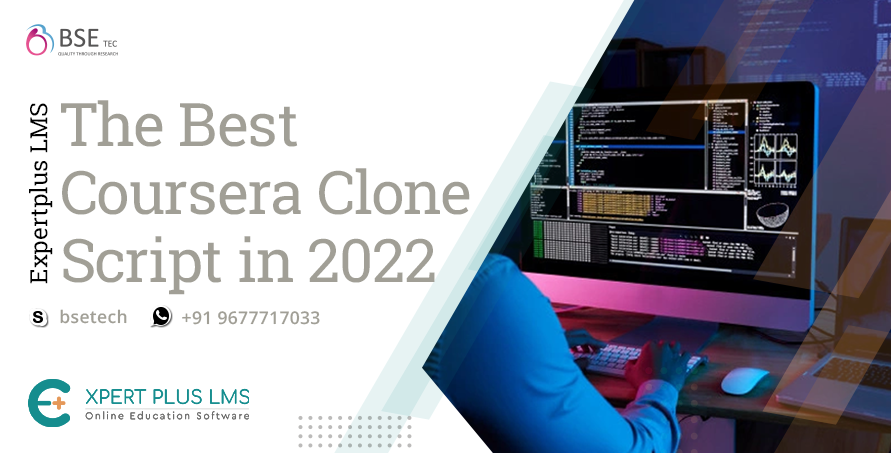 The Best coursera clone script in 2022 today is the world's most prominent application that one can ever sign up for free and get the best service and support from BSETEC. Most people use this app to expand their teaching business, never the less today the app is used by any small to big businessman and businesswoman to have an online teaching business.
The eLearning industry is experiencing a great incline in industry, not because of its advancement or interactive learning programs but there are more factors to point out. The factors like instructors are not getting enough value for their knowledge sharing in educational institutions and they are getting more revenue by selling their course content on e-learning platforms. The second main factor is the cost of quality education where educational institutions are charging thousands of dollars for a particular course and learning is offering that same course at a 10 percent price with much more advanced tools and interactive learning sessions with the comfort of an online presence.
Today development of ELearning software is also much easier as we are now equipped with Coursera clone scripts like LMS App in the industry. Coursera Clone LMS application is the eLearning software development product designed and developed completely by BSEtec. To give users the liberty to develop any type of e-learning software with advanced tools and features in a matter of hours with flexible costing. 
Why is the Coursera Clone Script is Worth Using?
 Coursera Clone Script LMS application is the advanced Coursera clone PHP script that comes loaded with high-end readymade tools and features such as an advanced dashboard to get crispy insights from the website and application, and also this Coursera clone script is so convenient to use as a development source because a person without technical or development knowledge can also manage the tutorial site and understand the working. It also comes with the inbuilt user management features and instructor's management, Where the admin can manage the instructors and working process smoothly.
Basic Features in the Coursera Clone Script
Laravel Framework

Bootstrap Responsive Design
Multiple Payment Gateways
Transaction Management
SEO Friendly Website
Website Firewall and security
Courses Management
Courses Certifications
Instructors credit and promotions
Modules Management
High Tech Learning Tools
Why E-Learning app Script Is The Best Business To Start in 2021
Who Can Create a Mind-Blowing e-learning Course Using Coursera Clone Script
Creating the most excellent application for an e-learning course will always be the wisest decision ever by anyone in this year 2022. Creating the often helps you to have a little more or far better expansion for your business. Many educators who are well experienced and qualified often fail to realize that tools and features in the app often get the best responses and you are able to identify your business in the best way possible to reach your customers more speedily and for profitability.
The LMS app similar to the Coursera clone script is available in the open-source version to customize anything you want and to integrate any third-party features you desire. Today we are also giving additional benefits to our clients such as Free installation of Coursera clone script and free technical upgrades regularly for the platform with the premium technical support from our team to make sure your platform works fully functional after the development.
Here is the list of professionals to adapt LMS App-
Business People

Professionals and Educators
Teachers and Students
Entrepreneurs and Leaders
Workers and Co-Workers
How People Are Benefited Using this LMS Application
Coursera Clone App Development LMS application is the major one that defines an easier way to adapt the technology for e-learning. LMS App is an open scripted free technology tool having the best options with personal use for your business. Anyone into teaching or educating people around the globe can easily check on the live demo and get started with preparing one application for yourself. How? The open PHP script for application builder is ready-made for you, you can easily use it, customize it and also make sure you grab the offer and benefits from us at any point in time.
"Learn Quickly on Coursera Open Script LMS app to build the most Powerful E-learning app for Your Business Use."
Conclusion:
Coursera Clone Script is now available for every individual for business use, grab the opportunity offered by us now! Build something great! Visit www.bsetec.com and get your best offers! Now!
Also Know Why E-Learning app Script Is the Best Business to Start in 2021-2022