Is Udemy clone script an efficient one to develop an eLearning platform?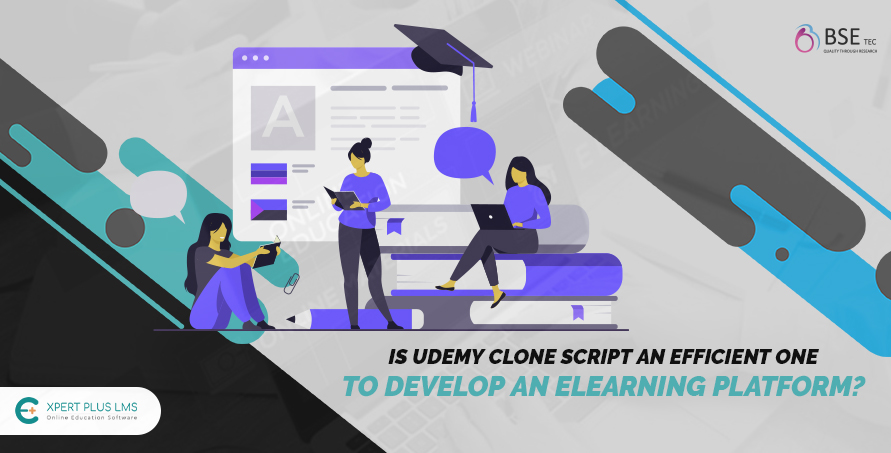 With the advent of the coronavirus pandemic, the online eLearning Marketplace has been filled with large players like Udemy, Coursera, Lynda, Cursa, etc. Furthermore, due to the educational institutions opting for online classes, having an Learning Management System (LMS) has become the need of the hour. Search online learning platforms are increasing due to the better quality experience that it provides and as well as due to its effectiveness. In fact, tutors and industry experts also feel that having an e-learning platform is a highly recommended tool for the holistic development of an individual. 
How to develop an eLearning platform like Udemy? 
If you are wanting to develop an eLearning platform like Udemy, you must know what are the processes by which you can develop an online elearning software. 
Firstly, there is from-the-scratch development – which is extremely time-consuming and expensive. In fact, it might also put you into a situation of debt. However, BSEtec has a great alternative to developing from scratch – i.e. developing an app like Udemy by the use of clone scripts like ExpertPlus LMS (udemy clone). 
Why is ExpertPlus LMS an efficient and effective way to develop an eLearning Platform? 
ExpertPlus LMS has a number of characteristics that makes it the best for creating an online learning platform that is enriched with features and functionalities. After going through the processes of research analysis & feature finalization you should be well-acquainted with what kind of features makes an eLearning app a great success. 
It should be extremely customizable – The best thing about having an online learning management system is the fact that it can be personalized according to customer preferences. Therefore, the udemy clone app  must be extremely customisable.
Must have an Easy Navigation System – Learning is for all age groups, that is the reason why the interface and navigation system of the learning management system should also be accessible for all age groups. They shouldn't have a tough time logging in and registering themselves to the platform.
It must be multilingual – People who enrol for a course may want to do it in their own native language, due to which the course must have multi-language support. In udemy clone script, you are given multi-lingual support.
Should have discussion forums – Students and teachers must be given the opportunity to have an open discussion forum where they can interact and ask questions, get their answers, clear their doubts and queries so that it can be a holistic interactive learning session.
Have a lot of modules and courses – An LMS should have a lot of modules, materials and courses to choose from. It should have a robust database where all students can get access to any information at an instant. 
Look At "10 Quick Tips About Udemy Clone Script"
Summing up
If you want to create an online learning platform with all of these features, then opt for ExpertPlus LMS. It is extremely affordable and a lot less time consuming than developing the same platform from scratch. What are you waiting for? Contact BSEtec now and download the demo app today from the App store.