The Trending Technologies That Make European Firms Beneficial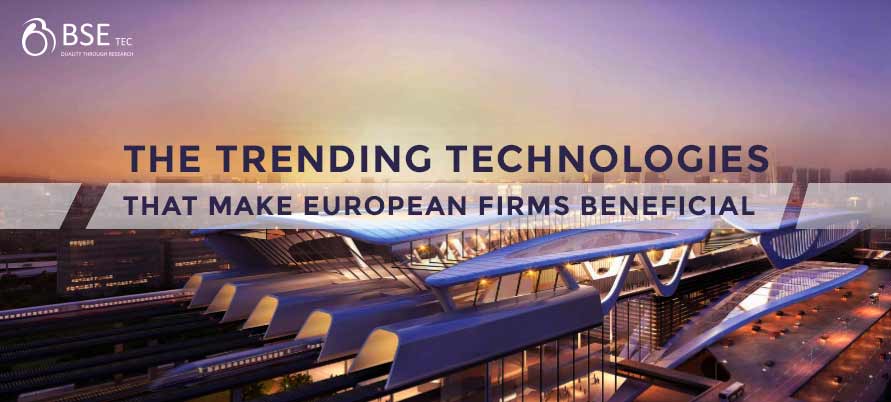 As several new technologies are raising heads to our digital world, every country is concentrating on those technologies to empower their processing power.  Furthermore, DELL technologies recently released the survey report based on the research on how countries are putting their core focus on these technologies. As per the report, 12 global countries currently investing their money in the latest technologies like Augmented Reality; Virtual Reality, Flash storage, Artificial Intelligence, Internet of Things, Blockchain Technology, Analytics, Big Data, Data processing and Hybrid cloud. Moreover, these are considered as the highly-performing technologies to enhance their business. The survey has been taken across America; Europe and Asia and based on 3800 business leaders. In addition, the report has been released to help commercial sectors to understand what action they need to take in order to stand out from the crowd competitive market.
Nowadays, Business is in a period while rising technologies like Artificial Intelligence and the Internet of Things (IoT), filled by exponential augments in availability and information, will open-up new potential results. As Artificial Intelligence is considered as the top emerging technology, countries like France (31%), Germany (26%), The Netherlands (17%) and Italy (22%) are focusing on this innovation. This will lead to a clear understanding of the business that in order to grow up as an organization, they need to put their concentration towards these sophisticated innovations. There must be a more prominent investment in innovations that can possibly convey a noteworthy advantage. The greater coordinated effort, inside organizations in conveying this change is a vital advance in this procedure.
Apart from the above technologies, we still have several effective things to look into. Drones and Image recognition are also playing the strong and vital role in technologies. Drones have now been considered as most useful technology for the industries. Moreover, Drones has been used as the delivery system for their online shopping. In some of the African parts, it is used to deliver medical things. Furthermore, Drones are used by the farmers to monitor their farms and to detect pests. In the similar way, Image recognition is also one of the technologies which is becoming trendier in Europe. Image Recognition is used by various industries for facial recognition; video analysis; surveillance, etc. These two latest technologies are now grabbing the attention of the Industries which are considered as the top most useful innovations.
Moreover, apart from few European countries, other countries need to activate their business planning, should focus on what skills will be required and what new technologies will be implemented to accelerate their business. New technology's adoption will help them to stay ahead of the commercial demands. Now let us view the survey strategies of countries adopting and investing in these technologies: Analytics (50%), Big Data (50%), Data Processing (50%) and Hybrid Cloud (49%).  In over all the countries adopting these complete set of technologies to improve their business standard and capita is France (41%) and Italy (45%), Germany (59%), the Netherlands (53%), Mexico (62%) and India (56%). India is the second most country adopting and implementing these new innovations. As India is still considered as the Developing Country, it strives truly hard to in cultivating the latest innovations to be at the top listed.
Considering the importance of these innovations, BSEtec the leading web and mobile application Development Company is truly striving hard to accept those to enhance our business. However, as we understand their competitors in other countries, we adopt these sophisticated innovations to offer greater business services. Moreover, as we have already stepped forward in using the Augmented Reality, Virtual Reality, Blockchain, Big Data, we now concentrate on the Hybrid cloud, Analytics and so on. Furthermore, we have already launched AR products like Watch AR plus (Shopping); Colorbook AR plus (Entertainment); Furniture AR plus (Business) and Emote AR plus (Face Tracking). In the near future, our entire goal is to produce products based on these effective and innovative technologies.